Loyal Cougars Staff Predictions: BYU v. Texas
Updated: September 6, 2014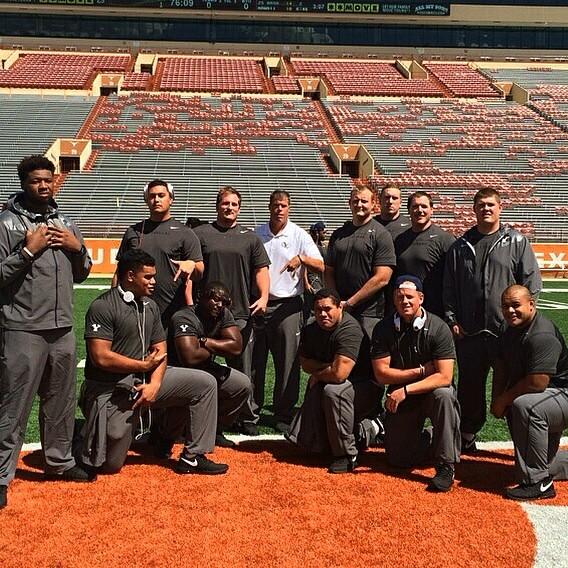 It's game day, and that means it's time to check through the predictions of the staff here at Loyal Cougars for tonight's game at Texas. Matt was the closest in Week 1, predicting a 35-7 BYU win. Which of our writers will get the win in Week 2 (Hint: Let's hope it's not Charles)?
Game Capsule
BYU Cougars (1-0) at Texas Longhorns (1-0)
Darrell K Royal-Texas Memorial Stadium, Austin, Texas
Kickoff Time: Saturday, September 6, 2014, 6:35pm CDT
TV: Fox Sports 1 (Joe Davis/Joey Harrington/Kris Budden), BYUtv Countdown to Kickoff (Dave McCann/Blaine Fowler) 5:30pm CDT
Radio: Cougar IMG Sports Network (Greg Wrubell/Marc Lyons): Sirius XM 143, KSL 1160 AM and 102.7 FM, and online at BYUcougars.com
BYU Game Notes, Texas Game Notes
Texas scores a defensive touchdown but still falls short at home. BYU 24, Texas 20.
Penalties and special teams woes prove to be BYU's undoing on the road in Austin. Texas 28, BYU 16.
Penalties and special teams? What is this, 2013?

The more national pundits pick BYU, the more nervous I get. Still, in honor of Max Hall (who had a tough week, but is still the winningest BYU quarterback ever) I will simply predict: "We're gonna win."
Taysom's running is controlled until he breaks a long run in the 4th quarter for the game-winning TD. The Longhorn offense struggles with its new QB. BYU 21, Texas 20.
Despite another woeful performance by BYU special teams, Texas' decimated O can't move the ball against the BYU D. As Texas' D keys on Taysom, he doesn't repeat 2013, but does enough with his arm to get the W. BYU 27, Texas 17.
The Texas defense is too focused on bottling up Taysom Hill. They leave the door open for Jamaal Williams and the passing game. Jordan Leslie shines in his return to his home state. BYU 28, Texas 24. 
I like Geoff's way of thinking. I don't see a way that the Texas offense will score more than two touchdowns with all of the missing pieces. BYU will need to limit mistakes on offense and special teams to get the win. If the Cougars limit turnovers to one or less and hold the Longhorns to just one defensive/special teams touchdown, they should be able to win a low-scoring game. BYU 24, Texas 20.
So, there you have it. Add your predictions to the discussion on Cougarboard.
Here's hoping that we all enjoy a comfortable BYU victory tonight. Go Cougars!