50 things I loved about BYU-Texas
Updated: September 7, 2014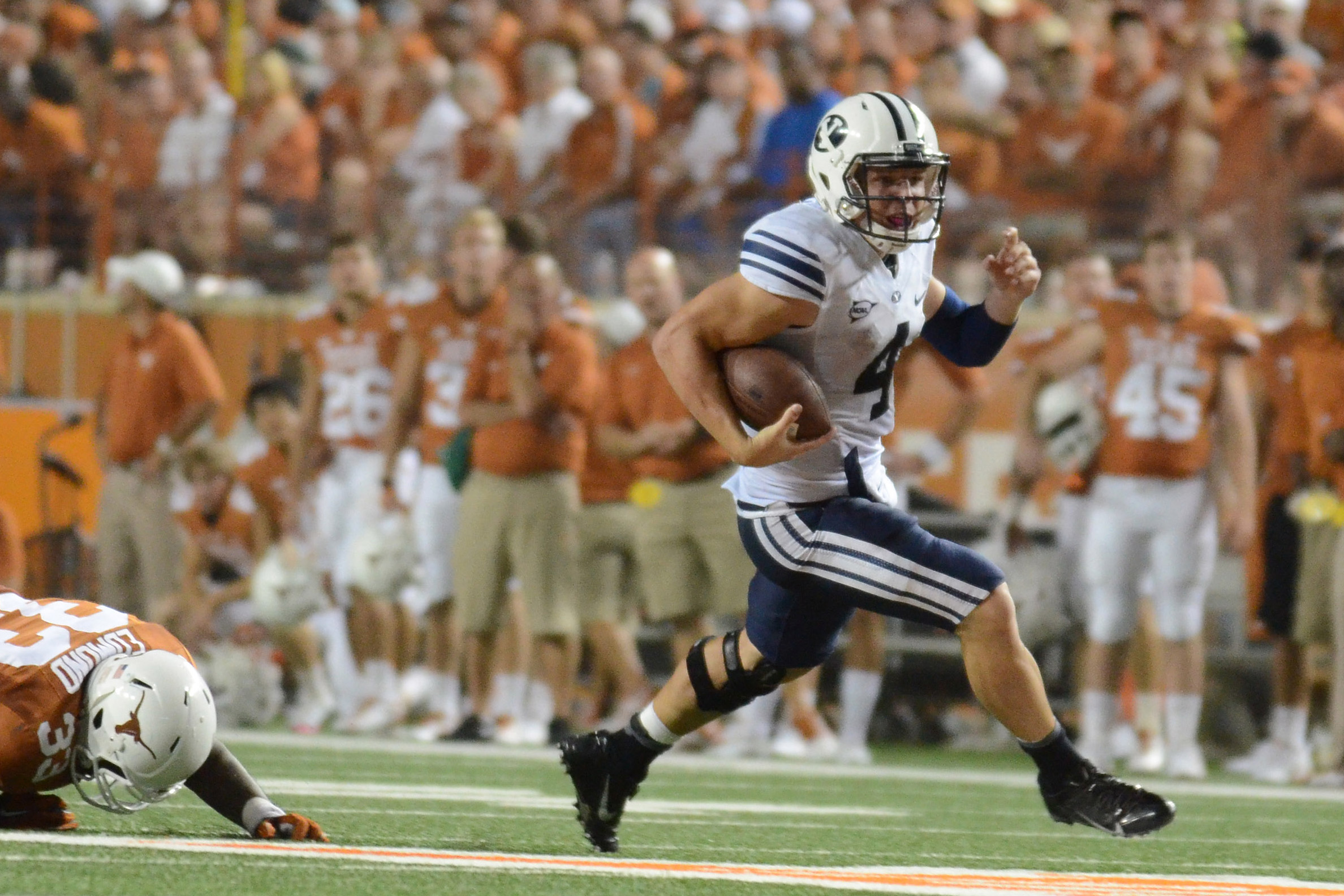 Greg Welch takes a look at his 50 favorite facts about BYU's convincing win in enemy territory against the Longhorns.
The win.
No, seriously. BYU just beat Texas, again.
Beat, ha! BYU didn't beat Texas. Beating Texas is squeaking out a 1-point victory. BYU destroyed Texas for the second-straight year.
All those quotes we heard all summer about how the Texas coaches and players talked about BYU all summer? This win was better. 41-7 after 40-21 last year? Amazing.
The Redemption for 2011. BYU had a plan when they went independent in 2011. They were going to head down to Texas, win on a national stage and get a lot of attention. Only they settled for field goals in the first half and lead 13-0 at halftime. After settling for another field goal in the second half they lost 17-16. We'll get to the rest of the season in a second, but at halftime, there were plenty of BYU fans worried about seeing a rerun.
Speaking of reruns, Texas' fans first fleeting thought of "Oh, no, it's all happening again," was probably when Taysom Hill galloped down the sideline for a touchdown, only to have it called back because Jordan Leslie's block was deemed to have been too violent.
The coaching.
Plenty of people were hating on Robert Anae's dive play up the middle in the first half. It wasn't effective in the first half, but BYU stuck with it and I loved watching Adam Hine run right up the middle for a 16-yard score.
And it's not just the offensive coaches that are smiling this morning. Rookie defensive coordinator Nick Howell had the Texas Longhorns shutout until 0:29 left in the third quarter. Not too shabby.
The Hurdle! The Hurdle! After a frustrating first half, the dam finally broke on a play that will certainly become an iconic BYU moment.
I loved that Taysom Hill can turn a broken passing play into a a 30-yard touchdown.
I loved that it looked just like all those highlights we've watched for a year. Only BYU was wearing white this time.
I loved that Taysom outran not one, not two, not three, but FOUR Texas defenders.
And that's before we get to the good part. Hill's leap looked smooth and effortless, and the touchdown started the third quarter romp for BYU.
I loved that the third quarter has to go on the list of best quarters ever for BYU football. What else should be on the list? 2008 second quarter against UCLA? The fourth quarter of the Poinsettia Bowl? This quarter could end up meaning a lot more.
OK, back to Taysom Hill. He's got a 150.8 passer rating on the year. That's in the ballpark with the best seasons of any BYU passer, and he's running for about 100 yards a game on the side.
Also, I loved Taysom Hill's second touchdown run.
Oh! And I loved Taysom Hill's third touchdown run.
I loved that Jamaal Williams is back on the field; 89 yards rushing plus a sweet catch on a wheel route? Welcome back, Jamaal. Hope the knee keeps getting better.
Adam Hine is there when you need him as well. Four carries and two touchdowns; that's pretty efficient.
I loved the way Algernon Brown runs with the ball. Why run out of bounds when you can run over a defender? Brown goes looking for contact, particularly when he turned an 8-yard catch into an 11-yard play and first down in the third quarter.
Jordan Lesile not only pancake-blocks DBs, he also catches deflected passes while bouncing between two of them. I loved that catch.
I loved how the coaches handled Center Tejan Koromoa. He had some butterflies on the first drive and after several high snaps, including a third-down snap over Hill's head, he sat out for a bit, got settled down, and was then back in the game without further problems.
I loved what this means for Bronco Mendenhall. He looked really happy and he deserves to be. The football team has made some bold moves under Mendenhall and as he said last night, "It's really fun to target something as a coach and have that plan work."
I loved Mitch Mathews.
I loved that we could still see big things from Devon Blackmon and Nick Kurtz.
I loved Guy Holiday.
I loved all the assistants, including Mark Atuaia trying to chest-bump Bronco on the sideline. He still didn't get him to crack a smile and I loved it.
I loved that we had a bunch of recruits at the game.
OK, back to the defense, what's not to love?
Jherremya Leuta-Douyere. Another game, another forced fumble. Ho hum. Loved it.
I loved that Robertson Daniel played great all game. Also loved his quote after the game to Yahoo's Dan Wetzel on what the selection committee should know about BYU? "That we're serious."
Which brings me to another thing I love: Attention. BYU's whole strategy in going independent was to raise their profile (and it didn't hurt to make more money and play a harder schedule). BYU needed this for independence to work. This was it and BYU came through.
I love that BYU's next six games will probably be on ESPN. Hi, everybody.
I love what this does for BYU's chances to go undefeated. No one in the country has a better shot, says ESPN. BYU's chances were 1.6% before the season started and shot up to 3.5% after beating UConn. The computers now give BYU a 20.9% chance to win out, a ridiculously high percentage for 10 games.
I love that BYU has a 84.4% chance to beat Houston.
I love that BYU has a 82.7% chance to beat Virginia.
I love that BYU has a 95.3% chance to beat Utah State.
I love that BYU has a 72.4% chance to beat UCF.
I love that BYU has a 92.7% chance to beat Nevada.
I love that BYU has a 71.5% chance to beat Boise State.
I love that BYU has a 87.9% chance to beat Middle Tennesee.
I love that BYU has a 99.0% chance to beat UNLV.
I love that BYU has a 99.8% chance to beat Savanah State.
I love that BYU has a 74.8% chance to beat Cal.
BYU's strength of schedule has taken a few hits the first couple of weeks, but is ranked 75 by ESPN and 68 by Congrove. Not world class, but if anyone doubts if you can have a special season with those kinds of numbers, Congrove ranked Utah's 2004 SOS at 98 and 2008 at 76. Who knows with the new playoff rules and bowl selection process how things will shake out, but we'll just have to cross that bridge if and when BYU gets there.
We'll see how long the ride will last this year, but I'll love the ride, however long it lasts. It's really easy to get sucked ahead looking at those numbers. If BYU needs any grounding, there's always the tape of that 2009 game against Florida State. I don't think Houston has Christian Ponder coming to play for them, but still, stay focused, boys.
So who knows what else is in store for this team, but if I may paraphrase Conan O'Brien, I don't care, because I love that this team and I are going to have a lot of fun on television.
I love that BYU just destroyed the University of Texas Longhorns, again.
No, really. I love that BYU just destroyed the University of Texas Longhorns, again.