Opponent Notebook: Good news, bad news for BYU & opponents in Week 3
Updated: September 15, 2014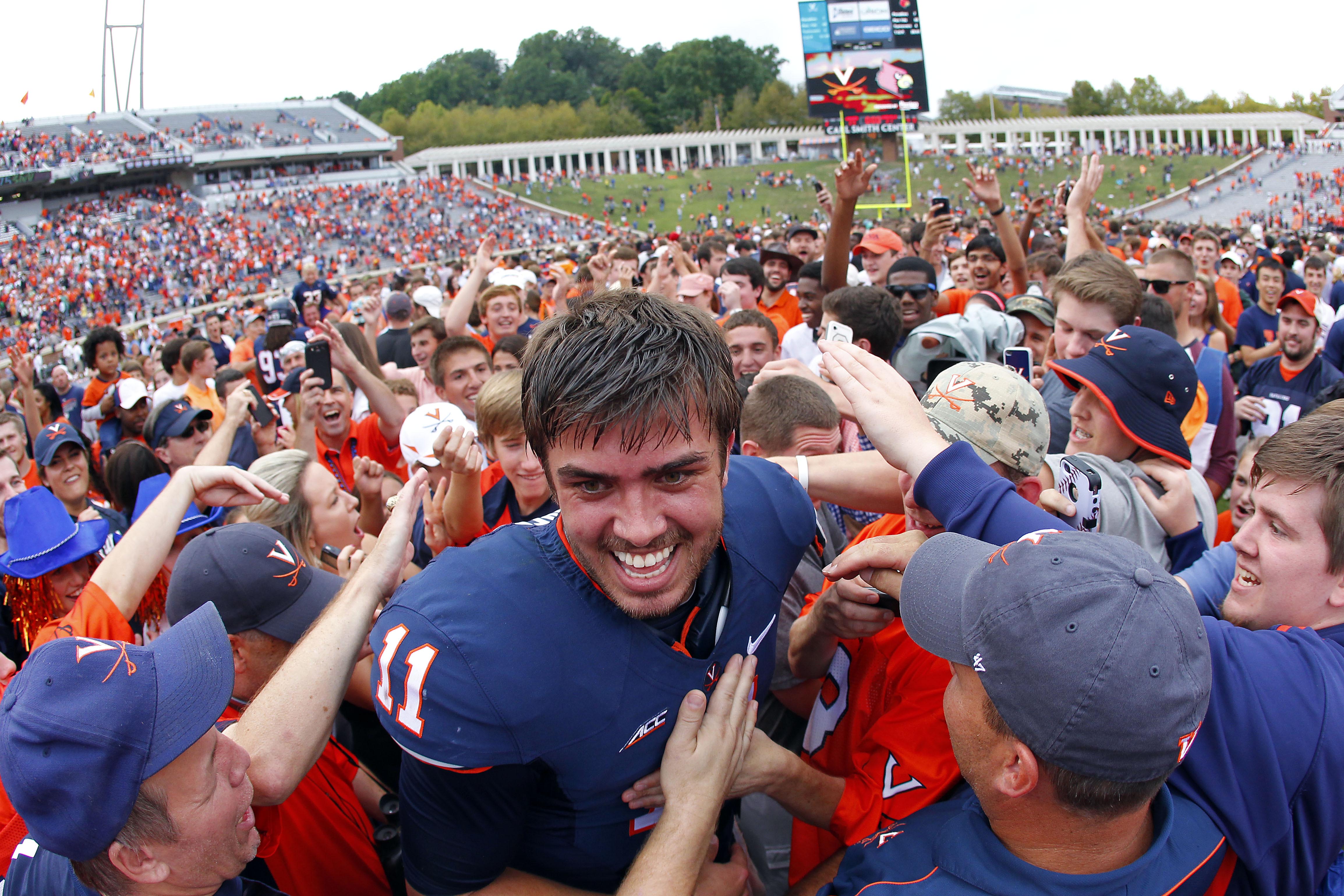 BYU's win over Houston Thursday night was a bit of a mixed bag. Taysom Hill managed to out-gain the Red Cougars by himself, but a couple of odd turnovers changed the game from a blowout to "just" a win. But BYU did manage to avoid a Virginia Tech-like let down. The Hokies had a breakthrough win on the road over a big-name opponent, but then came home to a solid opponent and laid an absolute egg.
Houston is a team that is going to win a lot more games this year, so if they end up at 9-3 or 8-4, maybe fans will not be so worried that BYU "only" won by 8 points and never came close to even losing the lead.
Here's a look around the country at how BYU's opponents did in Week 3. Like Thursdays night's game, there were plenty of good news/bad news situations here as well.
Boise State 38 at UConn 21
Boise State (2-1) This week: hosts Louisiana–Lafayette
UConn (1-2) This week: at South Florida
Boise won fairly convincingly on an early east coast road game. The stats were more even than the score. UConn out-gained Boise by a yard, 293 to 292. Both teams could pass and neither team could run. UConn had 49 yards rushing and Boise had 46.
The Boise State defensive line looked very strong, picking up 8 sacks during the game. The Boise State corners continue to look a little suspect, as they're now averaging giving up 263 yards passing per game.
Texas 17 vs UCLA 20
Texas (1-2) This week: Bye; Next week: At Kansas
Oh, Texas. For a moment there, it looked like Texas had a great shot at an upset. UCLA's starting quarterback Brett Hundley hurt his left (non-throwing) elbow in the first quarter and UCLA was forced to make due with backup Jerry Neuheisel.
There was a moment in the fourth quarter when Texas was leading, UCLA fumbled, and it looked like Texas would pull out the upset. But then the Longhorns ran three plays in 1:11 for minus five yards and punted the ball back to UCLA with 3:06 left in the game. UCLA scored the go-ahead touchdown six seconds later.
Louisville 21 at Virginia 23
Virginia (2-1) This week: at BYU
The best defense BYU will face this season may be Virginia's. Here's your unstoppable force meeting an unmovable object stat: BYU is averaging 4.9 yards per rush this season. Virginia just gave up 2.9 yards per rush to Louisville.
Virginia's win was certainly good news for BYU's schedule. Louisville was looking like one of the better ACC teams and with a win over them, the Hoos are looking like they'll be much better, at least in the win column, than they've been the last few years.
Wake Forest 24 at Utah State 36
Utah State (2-1) This week: at Arkansas State
The Utah State defense carried the team, scoring two touchdowns, but quarterback Chuckie Keeton's status is unknown as he left game after reinjuring his surgically repaired knee.
Darrell Garretson played reasonably well, for a backup, going 11-of-16 for 121 yards. The game was closer in the second half, but never closer than 8.
It was Utah State's first ever win over an ACC program.
UCF 10 at Missouri 38
Central Florida (0-2) This week: Bethune-Cookman
The good news is UCF was able hang with Missouri for the first half, only trailing 14-10 at halftime. However, the bad news is they were outscored 24-0 in the second half. UCF was able to move the ball at times on the Tigers; the game was fairly even on first downs and total yards. The Tigers were much more efficient running the ball, averaging 5.1 yards per carry compared to the Knights' 2.3 yards per carry. Both averaged about 6 yards per pass attempt, but Missouri threw the ball a lot less to get those yards (24 attempts compared to 36 for UCF).
Obviously, UCF getting blown out is not a great result for BYU. After an FCS tune-up game, UCF travels to Houston to play on a Thursday night.
Nevada 28 at Arizona 35
Nevada (2-1) This week: Bye; Next week: at San Jose State
Nevada looks like a pretty frisky team. After beating Washington State at home, they went toe-to-toe with Arizona on the road. The Wolfpack tied the game 21-all midway through the 3rd Quarter.
Cody Fajardo looks like a solid quarterback, but Nevada couldn't counter Arizona's balanced offense. Nevada passed for 321 yards, but only had 108 yards rushing to go with it. Arizona's freshman phenom Anu Solomon had 278 yards passing, but Arizona complemented their passing attack with 229 yards on the ground.
The same weekend Houston and UCF are playing, Boise State visits Nevada. So, that's another chance for BYU fans to see two 2014 opponents square off. Nevada is looking like a team that will contend for the Mountain West conference crown.
Western Kentucky 47 at Middle Tennessee 50 (3 OT)
Middle Tennessee (2-1) This week: at Memphis
The good news is Middle Tennessee looks like they have a strong offense, putting up 541 yards. The bad news is they gave up 718 yards at home to a team ranked #82 in the country by USA Today's Paul Myerberg, so the defense is a little shaky.
Memphis looks like a contender in the American. A Middle Tennessee upset there would be great for BYU, but fans probably shouldn't get their hopes up.
Northern Illinois 48 at UNLV 34
UNLV (1-2) This week: at Houston
UNLV was close. The score doesn't really reflect it, but the Rebels were driving late in the fourth quarter, down seven. After playing a strong game, former BYU walk-on and junior college transfer Blake Decker had his pass picked off in the endzone.
The Huskies were then able to drive the ball back down the field, score a touchdown to go up 14 with just 2:00 left to put the game away.
Things won't get easier for the Rebels this week, as they travel to Houston to face the same Cougars that gave BYU a run for its money last Thursday.
California (Bye)
California (2-0) This week: at Arizona
Cal has started strong and picked up a big win in Week 2 at Northwestern. The bad news is they are only favored to win one of their next ten games.