Breaking Down BYU's Penalties against Houston
Updated: September 15, 2014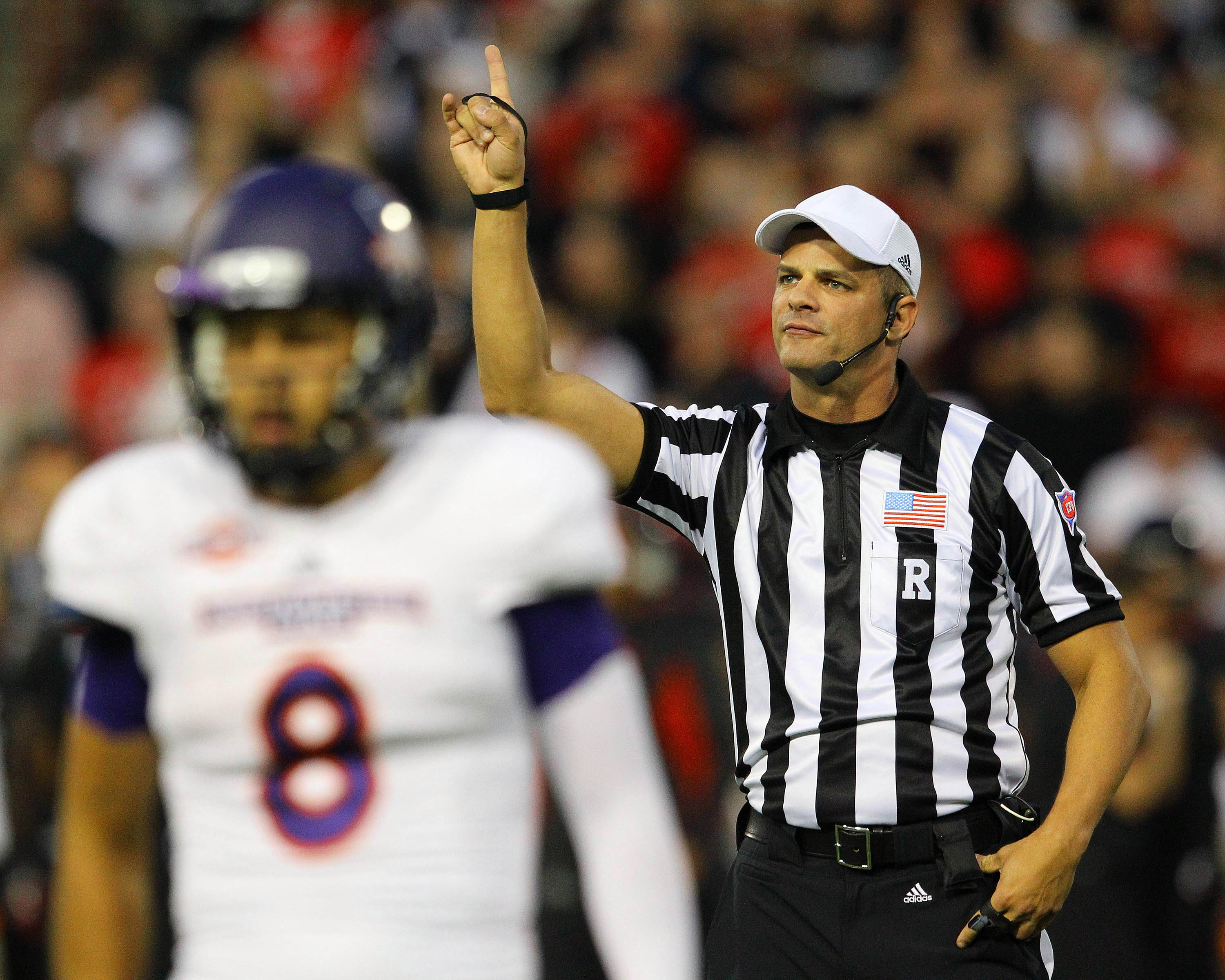 Brandon Jones takes a look at all 11 BYU penalties in last Thursday's win over Houston and ranks the impact of each on BYU's momentum and the eventual outcome of the game.
After three weeks of college football, BYU leads the FBS in both penalties (32) and penalty yards (288). Heading into Thursday night's contest against Houston, the blue Cougars had averaged 10.5 penalties per game for 95 yards in their first two games. The calls continued to go against BYU in Game 3 as Bronco Mendenhall's team collected 11 flags for 95 yards, basically matching their previous averages. Below, I take a look at the situation surrounding each of those 11 penalties and assess how much each contributed to making Thursday's game closer than it could and should have been. I'll use an impact scale from 0 to 10, with "0" being no bearing on the game's momentum, outcome, or scoring and "10" being a large impact on those factors. So, here are the 11 penalties in order:
1. Delay of Game (5 Yards) on K Andrew Mikkelsen
The BYU kickoff unit didn't seem to notice when Referee Todd LaPenta (pictured above) started the 25-second clock and no players or coaches seemed to care as said 25-second clock ticked all the way down to zero. It was almost as if they were challenging the officials to throw a flag on the first play of game. The officials won that game of chicken as, although an actual yellow hanky never came out, Andrew Mikkelsen's ensuing kickoff originated from BYU's 30-yard-line instead of the usual 35. The kickoff was fielded by Houston at the 8-yard-line, but only returned to the 20 and the BYU defense would force a Houston 3-and-out. Impact Factor: 1.
2. Personal Foul – Late Hit (15 Yards) on S Dallin Leavitt
This personal foul penalty following Houston's first punt forced our offense to begin its first drive from the BYU 17-yard-line as opposed to the 33-yard-line. The blue Cougars would drive 46 yards down the field, so this penalty did not prove as costly as the one that follows. Impact Factor: 3.
3. Illegal Formation (5 Yards) on WR Devon Blackmon
The penalty on this play was for too many men in the backfield. By rule, an offense is only allowed to have four players off the line of scrimmage. That means that in the photo above, either Blackmon or Henderson needs to begin the play on the line of scrimmage. Usually, the receivers will look over for an acklowledgment from the line judge to make sure that they are lined up correctly, but Blackmon just wasn't thinking in this situation. He would go on to make a few nice moves and score a 32-yard touchdown, but he had no one to blame but himself when the touchdown was taken off the board and the offense moved back five yards. On the ensuing 3rd-and-10 attempt, Taysom Hill was forced out of the pocket and into a throw away situation, leading to a BYU punt. So, instead of 7 points on the board, BYU was left with zero from this drive. Impact Factor: 9. Directly took away 7 BYU points.
4. Offsides (5 Yards) on DL Logan Taele
On this play, Logan Taele was drawn offsides by a hard snap count and made contact with the offensive line on a Houston 3rd-and-1. The result gave the red Cougars a 1st down, though they were still deep in their own territory. Houston would eventually make it all the way to the BYU 21-yard-line and a botched field goal opportunity. Though Coach Howell's defense still had plenty of chances to stop Houston as they moved down the field, this penalty cost BYU a chance to shift field position and build on the team's early 16-point lead. Impact Factor: 5.
5. Roughing the Passer (15 Yards) on LB Alani Fua
A 15-yard penalty is never helpful for a defense. In this case, Houston had just gotten a third-down conversion and so the penalty only moved the ensuing first-down try from the BYU 35 to the BYU 20. Houston would get one more first down on the drive before the BYU defense tightened to hold Houston to a field goal. As for the penalty itself, Fua may be lucky that the penalty was only a 15-yarder after lowering his head for a helmet-to-helmet hit. Impact Factor: 5.
6. Personal Foul – Late Hit (15 Yards) on LB Manoa Pikula
Though the validity of this penalty on Pikula is in question, its effect on the game is not. I believe it to be the penalty that had the greatest negative impact for BYU against the Cougars of Houston. Prior to the call, BYU held a 23-3 lead and had forced Houston into a 3rd and Goal from the 16. BYU brings the blitz in the form of Alani Fua who runs around the tackle, masterfully sheds a block from the running back and cuts back inside to pull the quarterback down behind the line of scrimmage. If that were the end of it, the Cougars of Houston would have likely attempted a 34-yard field goal and then kicked off to BYU, who would then be able to run out the remaining two minutes of the half and head to the locker room with a 23-6 lead. Instead, the penalty gave Houston a 1st and Goal at the 8-yard-line, a touchdown two plays later, and the momentum and confidence to add another before the half to make it an 8-point ball game. Could Pikula have better controlled his landing? Probably. Hindsight is 20/20, but this penalty appears to have directly led to at least a 4-point swing, and indirectly to as much as a 14-point swing, HUGE in a game for which the final margin of victory was just 8. Impact Factor: 10. Led to 4-14 additional Houston points.
7. Holding (10 Yards) on S Michael Wadsworth
Adam Hine would return the Houston kickoff to the 40-yard-line, but this holding call would bring it back to the 14-yard-line. BYU would eventually regain the lost yardage, so there was no direct impact on field position. Brigham Young would eventually lose the ball to Houston on a Mitchell Juergens fumble which would set up a 45-yard hail mary touchdown pass to cut BYU's lead to 8 before the halftime whistle. The fumble played a much larger role than this holding penalty to start the drive. But, it begs the question: with the extra 26 yards on the kick return, doesn't the Juergens fumble happen further downfield, putting Houston too far away to even attempt a hail mary in the first place? Impact Factor: 4. Indirect effect on 7 additional Houston points.
8. Ineligible Receiver (5 Yards) on OLs Tejan Koroma and Brock Stringham
By rule, offensive linemen are not allowed to pass the imaginary line (shown in yellow above) three yards beyond the line of scrimmage on a pass attempt. You can see that Koroma and Stringham had passed There are a couple of reasons I don't like this call: First, the linemen in question were only so far downfield because they got such a good push coming out of the snap. Secondly, the pass play went to the near side of the field and their presence downfield had no effect on the outcome of the play. This is one where the refs probably should have swallowed their whistles. It negated a 20-yard completion to Terenn Houk that would have put the ball at the Houston 20-yard-line. BYU would drive down the field and eventually earn a 1st and 10 from the Houston 23, so the yardage was effectively re-gained. The following two BYU penalties on the same drive would prove to have more of a negative impact on BYU's ability to reach the endzone. Impact Factor: 4.
9. Personal Foul – Fighting (15 Yards & Ejection) on OL Tejan Koroma
I broke down the call in the above video, but real or imagined, this penalty cost us 15 yards, our best Center, and negated a 15-yard pass play that would have given us a 1st and 10 from the Houston 15-yard-line. A late hit penalty against Houston on the following play would soften the blow, but BYU still came away with just a field goal on the drive. Impact Factor: 6* (This number can still go higher if Koroma's suspension is upheld and his absence in the first half of the Virginia game proves costly).
10. Holding (10 Yards) on OL Kyle Johnson
Instead of a more manageable 3rd and Goal from the 3-yard-line, this penalty forced BYU into a 2nd and Goal attempt from the 13-yard-line. After a 6-yard pass play to Paul Lasike and an incomplete corner route to Mitch Mathews that was thrown late and out of bounds, BYU would settle for a 26-yard Field Goal. Impact Factor: 7. Potentially took away 4 BYU points.
11. Delay of Game (5 Yards) on P Scott Arellano
This delay of game penalty was taken intentionally to give Arellano more room to punt and avoid a touchback. As a result, Houston would start the ensuing drive, its final chance to drive down the field and tie the game, at its own 13-yard line. Impact Factor: Negative 2.
So, those are my thoughts, for what they're worth. And though years of NCAA statistics seem to indicate that there is no direct correlation between penalties and wins, it certainly isn't difficult to see how some of BYU's penalties this season, and particularly against Houston, directly influenced the number of points scored and in this case, made the game a lot closer than it would have otherwise been.