Cougar Brain Trust: BYU v. Virginia
Updated: September 19, 2014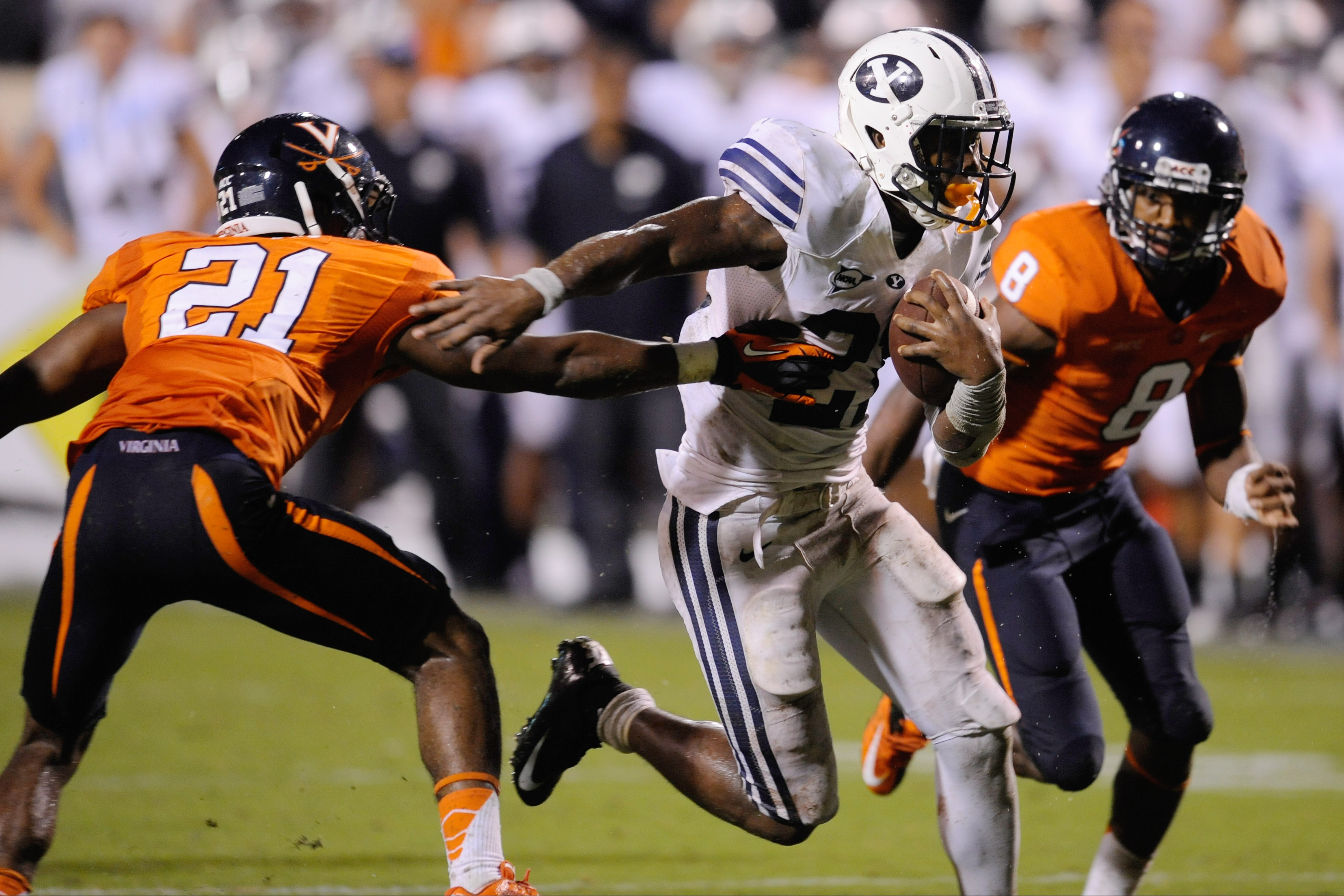 Today, the Cougar Brain Trust weighs in on BYU's game against the University of Virginia. We surveyed 60 dedicated Cougar fans for their predictions on what to expect in tomorrow's game. Special thanks to @tayshum for selecting the questions and gathering the data.
Week 3 Results: 9-6
Season to Date: 26-19
The following results reflect not necessarily what our experts want to happen, but what they expect to happen across a variety of statistical categories-some meaningful and some quite pointless. The most popular answer is underlined. Without further ado, here are the Brain Trust's responses for this week:
Offensive Predictions
Higher total: Taysom Hill passing yards OR Taysom Hill + Jamaal Williams rushing yards? For reference, Taysom has passed for 230 yards per game and Taysom and Jamaal have combined to rush for 215 yards per game this season. But remember, Jamaal sat out the first game. Though the passing total was higher against UConn, the rushing number was higher in games 2 and 3. 63% said rushing yards. 37% said passing yards.
Which percentage will be higher: BYU's Red Zone Touchdown percentage or BYU's 3rd Down Conversion rate? The game-by-game comparisons are 67/42, 67/50, and 80/56. The Brain Trust sees that trend continuing against the Cavaliers. 69% said RZTD%. 31% said 3DC%.
Will BYU's first offensive play of the game be a run or a pass? Against the Huskies and Longhorns, BYU first tried a run play. Against the Houston Cougars, BYU's first play was an incomplete pass. 63% expect the Cougars to start with a run play. 37% expect to see a pass.
More receiving yards for BYU: the top wide receiver, all tight ends combined, or all running backs combined? The comparisons through BYU's first three games are as follows: 62-8-92, 85-6-52, and 79-16-22. The top WR had the most yards in two games and the running backs had the most receiving yards against UConn. With Algernon Brown still questionable at best, most of the voters see the leading receiver continuing the trend of the past two games. 63% say the top WR. 37% say all RBs combined.
How many touchdown runs will Taysom Hill have? Taysom ran for 2 touchdowns against UConn, 2 against Texas, and 1 against Houston. 69% said 2 or more. 31% said 0 or 1.
Defensive/Special Teams Predictions
What will be the position of BYU's leading tackler? Zac Stout, a linebacker, leads the Cougars overall with 20 tackles. On a game-by-game basis, against UConn a DB and a LB tied for the most tackles; against Texas a DB had the most tackles; against Houston a DB and a LB were tied for the most tackles. 90% said LB. 6% said DB. 4% said DL.
What will be the jersey number of the first BYU player to record a sack, catch an interception, or recover a UVA fumble? Of 15 such statistics recorded by BYU's defense in 2014, 9 have been tallied by players wearing 1-19 and 6 have been recorded by players wearing numbers 20-99. 78% said 20-99. 22% said 1-19.
What will be Virginia's average kick return yardage? BYU's first three opponents averaged 19.0, 20.3, and 15.5 yards respectively per kick return. However, Virginia ranks 4th in the FBS with an average kick return distance of 34.88 yards per return. 51% said 19-25 yards per return. 49% said 0-18 yards per return.
Random Predictions
What will be the jersey number of the first BYU player to score a touchdown? BYU has scored 14 touchdowns so far this season. 9 were scored by players wearing numbers 1-19. 5 were scored by players wearing numbers 20-99. But, Jamaal Williams scored the first touchdown last week against Houston. 78% said 1-19. 22% said 20-99.
Which will happen first (by either team): a turnover/safety/failed 4th Down attempt OR a made field goal? In BYU's first three games, the totals for these categories were as follows: 7-1 against Connecticut, 8-2 against Texas, and 5-3 against Houston. In each game, a turnover, safety, or failed 4th Down attempt occured before a field goal was made. 58% said a made field goal would happen first. 42% said one of the other items would occur first.
Will a BYU player record his first TD of the season? BYU players yet to score a TD in 2014: Paul Lasike, Algie Brown, Mitchell Juergens, Ross Apo, Colby Pearson, Devon Blackmon, Kurt Henderson, and Jordan Leslie. Also, the BYU defense has not scored a touchdown yet this season. 69% said Yes. 31% said No.
Will BYU do any of the following: block a kick, score on defense or special teams, or place a punt inside the Virginia 5-yard-line? For reference, BYU has blocked one kick and recorded one safety, both against Houston. BYU downed a punt inside the 5-yard-line once against Texas and once against Houston. 63% said Yes. 37% said No.
Overall Predictions
Who will win against the opening spread (BYU by 13.5 points)? As was the case last week, an overwhelming majority of 71% believe BYU will cover. Just 29% of the voters think that Virginia will win against the spread.
How many total points will be scored (Over/Under 57.5)? 60% say Under. 40% say Over.
Which team(s) will score 24 points or more? BYU has never lost a game when scoring 24 points or more and holding its opponent to 24 points or less. In all seriousness, BYU is 69-6 when scoring 24 or more. Independently, the Cougars are 75-11 when holding their opponent to 24 points or less. 92% believe that only BYU will score 24 or more. 6% believe that both teams will score 24 or more. 2% believe that neither team will reach 24 points.
What do you expect to see? Do you think the Cougar Brain Trust is off on any of these predictions? Add your thoughts to the discussion on Cougarboard.