Loyal Cougars Staff Predictions: BYU v. Utah State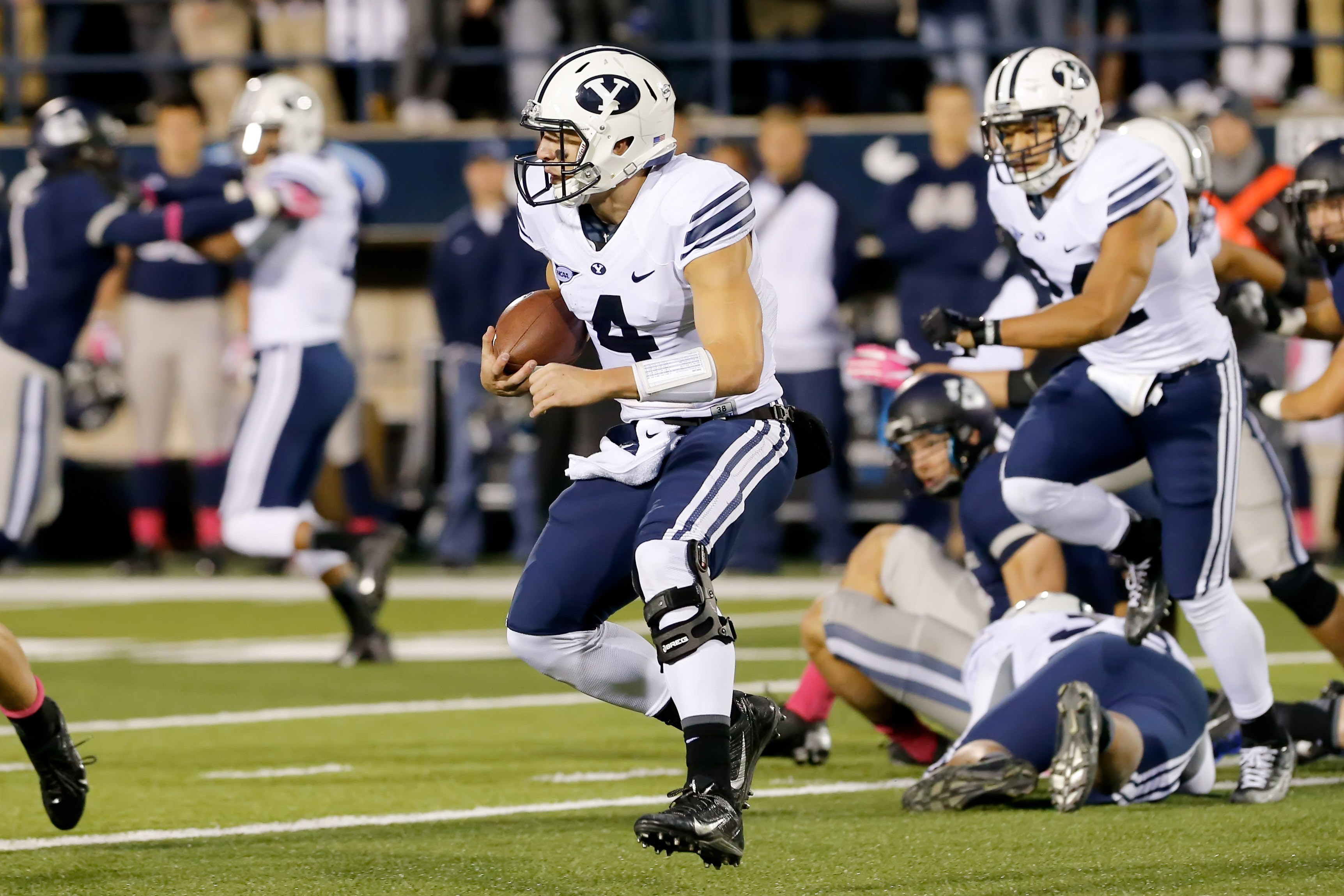 It's game day, and that means it's time to check the predictions of the staff here at Loyal Cougars for today's game against the Utah State Aggies. Geoff was the closest in Week 4, predicting a 27-17 BYU win over Virginia. 
Game Capsule
BYU Cougars (4-0) vs. Utah State Aggies (2-2)
LaVell Edwards Stadium, Provo, Utah
Kickoff Time: Friday, October 3, 2014, 8:21pm MDT
TV: ESPN (Dave Flemming/Mike Bellotti/Allison Williams), BYUtv Countdown to Kickoff (Dave McCann/Blaine Fowler) 7:00pm MDT
Radio: Cougar IMG Sports Network (Greg Wrubell/Marc Lyons): Sirius XM 143, KSL 1160 AM and 102.7 FM, and online at BYUcougars.com
BYU Game Notes, Utah State Game Notes
BYU continues its season of one-game play-ins against a USU team with a chip on its shoulder. With Utah ducking both teams, this game is for the State Championship. BYU 42, Utah State 13.
BYU is better this year. Utah State is not. This one won't be close on Jim McMahon Day. BYU 38, Utah State 13.
The Aggies' defense cannot contain BYU's running game. Taysom and Jamaal run wild. BYU 41, Utah State 14.
BYU puts on a performance on ESPN on Friday night. Offense, Defense, and Special Teams each produce a highlight reel worthy play. BYU 35, Utah State 7. 
Utah State brings its highly-ranked rush defense into a hostile royal blue Lavell Edwards Stadium. But, not so fast, my friend! The Aggies haven't exactly faced a murderer's row of rushing offenses (Tennessee-97th, Idaho State-FCS, Wake Forest-125th, and Arkansas State-73rd). The Cougars win comfortably on the backs of their 26th-ranked rushing offense. BYU 41, Utah State 10.
So, there you have it. Add your predictions to the discussion on Cougarboard.
Here's hoping we enjoy a historic night on all accounts. Go Cougars!