Cougar Brain Trust: BYU v. Utah St.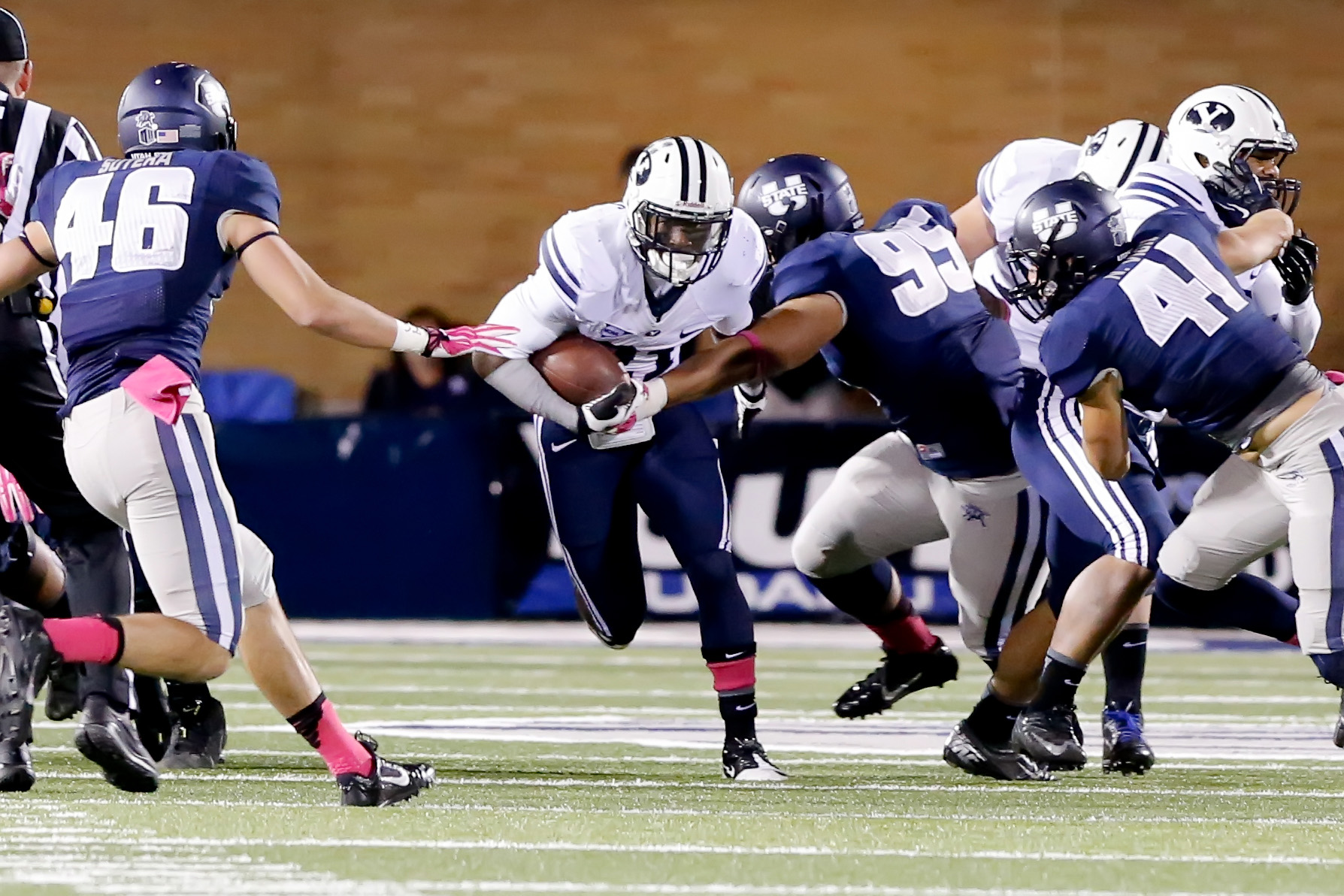 After a so-so performance in the Bye week, the Cougar Brain Trust is back this week to focus on the topic most in its wheelhouse: BYU football. We surveyed 60 dedicated Cougar fans for their predictions on what to expect tonight as the Utah State Aggies roll into town to take on the Cougs. Special thanks to @tayshum for selecting the questions and gathering the data.
Week 5 Results: 4-6
Season to Date: 37-33
The following results reflect how our experts would choose based on a number of current point spreads. As always, this is only an exercise in fun and we at Loyal Cougars do not condone gambling in any form. The most popular answer is underlined. Without further ado, here are the Brain Trust's responses for this week:
Offensive Predictions
Will Taysom Hill tie Harvey Unga's record of most consecutive games (7) with a rushing TD? Hill has run for a total of 7 touchdowns through the first four games of 2014. There wasn't much doubt about this one. 100% said Yes.
What will be BYU's shortest scoring drive in number of plays? The shortest scoring drives in each of the first four games were as follows: 1 play (UConn), 4 plays (Texas), 5 plays (Houston), 0 plays (Virginia). 52% said 0-3 plays. 46% said 4-5 plays. Just 2% said 6 or more plays.
What will be the end result of BYU's first offensive drive of the second half? On BYU's first third quarter offensive drive in each game, the Cougars have had one missed FG attempt (UConn), one touchdown (Texas), one failed 4th Down conversion (Houston), and one punt (Virginia). 46% expect a BYU touchdown. 35% expect a BYU punt. 19% expect an outcome besides a TD or punt.
Defensive/Special Teams Predictions
Will BYU score on defense, special teams, or make a FG of over 40 yards? BYU scored on defense against Houston (safety) and on special teams against Virginia (kick return). The longest field goal made was just a 3-yarder against Virginia. 74% say Yes. 26% say No.
How many sacks will BYU's defense record? The BYU defense totaled 4 sacks against UConn and 3 against Texas. Without Bronson Kaufusi, the Cougars had just 2 against Houston and none against Virginia. With Kaufusi back, the Brain Trust expects the Cougars won't repeat the sackless performance against Utah State. 60% said 1-2. 40% said 3 or more.
Higher total: BYU total punting yards or BYU total punt and kick return yards? To date in 2014, the Cougars average 177 punting yards per game and just 91 total return yards per game. Theoretically, against a weaker opponent, fewer BYU drives will end in punts and more Utah State drives will yield BYU punt returns. 67% said punt/kick return yards. 33% said BYU's punting yardage would be greater.
Will a BYU player record his first INT or Fumble Recovery of the season? In 2014, fumbles have been recovered by Rob Daniel, Bronson Kaufusi, Tomasi Laulile, and Harvey Jackson. BYU's three interceptions were recorded by Rob Daniel, Craig Bills, and Michael Alisa. 79% said Yes. 21% said No.
How many 3rd and 8+ will USU convert? The BYU defense has allowed several long 3rd Down conversions in the first four games of the 2014 season. A majority of the voters predict that BYU will give up a few more against the Aggies. 50% expect 2. 27% expect 3 or more. 23% expect the Cougars to allow 0-1 conversions of 8 yards or more.
Will the BYU defense give up a first down on or following a 3rd down attempt due to penalty? Note: the penalty must occur during a 3rd down play or a dead ball penalty after 3rd down. Penalties have definitely been an issue for the BYU defense through the first four games. 81% said Yes. 19% said No.
How many BYU players will record a tackle? Note: Assisted tackles count, but "team" doesn't count as a player. The total number of BYU tacklers in each of the first four games: 22, 23, 18, and 24. 75% expect between 19 and 24 BYU tacklers. 17% predict 25 or more tacklers. Only 8% expect 18 or fewer total tacklers.
Random Predictions
How will BYU score its first points of the game? In their first four games, the Cougars scored first via field goal twice, by safety once, and by a rushing touchdown once. Despite only scoring a touchdown first in one game, 98% of the voters expect a touchdown first tonight. 77% expect a rushing TD. 21% expect a passing TD. Only 2% expect a score by some other method.
Will a BYU player score his first TD of the season? The list of BYU players yet to score a TD in 2014 is still quite large: Lasike, Brown, Blackmon, Kurtz, Mahina, Pearson, Apo, Henderson. And, don't forget about every BYU defender. 81% said Yes. 19% said No.
Which team will have a greater time of possession? The Cougars held the possession advantage against both Texas and Houston before possessing the ball for a Bronco-era low 19 minutes and 5 seconds against Virginia. 77% of the voters predict BYU. Only 23% said Utah State will possess the ball longer.
Score Predictions
Will BYU win the game by 20 points or more? The Brain Trust is almost unanimous in predicting a large BYU victory. 88% said BYU will win by 20 or more. Just 12% said BYU will win by 19 or fewer points (or lose).
Will the total number of points scored be over or under 58.5? This was a true toss-up with no clear system in place for breaking ties. But, since I did the write-up, I call the shots. And I'm taking the Under. 50% expect Under. 50% expect Over.
What do you expect to see in tonight's game? Do you think the Cougar Brain Trust missed the mark completely on any of these predictions? Add your thoughts to the discussion on Cougarboard.