Chalk Talk: BYU vs. Utah State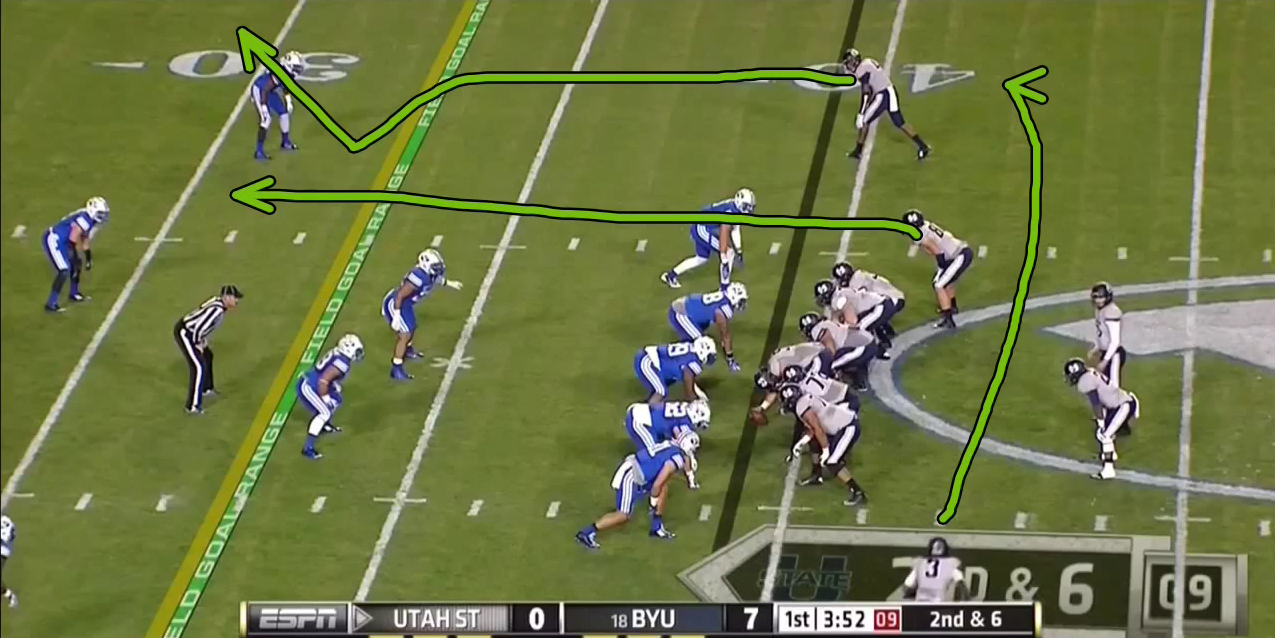 In the debut of a new series, Zak Hicken breaks down 20 plays from BYU's heartbreaking loss to Utah State last Friday.
1st Quarter
BYU started the game off with receivers split wide to both sides. The linebacker (lined up on Juergens) blitzed and Lapuaho did a great job of picking him up. All four receivers ran streaks while USU's defense was playing Cover-3 which created a 4-on-3 mismatch. While Taysom hit Leslie on the far sideline, you can see that Juergens was open on the middle of the field because the safety whose assignment was middle deep chose to cover Houk.
BYU ran a read-option on this play. Lapuaho left the Defensive End unblocked which allowed Taysom to "read" where the End commits and decide whether to give the ball to Jamaal up the middle or to keep it himself and go outside. The End did a great job by not committing 100% on the handoff to Jamaal and LB Nick Vigil also did a great job coming up to contain Taysom but in the end, both were simply beat by Taysom's speed and athleticism.
BYU again ran the read option, but USU slid their defensive front down a gap each so the Linebacker (Vigil) was now the read man on the end. Lasike did an extremely poor job blocking as he went right past Vigil who made the tackle. If he were to kick him out, this play potentially goes for another 5 yards as Wesley, Kearsley, and Koroma did a great job sealing off the inside.
Lasike did a great job picking Vigil up on the blitz here. Unfortunately, Kyle Johnson made a blocking error. Initially, he and Tejan Koroma picked up Kamana-Matagi. But, when Koroma released to pick up any delayed blitzes, Johnson was left one-on-one with Kamana-Matagi. Kyle lost his balance because he lunged forward instead of staying under his base. That, combined with a swim move by Elvis, resulted in a sack on Taysom.
BYU played Cover-3 on this play. Rob Daniel had the deep zone, while Sae Tautu was assigned to the flat. Tautu bit on the play-action instead of covering his zone and that's why JoJo Natson was able to gain so many yards after the catch. Dallin Leavitt hit Natson late out of bounds, adding another 15 yards to the end of the play.
Jordan Johnson was matched up man-to-man with Hunter Sharp, who ran a post-corner route. Once Sharp got Jordan's hips turned, he pulled off the double move to beat him on the inside.
Rob Daniel was beat on a double move on this play. He bit on the fake outside and had no chance to catch up after that. On a play so close to the goal line, instead of committing on the receivers move, he needed to get up on the line and jam him to disrupt the timing between the QB and the receiver.