Cougar Tip-Off Thoughts
Updated: October 30, 2014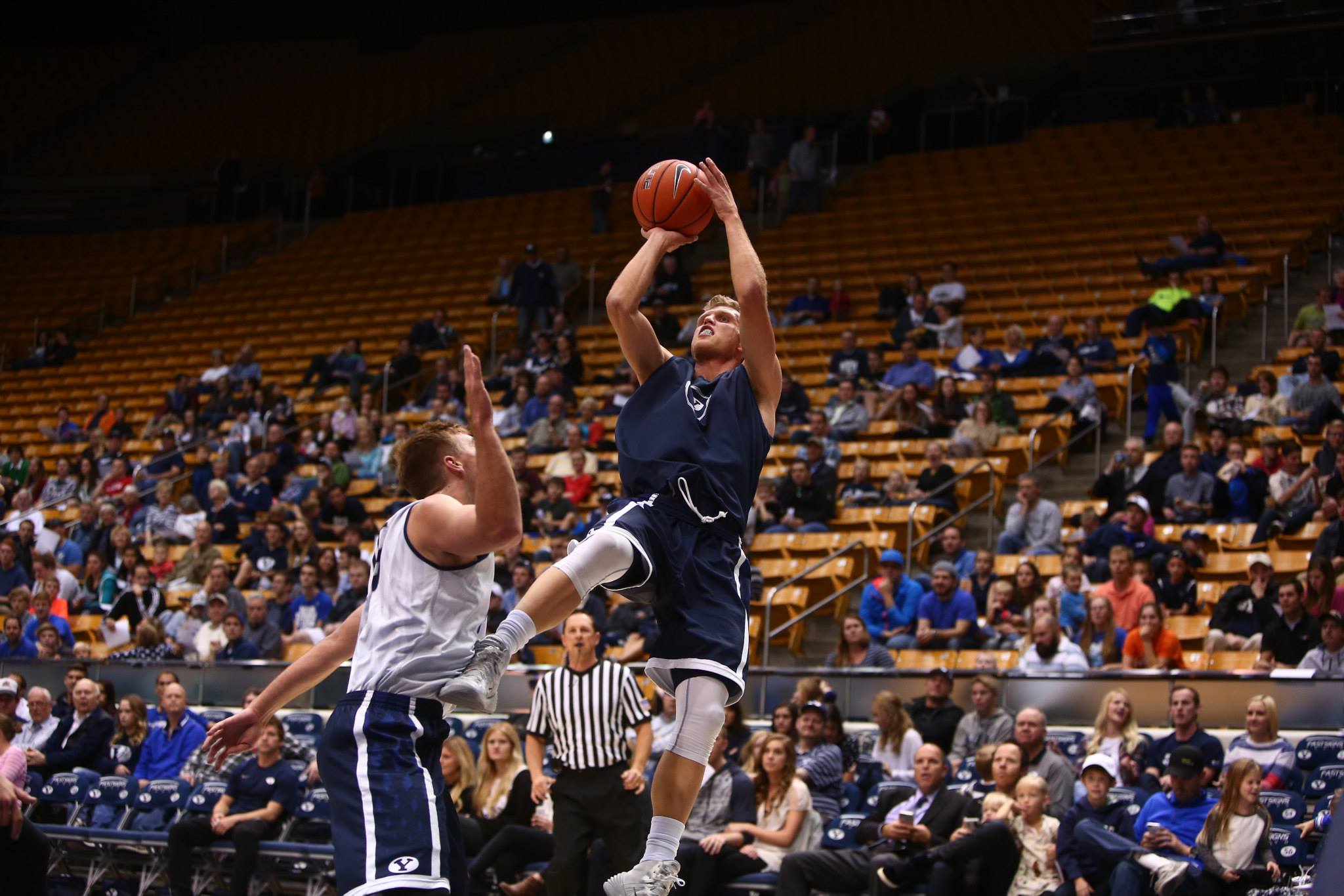 Geoff Johnston gives his thoughts on what transpired in last night's Cougar Tipoff scrimmage, in which the White side won the 1st half and the Blue team won the 2nd half.
BYU men's basketball got one step closer to starting the season last night with their annual "Cougar Tipoff" scrimmage. Here are some notes on what I saw:.
Tyler Haws is an unstoppable bucket-scoring cyborg from the future. At least that's one explanation for him being such a scoring machine. Ty put up 35 points on just 15 shots. That included shooting 4-4 from behind the arc and 9-9 on free throws. And he didn't look like he was even trying hard. Let that sink in for a while.
Who wants to be a backup point guard? I counted 5 guys getting minutes at point guard tonight: Halford, Ellis, Winder, Bartley, and Chatman. Of that group Ellis looked like the best ball-handler. However, while Ellis scored 13 points and recorded no turnovers, he also had no assists. Halford, on the other hand, was credited with 11 assists against just 3 turnovers.  Winder was somewhere in the middle of those two in the assist to turnover ratio. Chatman only ran point briefly. The outlier was Bartley, who had 3 assists, but 7 turnovers. Bartley did play some very good defense at times though. Dave Rose seems to prefer to lean on experienced guys, so my guess is Winder or Halford will likely end up spelling Kyle Collinsworth the most at PG this season. Neither of those seniors are great ball handlers, but both can fill in as needed. If opponents start pressuring a lot I could see Ellis getting his number called too. Unless tonight was a major anomaly, I can't see Bartley getting a ton of backup PG minutes this season.
Bigs time. Austin and Aytes were out with injuries tonight. Probably the best performance by a big man on the floor tonight was turned in by Kyle Davis. The dude seemed to score at will in the second half against Kaufusi and Neilson. Sadly, Davis is a transfer and will sit out this year. So of the rest of the guys, I'd rank them like this based on tonight: Worthington, Neilson, Kaufusi, Andrus. Luke looks like a new man out there. He's still solid on defense but his offensive game has improved dramatically. Neilson looks long and serviceable. Kaufusi looks athletic but very raw. And Andrus looked like a younger version of Neilson. Nixon and Sharp played too but they are more tweeners than true bigs on this team, and neither particularly stood out to me tonight.
The wings are good here. You already know about the Hawsinator 3000. But Chase Fischer looked confident and versatile out there. Jake Toolson has good size and shooting range, but looked a bit tentative, as freshmen often do. Winder looked like the extremely reliable, useful utility player we've come to know and love. He will help this team a lot this season. Chatman looked talented but tentative tonight. He could come on strong this season if he's not chosen to redshirt.
Overall I was pleased with what I saw tonight. If the three potential starters who sat out tonight can get healthy soon, and BYU can avoid injuries to its two star players, I can see this BYU team racking up 25 wins before the WCC tournament starts.