Why not this year for BYU Basketball?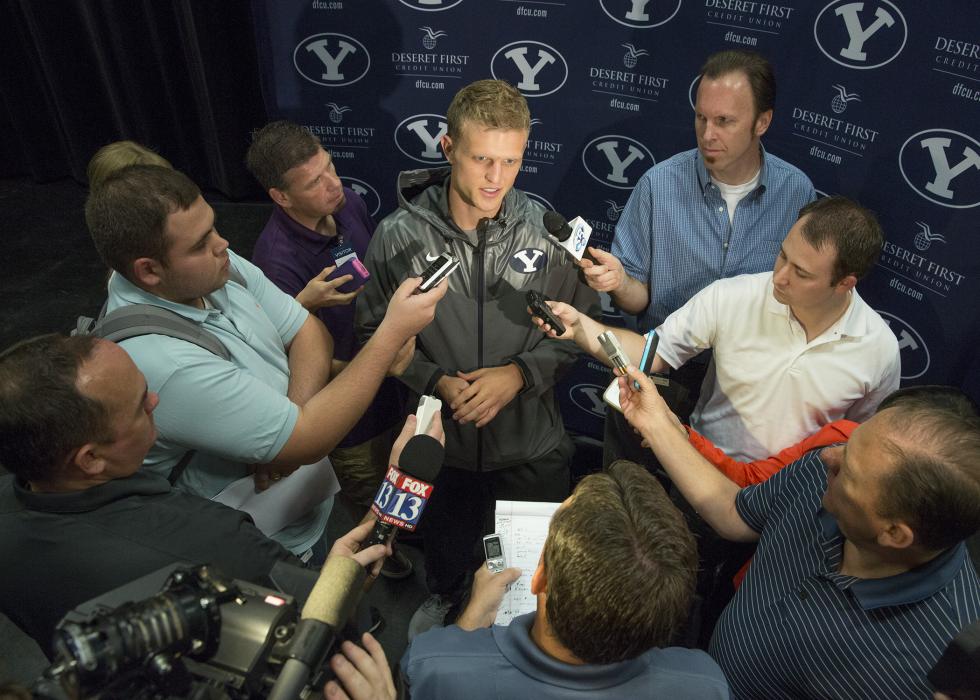 Prevailing thought among BYU fans is that with all the highly-touted recruits Dave Rose has recently signed, BYU basketball could be a legitimate contender for the Elite Eight or maybe even the Final Four in 3-4 years.
Current BYU players aren't buying that. They intend to do it now.
Last March, I argued that despite losing Eric Mika to a mission, BYU Hoops should be better this year. Seven months later, I'm even more convinced that BYU will be better this season. In fact, I think this team has a legitimate shot at making a run into the second weekend of the NCAA tournament. Here are some reasons why:
1. Haws and Collinsworth. Tyler Haws is one of the best scorers in the nation and is likely to surpass both Danny Ainge and Jimmer Fredette on the all-time BYU scoring list this season. It took special players like Ainge and Jimmer to get BYU deep into the Big Dance in the past, and Haws is that kind of a special player. In addition, Kyle Collinsworth is among the most versatile players in the country and also has a real shot at becoming an all-time great at BYU. Any team with two stars of that caliber has a shot at making a run in March.
2. Five Seniors. After having zero seniors last season, BYU will have five seniors on this team. Those seniors will be important contributors on the floor and will provide invaluable leadership and motivation in the locker room.
3. Three is the magic number. As I mentioned in that March post, BYU didn't take or make nearly enough threes last season. The one guy who was not shy about taking threes, Matt Carlino, wasn't particularly accurate. I expect BYU to take and make a lot more three-pointers this season. Tyler Haws will need to take and make a lot of threes to impress NBA scouts, Chase Fischer is renowned as a three point bomber, and incoming freshman Jake Toolson is a long ball specialist too. Plus there are plenty of other guys on the team that can drain from distance. BYU attempted just 498 threes all of last season. I expect the Cougs to get back on their regular pace and take more than 700 three point shots this season.
4. One year better. BYU returns eight of their ten guys from a solid team last season. All of those returners are one year better and more experienced. Experience helps in big time college basketball.
5. New blood. BYU will also have up to nine new guys suited up this season. In addition to the new players we were expecting last March (Chatman, Andrus, Aytes, Fischer, Neilson), BYU had four surprise additions to the team since then. Dalton Nixon and Jake Toolson joined the team after changes in their mission plans, Jordan Ellis impressed coaches enough in summer workouts to be added to the roster, and Corbin Kaufusi has been added to the squad after growing a couple of inches on his mission and then coming back and dunking on the team all summer. Many of the nine new guys were highly recruited out of high school and all have a shot at making a real difference on this team.
6. Depth. So much depth. Last season, BYU traveled just 10 scholarship players. This season, BYU will be able to suit up and travel up to 17 scholarship-worthy players. That kind of depth gives this BYU squad several new advantages:
Fouls to spare. Last year, BYU struggled in the low post as soon as Eric Mika picked up a couple of fouls — and Mika often picked up a couple of fouls shortly after the game started. This season, if low post guys pick up early fouls, no problem- just bring in the next guys. For instance, if Nate Austin and Isaac Nielson pick up a few early fouls, it's no big deal- bring in Corbin Kaufusi, Jamal Aytes, or Luke Worthington. Or Rose could call on Josh Sharp, Dalton Nixon, or Ryan Andrus. It's like a bottomless pit of fouls to give if needed.
Competitive practices. With a ton of guys fighting for just five spots, competition in practice should be intense all year. More competition normally pushes guys to become better and every player can benefit from that.
Better defense? While Haws and Collinsworth are locks for as much playing time as they can manage, everyone else on the team will have to earn their minutes on the floor. That means coaches will be able to bench guys who don't defend well and replace them with others who play solid defense. It remains to be seen how much better the BYU defense will be, but improving over last year's anemic defense shouldn't be hard.
7. Just one team goal: WIN. Kyle Collinsworth has said in interviews that he wants this team to go deeper in the NCAA tournament than the Jimmer-led team he was on. Tyler Haws recently said this [starting at the 9:15 mark in the video below]:
"Our one goal is to win. We want to win every tournament we're in, we want to win our conference championship, and we want to go as far as we've ever gone in the [NCAA] tournament."
It's clear that Tyler Haws and Kyle Collinsworth intend to lead BYU in making a major splash on the national scene again. Considering how good those two guys are and how many talented guys surround them on this team, I see no reason to doubt that can happen.