Cougars lock down Seattle Pacific in final preseason tune up
Updated: November 9, 2014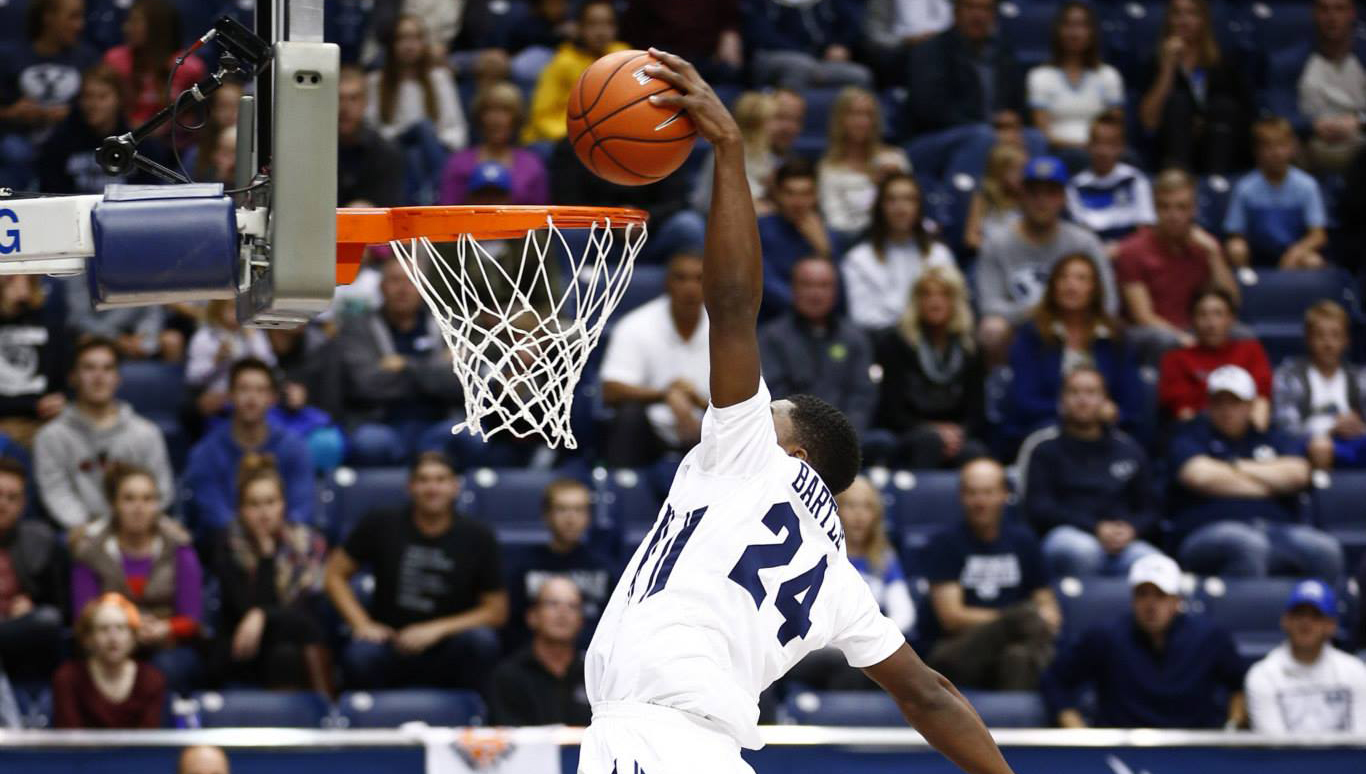 BYU dispatched Seattle Pacific University in the final exhibition game of the season by the final score of 75-44. As expected, this game was never in question, but we did learn some things about the 2014-15 BYU basketball team. Here are some observations from the game:
Kyle Collinsworth is back! He looked like he was performing at 80-90%, but Kyle at 80% is better than most players at 100%. The fact that KC was able to put in some good minutes was very encouraging. Collinsworth only scored 2 points and looked a little rusty, but he still managed to dish out 4 assists in 13 minutes of play. The fact that he was able to easily thump down a two-handed dunk was even more encouraging.
Tyler Haws is still freakishly good. Having a bucket-getting machine like him on the team is a major luxury.
Chase Fischer lived up to all the hype in this one. Fischer was the leading scorer in this game, with 21 points on 9-13 shooting in 25 minutes. He came in to BYU with a reputation as a three point bomber, but showed tonight that he can score in all sorts of ways. He'll be a very valuable player this season.
The backup point guard position is still scary. Frank Bartley and Skyler Halford both got minutes at point guard and both were frighteningly loose with the ball. They managed 4 assists and 4 turnovers together tonight. It is looking to me like BYU might be best served letting Anson Winder be the backup point guard. He won't be flashy but he likely won't throw the ball away either. We'll see what Coach Rose does on that front.
Corbin Kaufusi might actually live up to the significant hype he's received. Corbin is unlikely to scare opponents on the offensive end but he seems poised to grab a lot of rebounds and block a lot of shots this season. He's big, strong, and bouncy. I'd love to see him figure out how to finish on lobs — he has to the physical tools to be alley-ooping all day on rolls to the hoop.
Dalton Nixon is likely to play significant minutes this season. Nixon has played well in the two exhibition games. The advantage Dalton has over his fellow true freshmen team mates when it comes to playing time is he is in a position that is not crowded. BYU doesn't really have any other guys who can be both a small forward or a stretch four. His size and shooting ability make him useful when Dave Rose wants to go either small or big.
BYU will be better at defense. I know it was just an exhibition game, but the fact that BYU held SPU to just 14 points in the second half is welcome news — especially for a team that (too) regularly gave up more than 100 points per game last season. It looks like BYU's unusually deep bench will be used to pressure teams full court a lot this season. So far that is leading to BYU's defense being much more disruptive. Hopefully that will continue.
You can only take so much from a win over a Division II school, but I continue to believe this BYU squad will be better than last season's team. Getting Nate Austin healthy again will be important and Kyle Collinsworth shaking off the rust will be needed, but the early showings of this team have been encouraging.
BYU opens the regular season this Friday at home against Long Beach State at 5:00, local time.