BYU Hoops Progress Report: 30% of the regular season down
Updated: December 9, 2014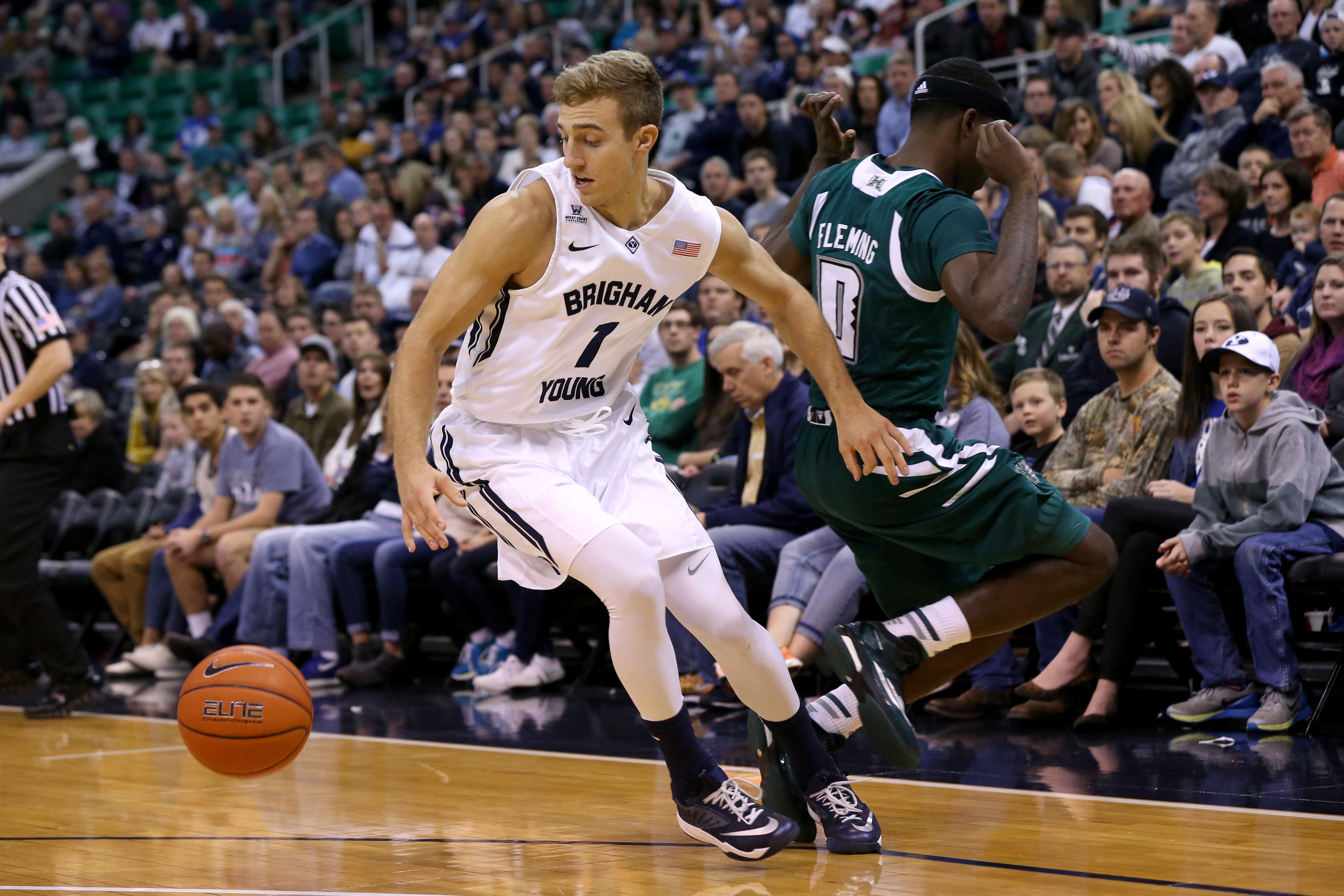 Nine games into the 31-game basketball regular season, BYU sits at 7-2.  With about 30% of the regular season in the books, Geoff Johnston shares his observations on the progress of the 2014-15 season.
Big 3? Nope. BYU is a 4-man show this season.  Tyler Haws, Kyle Collinsworth, Chase Fischer, and Anson Winder have emerged as the engine that drives this BYU team. In any given game, you can expect 90% of BYU's points to come from these four upperclassmen guards.
Tyler Haws is still a remorseless bucket-getting cyborg from the future. Watching Haws do his Haws thing is a marvel. Savor this season, BYU fans; this kid who regularly puts up a "quiet 30 points" is a scoring savant.
Upgrading to the bionic knee in the offseason appears to have worked out for Kyle Collinsworth. Remember how a lot of us were saying that BYU should be better this season as long as KC was healthy? Welp, he's healthy. Collinsworth put up his first career triple-double on Saturday against Hawaii. That made him the first BYU player to record a triple-double since 1988. And I expect that won't be his last triple-double as a Cougar.
Anson Winder forgot to plateau. You know how most 4-5 year journeymen basketball players tend to hit a plateau their second or third year and never get any better? Anson Winder ain't one of those guys. Winder has improved significantly every year he has been at BYU. As a fifth-year senior, he has proven worthy of full membership in a "Big Four" for BYU this year with the stellar numbers he has been putting up as the first Cougar off the bench. It has been a joy to watch Anson go to work this season.
Chase Fischer is who we thought he was. Who did we think Chase was? A charismatic, energetic sharpshooter… with a tendency to be a bit streaky. The nice thing is that some of his streaks include drilling 8 straight three-pointers. Hopefully Chase will hit one of those streaks like he did against Chaminade against some top-tier opponents this year as well.
It turns out BYU's 4-headed center can rebound and defend adequately, but can't score. Erik Mika averaged 11.8 points per game in the low post for BYU last season. I figured that between Austin, Neilson, Worthington, and Kaufusi, BYU could match those 11.8 points this season. I figured wrong. BYU is getting virtually no scoring from the low post at all. Luckily, BYU's four-man show doesn't need much scoring help; they mostly need rebounds and low post defense; and the bigs for BYU are providing those things. It is worth noting that Mika spent a ton of time on the bench in foul trouble last year; BYU's four big men have a combined 20 fouls to give, so one of them is always available.
Corbin Kaufusi can run fast and jump high — he just doesn't know where and when to do those things yet. The offseason reports on Kaufusi were that he is athletic but very raw. Early games have confirmed those reports. By the time this kid is a junior, he has a chance at being very good at basketball. For now, BYU can at least utilize his strength, hustle, and rebounding.
Dave Rose has 15 guys available, but he prefers to use 8-9. That deep bench we all talked about before the season is mostly there for show so far. BYU rode its four guards hard in the first nine games. I expect Coach Rose will continue to do that for a while until BYU faces some easier opponents again. But it's a long season and everyone will likely get minutes at some point.
BYU's ball handling deficiencies haven't been costly yet. Yet. Kyle Collinsworth is not back to 100% health yet and that is most evident in his ball handling early this season. KC has gotten into trouble dribbling in traffic more this season than he did last year, and he got his pocket picked a few times by the quick Hawaii guards this past Saturday. Skyler Halford is less secure with the ball than KC. So far this ball handling weakness hasn't cost BYU any games. Hopefully KC will continue to recover and BYU can avoid getting burned.
It's raining threes (Hallelujah)! Last season BYU attempted just over 14 threes per game and hit 35.5% of them. So far this season BYU is attempting just under 25 threes per game and hitting 40% of them. Yes, that's a very good development. It adds up to an extra 15 points per game. BYU's ability to drain threes could allow the Cougs to pull off an upset or two before this season is over. I should also note that BYU's ability to beat Utah State on a cold shooting night from three was encouraging as well.
On track for an excellent season. I'm a fan of the Ken Pomeroy college hoops algorithm. So far BYU has won every game in which Pomeroy had BYU favored and BYU has lost the two games where BYU was the Pomeroy underdog. As of today, Pomeroy has BYU at least slightly favored to win every remaining regular season game except for the two games against Gonzaga and the game at St. Mary's. If that were to happen, it would mean a 26-5 regular season for BYU — the best since the Jimmer team in 2010. Actually pulling that off is a long shot, but this BYU team is currently on track to be very good.
BYU faces an excellent Utah team in the Marriott Center on Wednesday. If the Cougs can win that game, the season will be looking very promising.