BYU Announces Neutral and Home November Games vs. Missouri
Updated: November 13, 2014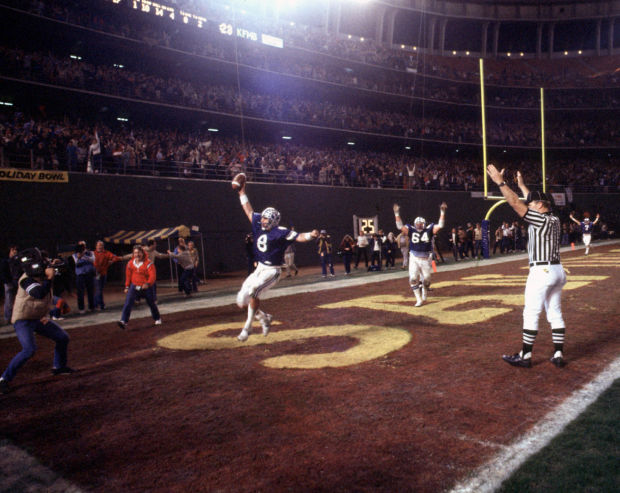 The BYU Cougars and the Missouri Tigers will play a two-game series, the schools and Arrowhead Stadium jointly announced today. They will meet in Kansas City on November 14, 2015 and at LaVell Edwards Stadium on November 7, 2020.
BYU was previously scheduled to return the game with UNLV on November 14, 2015. That game will now be played in either 2016 or 2017.
It will be the second meeting between the two teams. Steve Young led the Cougars to victory over Missouri in the 1983 Holiday Bowl, catching a throwback pass on the final play of the game (also the final play of Young's collegiate career).
"We've been focused on bringing FBS football back to Arrowhead Stadium for some time and have investigated a number of ways to accomplish that," Chiefs President Mark Donovan said. "We want to thank both Missouri and BYU for making this possible. We know that this will be a unique opportunity for the players, coaches, and fans of both institutions to experience the iconic Arrowhead atmosphere."
The Missouri press release also speaks highly of BYU, praising the Cougars' "record of elite-level success and tradition that includes winning the 1984 National Championship."
Jeffery Call of the Deseret News reported that Chiefs head coach and BYU alum Andy Reid played a role in getting the series done.
Missouri moved from the Big 12 to the SEC in 2012 and will be the fourth team from a Power 5 conference scheduled to play BYU in 2015. They will become just the second SEC team to ever visit Provo; Mississippi State made the trip in 2000.
Scheduling 12 regular season games plus a bowl game each year is a huge challenge. Teams schedule their games far in advance, making BYU's transition to the kind of independent schedules fans have been hoping for an ongoing process. However, progress is definitely being made. Scheduling two games with an SEC team in November with one of them at home is a major coup for Tom Holmoe and BYU.
BYU's 2015 schedule looks daunting as it currently stands. The Cougars are expected to open in Lincoln, Nebraska on September 5, then host Boise State on Sept 12, and then face UCLA and Michigan on the road in the consecutive weeks.
The Cougars are expected to then play four games in a row at home: Connecticut, East Carolina, Cincinnati and Idaho State, before traveling to Kansas City to face Missouri.
BYU will then likely finish 2015 at San Jose State, home to Fresno State for senior night, and on the road at Utah State.
After hosting Texas and Virginia in 2014, Tom Holome currently has no Power 5 teams scheduled to come to Provo in 2015. However, in the years that follow, there is at least one Power 5 team coming to Provo each season.
UCLA is scheduled to visit Provo in 2016; Utah in 2017; Cal in 2018; Wisconsin, Washington, and Southern California in 2019; Arizona, Virginia, and now Missorui in 2020; Arizona State in 2021; and Stanford in 2023 and 2025. Continuing home-and-home series against Boise State and Utah State should continue to be a staple of the schedule, and the potential still exists that the remaining four Notre Dame games initially scheduled will be added, although almost certainly not before 2020.
Putting the schedule together is a huge challenge of independence, and BYU can't play Top 25 teams every week. Scheduling this game at Arrowhead Stadium does show one of the benefits BYU has as an independent. A few weeks ago, Tom Holmoe told BYUtv's BYU Sports Nation the four game series with UMass started because the New England Patriots reached out to BYU to schedule a game in their stadium.
Finally, the game against Missouri has some historic interest for Mormon BYU fans. Kansas City is very close to Jackson County and many historic LDS history sites. The football game may serve as a reminder of the 19th-century history between Mormons and the state of Missouri. Recent research has shown the events leading up to the extermination order were probably motivated by greed more than raw bigotry. It appears frontier laws regarding land development were abused to allow political leaders to buy the land out from under Mormons.
But, with today's announcement, it appears that financial dealings between Mormons and Missouri are running much, much better than they were in days past.