BYU Hoops Needs a Nearly Perfect Back Nine
Updated: January 26, 2015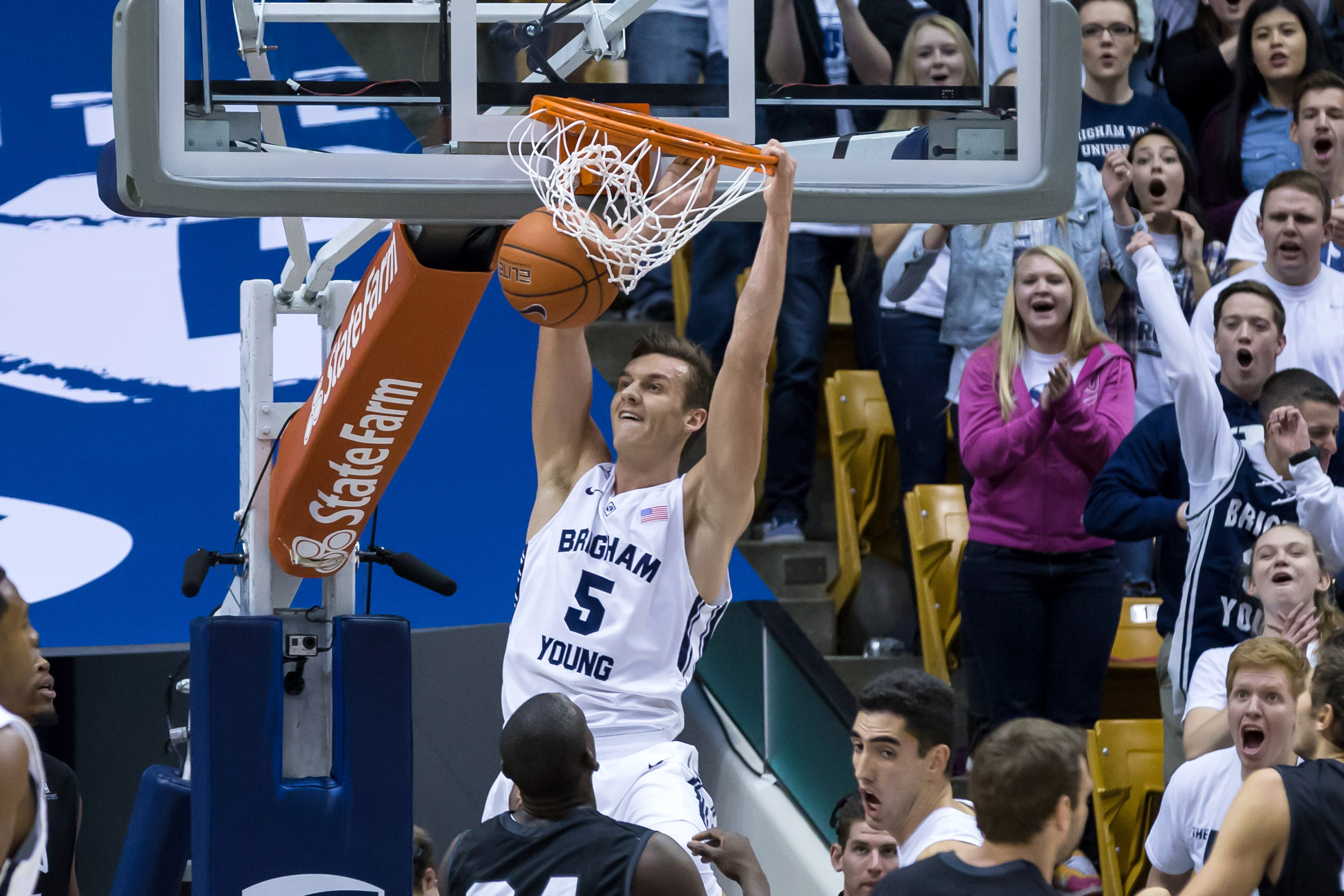 If we were to compare BYU basketball's play in the WCC this season to a round of golf, it's safe to say the front nine was plagued with slices, hooks, and far too many bogeys. BYU is looking to turn things around in the final nine WCC games after the Cougars posted a disappointing 5-4 record in the first half of conference play.
With four losses in conference already, the pressing question at this point is: Will BYU make the NCAA tournament this year? The answer to that question is… Maybe.
Here are some ways BYU can still get into the NCAA tournament.
Win the WCC conference tournament. This one is obvious. Winning the WCC tourney means an auto-bid to the big dance. Unfortunately for BYU, #3 ranked Gonzaga stands between the Cougs and the WCC tournament title.
Beat Gonzaga… at all. Beating a top 5 team like Gonzaga would provide a massive resumé boost for BYU no matter where the win takes place. If BYU were to somehow pull off an unlikely win over the Zags in Spokane at the end of the regular season, BYU might be able to get an at-large bid with 23-24 total wins without winning the WCC tournament.
Win 25 games. Even without beating Gonzaga at all, finishing the season with 25 wins could very well be enough to earn BYU an at-large bid. With a record of 25-9, BYU's tournament resumé would likely boast a solid RPI to go along with wins over respectable teams like Stanford, Saint Mary's (perhaps twice), and UMass. But BYU getting to 25 wins is also a very tall task. With only 15 wins now, BYU would need to come up with 10 wins in 12 remaining games. If BYU were to lose to Gonzaga in 2 of those 12 games, BYU would need to go 10-0 against the rest of the WCC from here on out. It is debatable whether that would be any easier to accomplish than beating Gonzaga this season. Admittedly, winning 25 games is no guarantee of getting an at-large bid, but the odds are pretty good. BYU started WCC play at 5-4 last season too. The Cougs finished with a 23-11 record and still got an at large bid to the big dance as a #10 seed. It is rare for 25 win teams to get snubbed and I believe that with a 25-9 record, BYU's overall numbers would once again be good enough to get an at-large invite this year.
So BYU making the Big Dance is not out of the question yet, but it will require near perfection the rest of the season.
Here are some things BYU could use on the court over the next 12 games to accomplish one of the three options above:
Healthy guys staying healthy. BYU can't afford to have any more top performers go down. Losing any one of the top 4 guys might doom BYU's chances of making the NCAA tournament.
Injured guys getting healthy. Nate Austin might want to consider calling Mr. Miyagi to look into getting that hamstring magically fixed. BYU needs big Nate badly.
Young bigs stepping up. It may be asking too much, but if BYU can at least get more rebounds out of Worthington, Kaufusi, and Nielson it would help tremendously.
Raining threes. They say the three-point shot is the great equalizer. BYU will probably need to drill a lot of them between now and March if the Cougs want to go dancing.
Playing some defense…  Is that asking too much? (It might be.)
So BYU duffed a few shots on the front nine and has several bogies to show for it at the turn in WCC play. The Cougs are going to need to get some birdies on the back nine to live up to their potential and get this senior class into the big dance again. Let's hope this team has it in them to pull it off.