Cougar Brain Trust: 2014 Season Review
Updated: December 16, 2014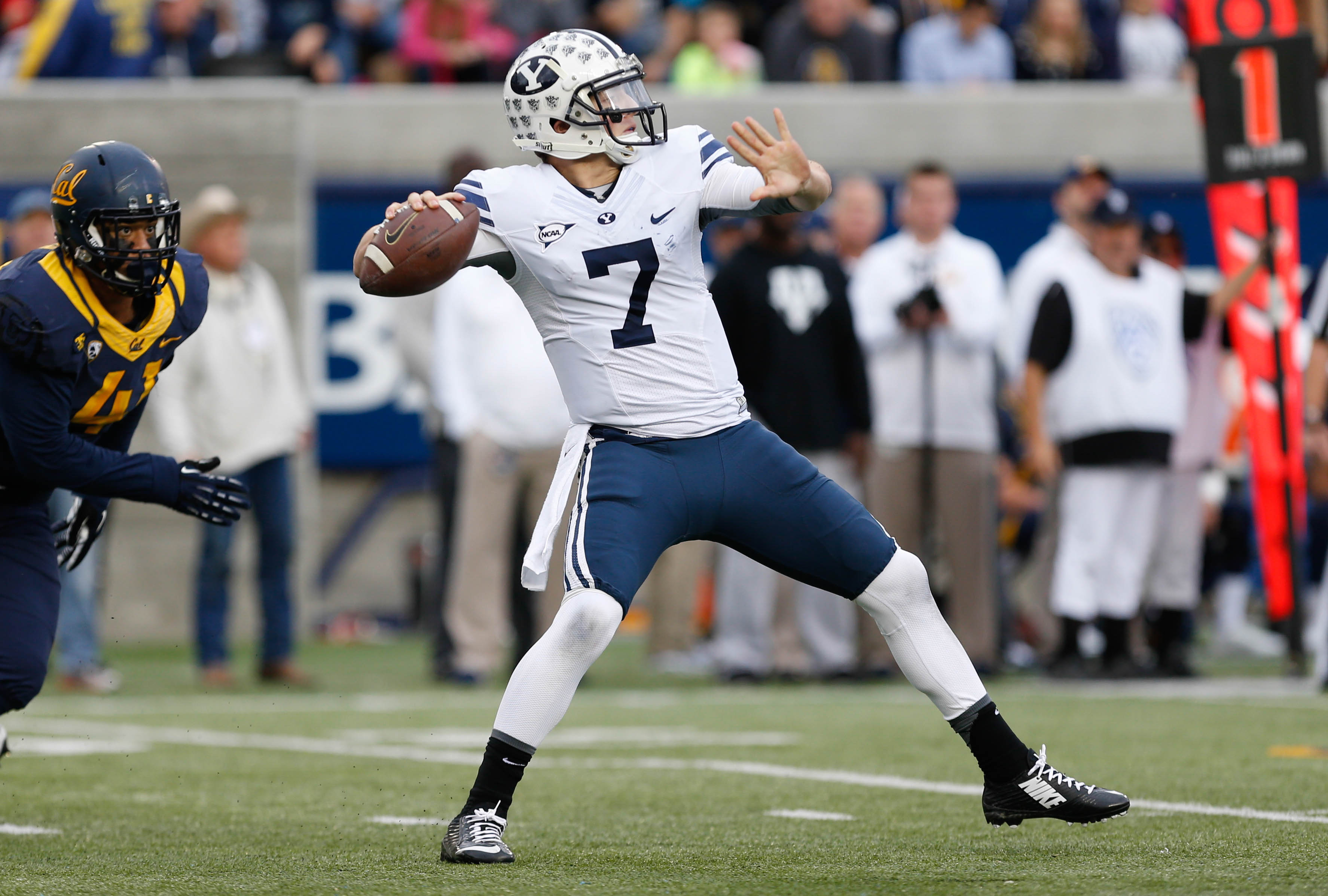 Random Comparisons
1. Higher total: BYU KR yards or Offensive Plays run – 52% said KR yardage. Actual: Total plays. This question could have gone either way and there was only a one-vote difference in the predictions. In 2013, these two numbers were only separated by 23, with offensive plays holding a slight edge. The separation was greater in 2014 as BYU totaled 958 offensive plays, but just 815 kick return yards. BYU fell from the 3rd-highest plays per game to the 9th-highest and from the 11th-best KR average to the 85th-best. So, while both numbers represent a dropoff from 2013 totals, the kick return decrease was more substantial. BYU averaged 19.9 yards per kick return in 2014 after posting an average of 24.7 yards per return in 2013.
2. Higher total: BYU sacks of opponent or BYU passing TDs – 85% correctly predicted passing TDs. With rumors of an improved passing game, this question seemed like a slam dunk at the beginning of the season. BYU finished the 2014 regular season with 29 passing TDs and 25 sacks. While the final sack total was in the same ballpark as 2013's total of 24, the passing touchdowns increased from 19 to 29. However, the Brain Trust may have gotten lucky on this one as that increase can be almost entirely attributed to Christian Stewart, and not to any improvements to Taysom Hill's passing TD output (though his efficiency was improved). Taysom's 7 passing TDs through 4.5 games only put him on pace to match 2013's total of 19. Only Stewart's average of nearly 3 passing TDs per game led the voters to victory with this prediction.
3. BYU score or allow more D/ST TDs – 83% predicted BYU would allow an equal/greater number of defensive and special teams touchdowns. Actual: BYU scored more. Perhaps the "greater or equal" enticed a large number of voters to vote as they did. Nonetheless, Adam Hine returned a kickoff for a touchdown against Virginia and Fred Warner had a pick-six against Boise State, leading the Cougars to a 2-0 victory in this category.
4. Greater 4th Down conversion percentage: BYU or opponents – 65% were correct in predicting that BYU would convert a higher percentage. This was another question that went back and forth over the course of the season. BYU held the advantage through the early season and then lost it during the losing streak. The Savannah State game certainly helped matters, with BYU converting 2 of 2 and holding the Tigers to 0-for-3. The Cougars finished the year with a slight advantage (62% to 56%).
5. Pass efficiency differential – 62% predicted that BYU would hold an advantage of 0-10 points. Actual: BYU +21.3. In 2013, BYU passed for a rating of 118.7 and allowed its opponents an efficiency of 113.2. Most fans likely expected a slight bump to both and a similar net result. Taysom Hill and Christian Stewart had nearly equal contributions in leading BYU to an amazing rating of 142.6. However, the BYU pass defense regressed from its 2013 performance (ranked 16th in the FBS), allowing a rating of 121.3 (ranked 43rd in FBS). The end result is good as only 22% of the Brain Trust voters correctly predicted that BYU would hold an advantage greater than 10 points.
Random Predictions: 2-3. Better yet, but still nothing to be proud of.
Scoring/Record Predictions
1. Will BYU win all 5: Virginia, Utah State, UNLV, Middle Tennessee, Cal – 80% said Yes. Actual: No (Loss to Utah State). This question seemed to mark BYU's path to a special season: the five "middle of the pack" teams on the schedule. The one BYU loss came not to one of the two Power 5 teams, but to an in-state rival.
2. BYU record vs. Texas, Houston, UCF, and Boise State – 53% correctly said 2-2. This is a good example of what Vegas would call a "back door cover." I guarantee that the entire 53% would have changed their guess following the Houston game, but at the end of the day, 2-2 is 2-2.
3. BYU highest-scoring quarter – 72% predicted the 2nd Quarter. Actual: Tie between 2 quarters. Any luck that the Brain Trust had in the previous question was taken away with this one, as BYU scored exactly 125 points in both the 2nd and 3rd quarters. I would have gladly given them the point for this one if there hadn't specifically been an option for "Tie between any 2 quarters." Props to the two voters who went against the odds and predicted a tie.
4. Highest BYU single game point total (FBS opponent) – 53% said 54 points or more. Actual: 42 (UNLV & Cal). It wasn't too far fetched too imagine that BYU would drop a big number on someone besides Savannah State. This was supposed to be a team with an improved passing game and big play ability. But, 42 was still the highest the Cougars could muster. The slight minority (47%) got this one right.
5. Highest BYU margin of victory (FBS opponent) – 73% correctly said 41 points or fewer. If the voters expected the offense to score more than 54 points in a contest, they also expected the defense to give up a bunch. The voters were correct in assuming that Bronco Mendenhall wouldn't allow his team to blow out any of its FBS opponents. The 34-point win at Texas proved to be the most lopsided of the season.
6. BYU average margin of victory – Voters correctly predicted 11 points. The Brain Trust lucked into this one. After winning by an average of 10 points in 2013, the composite average margin of victory prediction was 11 points, exactly what BYU finished with.
7. BYU regular season win total – 43% predicted 10 wins. Actual: 8 wins. Along the same lines as before, if the fans would have been allowed to change their vote following the Texas, Houston, or Virginia games, the pendulum may have swung in the opposite direction. But, that's why they play 12 games. BYU's four losses came against two of the "Top 4," one of the "Middle 5," and one of the "Bottom 3." I doubt many are satisfied with an 8-4 year, but there are some positives considering the injury situations the Cougars were forced to overcome. And BYU still has a chance to end the year with another bowl win over a respectable opponent. Is all well in Cougartown? Certainly not. But, the important thing is that things seem to be heading in the right direction.
Scoring/Record Predictions: 3-4. Slight improvement yet again.
All Season-long Predictions: 8-17. The worst performance of the year by the Brain Trust (possibly due to the fact that several questions had more than two options to choose).
Final Overall Record: 59-66. Better luck next year, Brain Trust.