2 Days Left: BYU's Recruiting Board
Updated: February 2, 2015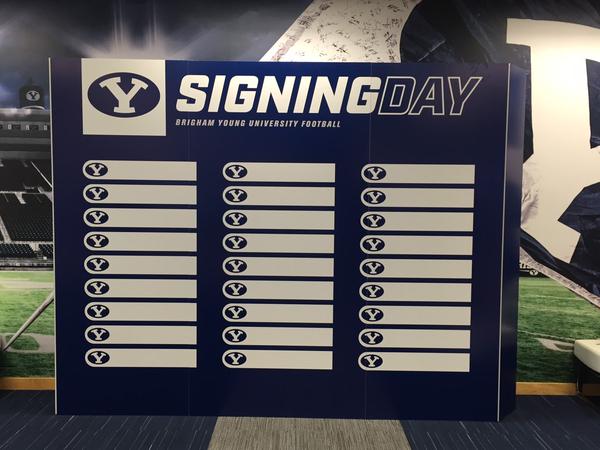 There are only 2 days left until BYU's commitment board starts filling up and 8 known potential Cougars have still not announced their college choices. Seven of the eight just returned home from a weekend trip to Provo, their final contact with coaches (from ANY school) before the NCAA-mandated dead period today and tomorrow. Here I take an updated look at the chances of each recruit signing with BYU. With 4 of the 8 expected to announce their decision today, the final Class of 2015 is going to get a lot clearer in the next 24 hours.
JJ Nwigwe, OT, 6'2″, 260-lb, Rockwall-Heath HS, Rockwall, TX: By all accounts, J.J. loved his weekend visit to Provo and multiple underground sources have reported that he committed to the BYU coaches at the conclusion of his visit. Keep a close eye on his Twitter feed as it's rumored that he will make an announcement today. As a reminder, Nwigwe also holds offers from SMU, Navy, NMSU, Nevada, Kansas, and Cal. Locking up Nwigwe will go a long way toward Geoff Martzen's stated goal of obtaining offensive line depth. Likelihood of signing with BYU: 90% ♦ Prediction: BYU
Jeremiah Ieremia, MLB, 6'2″, 225-lb, Hurricane HS, Hurricane, UT: Perhaps the most negative tidbit to come out since I posted my previous recruit predictions was the news that Jeremiah Ieremia has re-opened his commitment. Ieremia told Talo Steves at Total Blue Sports that he would decide today between BYU and Utah State. Jeremiah just returned from Provo, but there's no word on how his BYU visit compared with his visit to Logan the previous weekend. I think he'll stick with BYU, but stranger things have happened. Likelihood of signing with BYU: 85% ♦ Prediction: BYU
Gabe Reid, DE, 6'0″, 208-lb, Timpview HS, Provo, UT: Reid seemed to have an enjoyable visit to BYU and he will make an announcement tonight at 8:00pm MST. His weekend Provo visit with potential teammates combined with Britain Covey's revelation that he doesn't see Reid joining him at Utah have only increased BYU's chances of signing Reid. I would feel that BYU and Stanford are the leaders at this point. Unfortunately, I'd still give the edge to the Cardinal. Likelihood of signing with BYU: 30% ♦ Prediction: Stanford
Dayan Lake, CB, 5'11", 185-lb, Northridge HS, Layton, UT: Other than his official visit to BYU, I haven't heard any developments on Lake's situation since last week. BYU's still appears to be competing against UNLV and San Diego State for Dayan's Signing Day signature. I'd maybe give BYU a slight bump after the weekend, but I wouldn't be surprised at all if Lake chooses a different destination. He will reportedly make his announcement today between 4:00 and 5:00pm MST. Likelihood of signing with BYU: 75% ♦ Prediction: BYU
Zach Hoyt, C, 6'5″, 275-lb, Salem HS, Salem, VA: Though I haven't heard anything specific about Hoyt, the weekend offer and commitment of Bountiful High School's Brady Christensen indicate to me that BYU had a last-minute OL offer come available, with Hoyt being the likely source. He may sign with BYU, but with late offers from Pitt and Virginia Tech, the Virginia native may have candidly informed the coaches that he would prefer to stay closer to home. Again, I have no direct information about Zach, and I still hold out hope that he chooses to be a Cougar, but for what it's worth (virtually nothing), the tea leaves have pointed me in a different direction. There's no word on when we can expect an announcement from Hoyt, but you can follow along on Twitter. Likelihood of signing with BYU: 35% ♦ Prediction: Pitt
Khari Vanderbilt, DB, 6'2″, 187-lb, San Jose City College, San Jose, CA: Vanderbilt is still facing a decision between BYU and Utah State. During his weekend visit to Provo, initial reports had Vanderbilt re-affirming his commitment to BYU. Khari's personal rebuttal of those reports neither confirms nor denies those initial reports. Either the reports were true and he simply did not want that information out yet or they were false and he either hasn't decided yet or he's leaning towards the Aggies. It's anyone's guess at this point. I've given his chances a slight bump making his commitment a true toss-up at this stage. Vanderbilt is expected to announce his decision on Signing Day. Likelihood of signing with BYU: 50% ♦ Prediction: Too close to call. Gun to my head? Utah State
Mika Tafua, OLB, 6'3″, 208-lb, Kamehameha HS, Laie, HI: There doesn't seem to be any new public information on Tafua, though missing out on the big weekend visit certainly doesn't help things. Pac-12 school including USC, Oregon, and Washington have been putting on the pressure of late. I still see Tafua honoring his original commitment to BYU, but it's still not a given. While there's been no official timeline announced, Tafua will likely be a Signing Day decision. It's definitely looking similar to last year's situation with Fred Warner. Hopefully, it ends the same for BYU. Likelihood of signing with BYU: 50% ♦ Prediction: BYU
Mufi Hunt, DE, 6'6″, 215-lb, Taylorsville HS, Murray, UT: The only word on Hunt's impressions from this weekend was the following tweet:
https://twitter.com/YaBoiMuf21/status/561970451833188353
Praise was abundant following previous visits to Michigan State and Oregon State. Hunt is also taking a hard look at Utah State and Washington State. I still believe that being the last school in front of Hunt gives the Cougars a slightly better than average chance at signing him. Mufi will announce his decision on Signing Day. Likelihood of signing with BYU: 40% ♦ Prediction: BYU
So, there you have it. My current predictions have BYU signing five of these eight prospects on Wednesday. Securing the services of Nwigwe, Ieremia, Lake, Tafua, and Hunt would add a fantastic cherry on top of an already solid recruiting class.
Do you have anything to add? Or do you think I'm just up in the night with some of these predictions? Join the discussion on Cougarboard. And be sure to follow our real-time updating recruiting board.