Who will sign with BYU on Wednesday?
Updated: January 29, 2015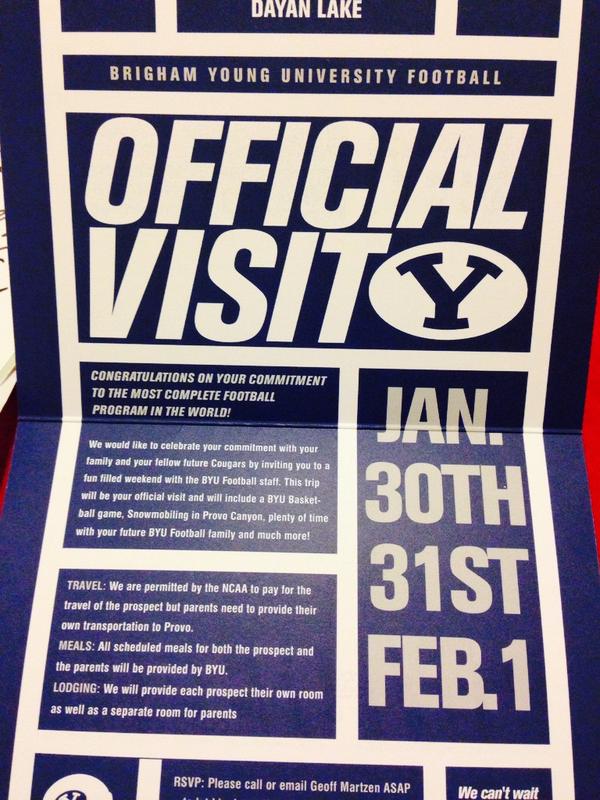 BYU's ten full-time football coaches are on the road today, making their final in-home visits before returning to Provo ahead of tomorrow's annual official visit extravaganza. 25 prospects are expected to visit BYU, where they will be "sparkling grape juiced" and dined in three days packed with family, friends, football, snowmobiling, and a Saturday evening trip to the Marriott Center to watch the basketball Cougars take on Santa Clara.
In preparation for this weekend's visit and Wednesday's National Signing Day (only six days from now), we wanted to give a rundown of which recruits will be in Provo this weekend and what BYU's chances are of signing those who have yet to choose a college destination.
Official Visitors
Who isn't coming: At this point, the list of athletes recruited by BYU who won't be visiting this weekend is shorter than those who will. Three prospects have already made their official visits to BYU: Soft verbal commit Mika Tafua was in Provo last weekend, Akile Davis visited in December, Charles West came to BYU in October, and Kieffer Longson was in town in September for the Virginia game. Britain Covey was planning on visiting but may have cancelled following his commitment to Utah this week. I'm sure BYU coaches would still be happy to have him, but ultimately the decision is his. Several sources have reported that Viliamu Auwae will not make the trip, with some suggesting that BYU has pulled his offer for academic reasons.
Which commits are coming: On Tuesday, Coach Kelly Poppinga told BYU Sports Nation that there will be in the neighborhood of 25 recruits in town this weekend, of which 6-7 are uncommitted. Last week, Geoff Martzen told reporters that BYU currently holds commitments from 17-18 prospects for the Class of 2015. I would guess this total would be the 14 shown on Scout.com, plus Squally Canada, Eric Takenaka, and Khari Vanderbilt, who is still considered a "soft verbal."
I'm expecting 12 of the 15 strongly committed prospects to make the trip tomorrow: Will Sedgwick, Devin Kaufusi, David Lui, Kody Wilstead, Riley Burt, Tevita Mounga, Jeremiah Ieremia, Beau Hoge, Zayne Anderson, Squally Canada, Micah Simon, and Eric Takenaka. As far as I can tell, the two players who are already enrolled (Canada and Takenaka) can still come on the official visit since neither were academic non-qualifiers.
Preferred walk-ons: From what I've read in the NCAA Division 1 Manual, recruited athletes with offers as preferred walk-ons can also have a visit paid for by the University. This group would include Matt Foley, who has committed to BYU as a deep snapper and expects to be on scholarship beginning with the 2016 season. Foley has confirmed his attendance this weekend via Twitter. There is no confirmation from BYU's other 2015 walk-ons: TE/OLB Scott Huntsman, OL Christopher Thee, WR/CB Holden Fielding, TE Jackson KaKa, CB Kamel Greene, and QB Koy Detmer, Jr. One final prospect yet to accept his preferred walk-on offer, Pleasant Grove OL Demetrius Davis, has also confirmed via Twitter that he'll be on the trip this weekend.
Which uncommitted guys will be here: By my count, BYU is still actively pursuing 9 scholarship players from the Class of '15. 8 of those 9 (all but Tafua) will be in Provo this weekend as BYU coaches will have the final say in the battle to lock down their services for the foreseeable future. In the next section, I'll break down BYU's chances of signing each of these prospects along with a prediction on where I think they'll end up.