Mark Few and I agree: BYU should be in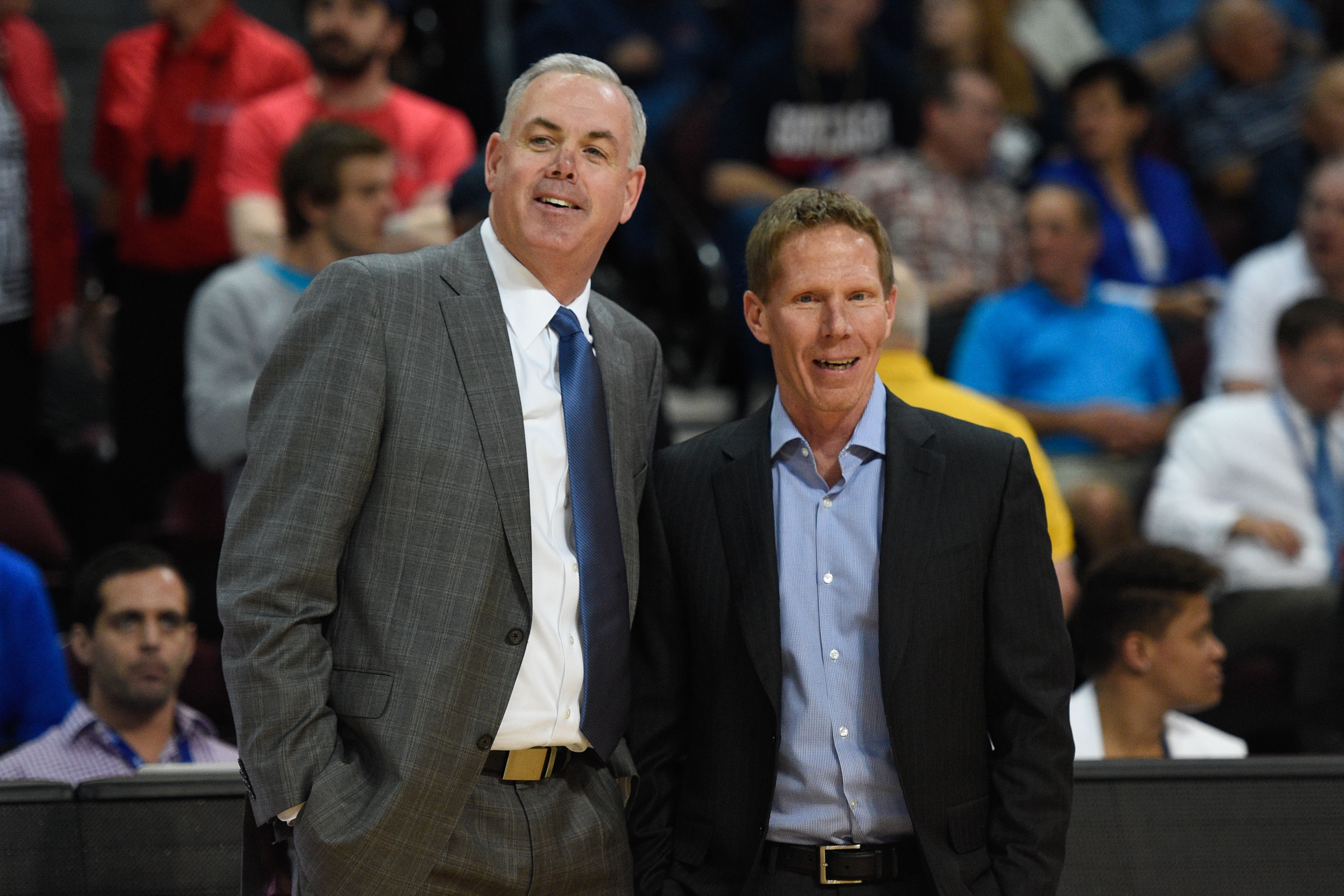 The regular season is over. The WCC tournament is over. And, as has been the case for the past 13 seasons, the waiting game begins for BYU.
BYU's tournament resume is undoubtedly stronger than last year: The Cougars are ranked #29 in the Pomeroy Ratings, #31 in ESPN's BPI, #34 in the Sagarin Ratings, #36 in the Palm RPI, and #43 in ESPN's RPI. BYU finishes with 25 wins, including one of the biggest wins by anyone in college basketball, upsetting #3 Gonzaga on the Bulldogs' home court. The Cougars also boast wins over three Top 75 teams (Stanford, St. Mary's, and UMass). BYU is the clear #2 team in the 8th-ranked conference; the WCC was ranked #9 in 2013-14, #10 in 2012-13, and #11 in 2011-12, and had at least one at-large team in each of those seasons. NCAA career and single-season triple-double record-holder Kyle Collinsworth and BYU's all-time leading scorer Tyler Haws lead an exciting BYU offense (ranked in the Top 10 in both Offensive Efficiency and Offensive Tempo by stat guru Ken Pomeroy). The Cougars finished the season strong, as has often been the case under Coach Dave Rose, with the loss in the WCC final being the only loss in the final nine games of the season. Finally, injuries to Anson Winder and Skyler Halford are not as major as Collinsworth's season-ending knee injury last season and both players should be expected to return to action after a week of rest before a potential tournament game.
Sure, there are negatives to any tournament resume; BYU had three losses to sub-100 teams (twice to Pepperdine, and at San Diego). And is one win against a Top 50 team, however huge it was, enough to make the field?
As reported by Jeff Eisenberg at Yahoo Sports, at least one coach is solidly in BYU's corner. Gonzaga coach Mark Few said the following after last night's championship game: "BYU is really good; there's no doubt they're an NCAA tournament team who can win a bunch of games. They're playing top 15, top 20 basketball right now. They're playing as well as any team in the country. They're smacking guys. They were really [Tyler] Haws-oriented early in the season, and now they've spread it out and they're coming at you."
When asked if having only one Top 50 win could hurt BYU's tournament chances, Coach Few reminded Eisenberg that BYU should have had a second Top 50 win if an obvious travel had been called against San Diego State, thereby negating the Aztecs' game-tying three pointer at the end of the first overtime. Few added, "If they can beat us in Spokane, that ain't just any top 50 win."
This BYU team is a tournament-worthy team. As was mentioned on Cougarboard this morning, in the last seven seasons, all 210 teams ranked in Pomeroy's pre-tournament Top 30 have made the dance. But, last year, BYU was helped by a dearth of bid thieves, teams that upset favorites in conference tournaments, steal the automatic bid, and force the committee to use an at-large berth on said favorites. For example, the Mountain West is currently projected to receive three bids. But, if a team like Utah State or Wyoming wins the tournament, the league will likely get four bids. Since San Diego State, Boise State, and Colorado State all hold stronger resumes than BYU, Cougar fans have to hope that one of those three teams wins the conference tournament.
Here is a list of projected multi-bid leagues and therefore, the teams that BYU would like to see win those automatic bids in the upcoming conference tournaments:
Also, BYU needs to hope that teams with similar resumes lose as early as possible in their conference tournaments. This will either move them below BYU in the at-large pecking order, or remove them from the bubble completely. Teams slightly ahead of BYU at this stage include: LSU, Ole Miss, Oklahoma State, Colorado State, Davidson, Georgia, Boise State, and Purdue. Teams fairly even with BYU at this stage include: Texas, Temple, Indiana, Texas A&M, and Illinois. Teams slightly behind BYU at this stage include: Tulsa, UCLA, Miami, and Old Dominion.
Of these teams, only Miami (ACC 6-seed vs. 14-seed Virginia Tech, 7pm MDT) and Texas (Big 12 7-seed vs. 10-seed Texas Tech, 7:30pm MDT) play today. Most of the remainder play tomorrow as the conference tournaments kick off in earnest.
The Cougars definitely look like an NCAA tournament team. They pass the eye test and their record should be enough to put them in. But, once again, it's going to be a nerve-wracking four days while we wait to see if BYU's name is announced on Sunday.