What does BYU have that's good?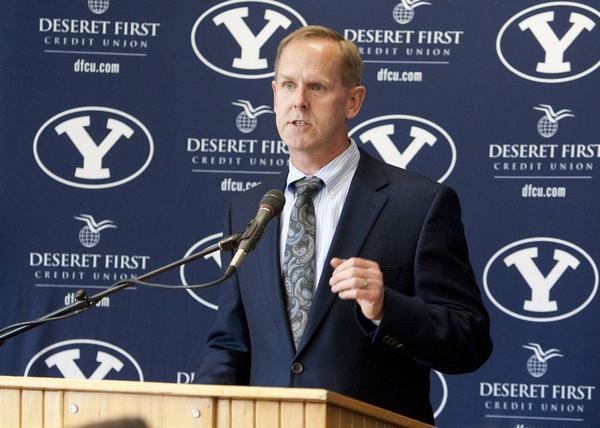 In the movie Apollo 13, the spacecraft Odyssey suffers a major explosion halfway to the moon. Shortly thereafter, Flight Director Gene Krantz asks Flight Controller Sy Liebergot, "Let's look at these things from a…from a standpoint of status. What have we got on that spacecraft that's good?"
Unable to think of anything, Sy replies, "I'll get back to you, Gene." About fifteen minutes later, the Odyssey is out of power and permanently shut down.
There are, it seems, a few fans and media members who view BYU's current position in college athletics as analogous to the doomed NASA ship. Indeed, back in June 2011, Michael A. Anastasi, then managing editor for The Salt Lake Tribune told the San Jose Mercury News, "My sense is that people cannot get enough of (Utah joining the Pac-12). Historically, there has been much more interest in Brigham Young than Utah. But with Utah's consistent excellence, and now being invited to the Pac-12, we're seeing a seismic shift in the landscape."
Two-and-a-half years after the seismic shift was reportedly being seen, the Tribune listed its most-read sports stories for 2013. Seven of them were BYU stories, mostly negative BYU stories, but BYU stories nonetheless. The other three stories rounding out the year's top ten were about the Utah Jazz.
Utah football and basketball obviously had much better seasons in 2014 and 2015 than they'd had in the previous 3-4 years, so I wouldn't be surprised if a story about either of those teams found its way into a more recent Tribune's sports top ten. Indeed, reliable surveys show that Utah has captured a sizable fan base within the state. However, as some continue to shovel dirt onto the grave of BYU sports, it's worth considering that things are perhaps not as bad as they say.
So let's ask the Apollo 13 question. What does BYU athletics have that's good?
BYU is a Power 5 team, according to the SEC and ACC
Sure, an invitation for BYU to join a Power 5 conference right now would mean more money, less work to schedule teams, and a more consistent slate of opponents; but as far as the SEC and ACC are concerned, it wouldn't change BYU's status. The Big Ten, Big 12, and Pac-12 all each play 9-game conference schedules, so for purposes of non-conference scheduling, the ACC and SEC require their teams (who play 8-game conference schedules) to play at least one non-conference game against a Power 5 level opponent. I wouldn't expect the commissioners who have no non-conference scheduling rules to weigh in on BYU's status anytime soon, but the SEC does pull a little weight in college football and BYU should embrace it. Utah is a Power 5 team because eleven other schools bequeathed that title to them. TCU got voted into the club by nine schools. The decision to allow games against BYU to count as "Power 5 equivalent" has been voted on by 29 schools so far, so I hope we hear 50 times at BYU's Football Media Day in June about how BYU is viewed by its eastern college football peers.
Football scheduling is solid
I know many Cougar fans aren't overly enamored with a 2015 home slate headlined by Boise State, Cincinnati, and East Carolina. I get that none of them are old-money college football teams, but since BYU is operating on Plan C or D for independence at this point, even in BYU's fifth year, I think one could argue that the Cougars are still within what Athletic Director Tom Holmoe called "a transition period of a couple of years before we achieve the full vision of what football independence can become." For what it's worth, Boise will likely be a top-25 team (look at this lofty prediction) and Cincinnati and ECU are likely top-50 teams.
BYU's home schedule will eventually catch up to what the complete 2015 schedule offers and moving forward, BYU's status as a Power 5 school will only help matters. Next year, BYU hosts UCLA and Mississippi State. Other future home games are scheduled with Cal, Wisconsin, USC, Washington, Michigan State, Arizona, Arizona State, and Stanford. BYU is playing on ESPN as much as it could have hoped. And sure, the Cougars haven't put together a magical season on the field yet, but the scheduling is solid enough to allow BYU to make some serious national noise if magic does happen.
Playoff potential
Some fans suggest that BYU should return to the Mountain West Conference, pointing to the Group of 5's automatic access to one slot in a New Year's Six bowl game (one spot every year for the best of 63 schools). But is an easier path to a second-tier (but major) bowl game worth taking less money, being on TV less, and being shackled with a schedule that will prevent the Cougars from ever being considered for the College Football Playoff? That's probably not a good deal. Yes, BYU is a long shot to ever be selected for the playoff, but at least the Cougars have a chance. Staying independent does mean their only hope to play in a NY6 bowl is through an at-large bid, which will be harder in some years than others, but it is possible. And remember, regardless of taking less money and being on TV less, with as much weight as was placed on strength of schedule last year, a G5 schedule kills any playoff aspirations before the season even kicks off.
Bronco and Anae
What? Wasn't this  supposed to be about the good things in the program? Here's the deal: Bronco Mendenhall has put defenses on the field that according to S&P's advanced efficiency statistics ranked 18 (2006), 15 (2007), 13 (2009), 29 (2011), 13 (2012), and 16 (2013) in the nation. Even if you saddle Bronco with his unfortunate understudy defensive coordinators' performances, his 10-year S&P defensive average is 33.6. Amazing defensive wizard Kyle Whittingham with even more amazing sidekick Kalani Sitake averaged 34th in S&P from 2005-2014. True story.
On offense, Robert Anae put up four-straight top 30 S&P offensive performances from 2006-09 and produced a solid product on the field last year, despite an unending list of injures. In doing so, Anae seemed to earn a bit of trust back from Cougar faithful.
Bronco running the defense and Anae running the offense have each worked really well before and it seems fair to give them a shot to do it again. I think if new coaches were hired with blind resumes equal to those of Bronco and Anae, BYU fans would be much more excited about the new names than they are about their old friends.
Money
The amount of money BYU is currently making relative to what it used to make should probably be counted as something good. The amount of money BYU is currently making relative to every other Power 5 team does not count as something good. The thing is, almost every college athletic department is asking if it can make enough money to keep up.
Landing a Power 5 invite within three years would certainly be nice, but BYU only has four years left on its current TV deal. If BYU can't land a Power 5 invite after four years, maybe the Cougars can win enough games in the next few years to command enough leverage to at least get ESPN to pay them as much in 2019 (and beyond) as it gives to teams like Wake Forest—north of $20 million per year.
Even that kind of TV deal won't solve every problem, though. The SEC and Big Ten are on the verge of making about $35 million a year each, leaving the Pac-12, Big 12, and ACC in the dust. But in the meantime, the BYU-is-doomed argument will always make for an easy article to write, especially in the dead offseason months.
---
For the most part, college football teams get what they deserve. Notre Dame has what it has because of the size and dedication of its fan base. As for BYU athletics, from a standpoint of making more money than they used to, being on TV more than they used to, and playing better schedules than they used to, football independence has been a success. It's not perfect, and ticket sales particularly are a visible concern. But, BYU is hardly the only team to go through the college football wilderness. TCU wandered for almost 20 years and survived. BYU can keep pushing.
Maybe we'll look back five or ten years from now and see that BYU was more like the doomed Odyssey spacecraft, only moments from its fiery demise, or maybe the 2015 predictions of seismic shifts will end up being as premature as those from 2011.
BYU and Utah both got better offers than what they had in the old Mountain West and both took them. There's plenty of coverage already out there about the benefits of Utah's situation, but Utah having a good situation shouldn't have to mean BYU's situation is dire. Personally, I think it would take a bit more than three straight 5th-place divisional finishes, one top-20 ranking, and one Las Vegas bowl win to get hoards of BYU fans to start trading in their birthright for a Pac-12 sticker.
I guess if you are an easily-swayed, fair-weather fan, maybe you should consider switching from blue to red. However, if you're looking to switch affiliation to a school that is always playing on easy-to-get TV, offers national relevance every week, and whose financial situation is guaranteed to be among the top in college football, I suggest you should start cheering for Alabama or Ohio State and just be done with it.