Let's Review: Targeting!? UConnot Be Serious!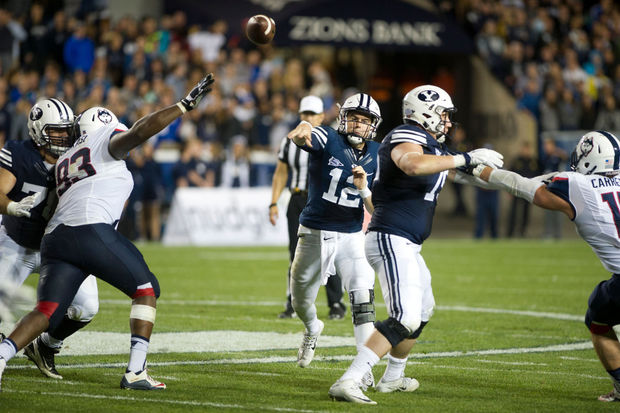 I'll be honest. I was a bit worried that the Cougars would hit another 4-game skid like last year, but thankfully the losing streak is over as BYU beat what seemed like an improved UConn team.
First off, I have to say, I really feel for my fellow East Coast fans. These late start times are killing me! And by some miracle I only fell asleep during one talk during conference in the very last session! #Tendermercies.
So anyways, let's get down to the nitty-gritty with a review of last week's game.
Three things I liked:
Offensive Efficiency: BYU outgained UConn by over 300 yards, "Taylor Magnum" finished with a 66% completion percentage, and the Cougars rushed for 174 yards. Offense, for the most part looked good, with only 1 drive ending with a punt (I'll mention some negative ways the offense ended drives in just a bit).There's been some consternation and hand-wringing about why Riley Burt didn't get more than one carry, and frankly I don't have an answer why. Brown and Bernard seemed to do just fine though. It just goes to show that no matter who's out there, the best player on the team is always on the bench, and the coaches don't know what they are doing!
ROC! Even Coach Mendenhall commented on it! Whoever is running the ROC seems to know what they are doing. Why in my day…the students were spread all over the stadium and the blue hairs hated it and would constantly be telling us to sit down! You don't have to stand the whole game! There's no demand for caffeine! Why aren't they in the afternoon anymore!? Except for the camping out thing, this sounds like more fun for everyone.
Anyway…smart move to put them together (finally). At least from what you can hear on TV, it's paid off.
Here's a clip of Bronco praising the student section (Courtesy KSL):
Defense and stuff: The defense held UConn to 230 total yards, forced two interceptions, and recorded four sacks (though we all swear there were more than that). All in all, it seemed like a solid defensive performance (How's that for hard-hitting, in-depth analysis!).
And did you see Bronson Kaufusi dropped into coverage on his INT? What a smart thing to do! Or stupid thing…or lucky, I forget…either way, nice work BK!
(BYU gifs via @Cougazul on Cougarboard.com)
Three things I didn't like:
Red Zone efficiency! And yes I said Red Zone. Once the Cougars start converting those trips to the sacred scarlet sector into TDs, then we can talk about this Blue Zone business…but not until then! (In case you can't tell, I think "Blue Zone" is kinda lame, but whatever).The Cougars made six trips into the Red Zone. The results: 2 TDs and 4 FG attempts (three made, one blocked). In terms of scoring percentage, sure that's decent. But personally, I think TD percentage is a much better indicator of how good an offense really is. For this game, it was 2 for 6, 33%! And that's not counting all the possessions ending inside the UConn 40-yard line (which ended as follows: fumble, missed FG, INT, INT, TD). Add those in, and BYU scored just 3 touchdowns on 11 trips inside the UConn 40! (27% for those keeping score at home).It felt like 2013 again, all those yards, sooo many yards, but not many points to show for it. BYU's Red Zone TD percentage in 2013: 48%!! That's lousy! That was good enough for 10th worst in the country! Right up there with football juggernauts like UMass, Kansas, and Florida International!

Now in 2015, BYU is 98th of 125 in RZ TD percentage, at 53% for the season. Do you know what it was in 2009? 77%! Yeah, yeah, senior QB, I know, but that was still Robert Anae's offense, so you wouldn't think there would be such a disparity.

That's all I will say about that, but that is big deal in my opinion, and hopefully the Cougars will work on finishing drives and this is NOT a sign of things to come for the final 8 games.
Turnovers! This probably goes mostly without saying, but Tanner got greedy on his first INT. He still loves the long ball, which I guess the ladies do as well, apparently. Hopefully he'll grow out of that or get smarter about it at least.
Targeting: Worst. Call. Ever. Okay, maybe not ever, since I haven't seen them all, but that was totally lame, right!? I think I've had harder helmet to helmet contact bumping into someone in the hallway! Take a closer look below, and commiserate just once more on how cruddy a call that was.
Favorite play of the game
It's halfway through the 4th quarter, 1st and Goal from the UConn 6. BYU lined up in I-formation and motioned Mathews in to "help block." Obvious run up the middle, obviously! But Mathews instead weaves through traffic, Carter gets a terrific block on a blitzing LB, and Mitch is wide open for the TD. It's a well drawn-up play, forcing the defense to buy in to our tendencies. That's how the Red Zone ought to be done.
Least favorite play of the game
This week, it's not a specific play, but I learned that late Friday games definitely do NOT get ESPN's A-team! Lot's of awkward pauses, mispronounced and even completely wrong names called. Not great. I don't even know their names, but I can't remember hearing those two in recent memory. Oh well, at least it's on an ESPN network and it certainly isn't any worse than the best day over on CBSSN (brace yourself, that's coming twice this year)! That station is just the worst, amiright MWC!? The MTN reincarnate.
What did you like or not like during the game? Favorite or least favorite plays?
Boney Fuller Tweet of the Week
I leave you with one of Boney's first harassings of the UConn Huskies. Keep up the good work, my friend!
Ouch, google. That's cold. #GoCougs #BeatUConn pic.twitter.com/EzYa7RT5fH

— Boney Fuller (@boneyfuller) September 29, 2015