Around the NCAA: No, You're Overrated!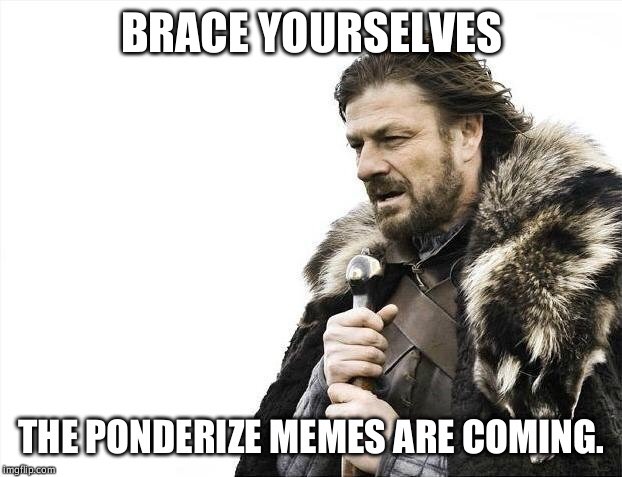 Of course General Conference weekend has to be on a really fun weekend for football!
Oh well, I wouldn't trade it. Joking aside, Conference is worth the time and attention investment, every time- and this conference was no exception!
Now let's look at some of the headlines you and I missed!
SEC! SEC!
Some SEC teams beat up on each other like they often do and will continue to do this season. Don't worry though, a 2-loss SEC team would easily get into the CFP over a 1-loss Big 12 Champ*.
(*The "One True Champion" that isn't actually a champion. Get a conference championship game, people! BYU to the BIG 12!!)
Florida Gators: this was all we knew of the swamp creatures at the beginning of the season:
Florida's coach went crazy on one of his own players (via @no_cut_card): http://t.co/X2Ep3BElef pic.twitter.com/M6gpPoYYWU

— SB Nation (@SBNation) September 13, 2015
Now they're beating teams that beat Alabama at home! The SEC East is theirs to lose now, which of course they will.
Somewhere Urban Meyer smiles eerily.
By the way, don't worry too much about Coach McElwain, he learned from the angry best but still has a long way to go.
Everyone already wrote Alabama off, "the end of a dynasty," they declared…then the Tide crashes into Athens, Georgia and stomps on the bulldogs. Roll Tide!
Now who actually wins the SEC, that is anyone's guess (Hint: it's NOT Vanderbilt).
Clemson Tigers
One of the favorite pastimes of Clemson Football is being overrated, which is actually required in ACC bylaws: all teams must finish each season at a point below their highest ranking during said season (FSU was formally reprimanded in 2014 for winning the whole darned thing!). It's not that the Tigers are a bad team, they are usually a pretty good team, they just, through no fault of their own, get a bit inflated in the polls. Kind of like Tim Tebow, lobster, and 3D movies.
So while Clemson is sitting pretty right now, the Tigers won't have the luxury of a hurricane to play in each week and they probably have the toughest part of their schedule ahead. Besides, last week's opponent Notre Dame is a fellow card-carrying member of the Perennially Overrated Club, and this year is no exception.
Yewtah!
Speaking of overrated…does anyone really believe the Utes are the fifth-best team in the country?  Yewt-bashing aside, is that really where they belong?  Remember in, what was it, 2010?  When the Utes were 8-0, #5 in the AP poll, and TCU came to town and exposed them?  I remember asking my Bishop at the time (a Ute alum, big fan, and all around good guy- they do exist!!) if he REALLY thought his team was top 5?  He answered honestly and said no.  And he was right.
And so that's my question now, Ute fans (and we know you're reading this), do you really think Utah is a top 5 team?  Do you REALLY think there are only 4 better teams in the country?  Personally, I see the Utes losing to at least one California team and one AZ team, and still probably punching their ticket to a decent bowl game.
And Urban Meyer again smiles in creepy satisfaction:
With all these supposed overrated teams, who, if anyone is underrated? I'm glad you asked. One of the California teams is going to win the PAC-12. I don't know which yet, but whichever one it is, they are underrated. Either Stanford or USC is my guess.
I think Oregon is a Top-25 team, and Michigan is probably going to challenge ALL of the B1G. I also think Oklahoma could win the Big 12 title, but the Sooners will need to run through Baylor and TCU to get there. And I think Georgia is also better than its ranking.
There you have it, no solid football analysis, just random impressions. Which is basically what most polls are anyway, right?
Awards
Now for the "Aerial Banner of the Week" award. This one goes to whatever Miami fan has enough money to blow on this bit of excellence:
I'd say I'm surprised we haven't seen a similar one for Bronco/Anae, but Mormons are cheap, you know, with all them kids and trips to Disneyland and all. Money doesn't grown on trees!
#Ponderize
Speaking of money trees, what's with this "ponderize" controvsersy? So Elder Durrant's son wanted to make a few bucks from his conference talk. So he was already prepared to do so. I'm sure he got to read it ahead of time, and knew it would be a home run (Which it was by the way). How is this different than any other video, book, keychain, bracelet, framed vinyl-lettered quotation or conference-themed cookbook that you might buy at Deseret Book? Many of which are stemmed from conference talks by the way. Sounds like more people just looking for stuff to get upset about.
So ponderize on these things, and let me know: who do you think is over or underrated?