Cincy Preview and Midseason Awards
Updated: October 16, 2015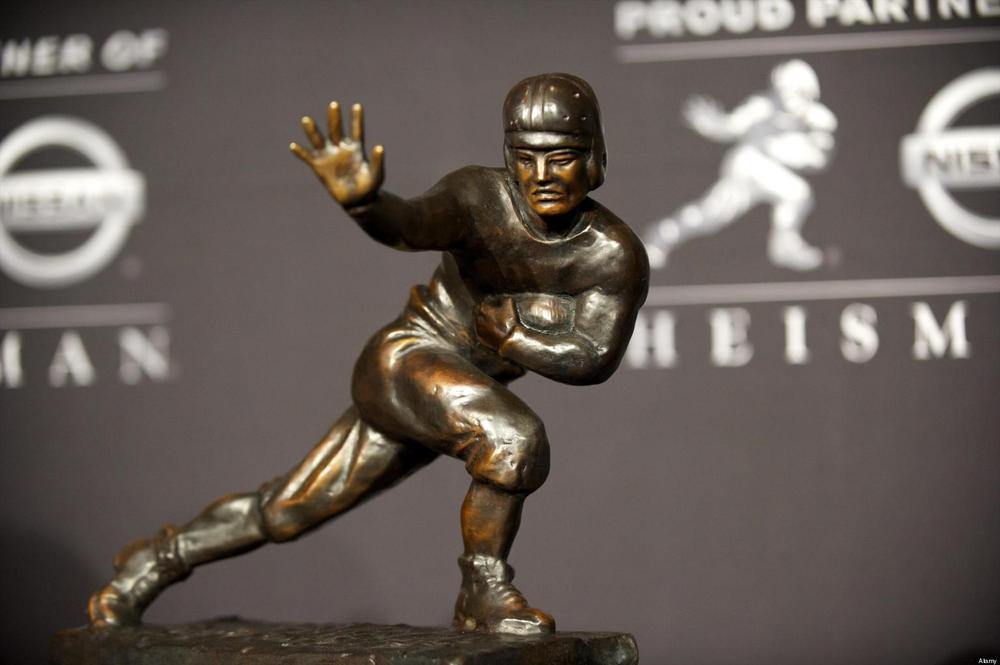 We're halfway through the season, already!?  We waited all winter, spring, and summer for this time to come, and it's already half over?  It goes too fast, if you ask me.  But since we are at the midpoint of the season, we may as well dish out probably the only useless thing we love more than useless early season ratings: midseason grades and awards!
(BYU gifs via @Cougazul on Cougarboard.com)
Random Awards in Random Categories
Best Play
This was an easy one: the Tanner Mangum Hail Mary for the win at Nebraska.
Saddest Play
Taysom's last TD run of the season.  It's weird saying a TD was sad, but it was.
Most Viral Moment
This one could have also gone to the hail mary, but it can't win them all.  Houk Hug.
Best Overall Unit
The entire Michigan Defense – yeah, I went there.  They owned our WRs.  They owned the OL.  It was just sad.  I'm still personally ashamed of that performance, and I'm just a stupid fan!
Biggest Surprise Player
This award is a two-way tie between the Human Cyborg Harvey Langi (I swear that's a robot arm, not a brace), and Michael Wadsworth.  We figured Langi would be pretty good, but it's been a surprise just how good.  Wadsworth, though not at Langi's level, was not on anyone's radar at the beginning of the season.  44 tackles so far this year.  Keep it up, both of you.
Worst Disappointment
Not a player, but a play.  Tanner's INT against UCLA while marching down the field to try and win the game.  It's not that I'm super disappointed in him, just the circumstances.  The precedent had been set with the previous two games, he had played pretty well against a good UCLA defense, with no INTs to that point.  It was just a bummer.  Plus it was like 2am for me at the time.  And I hadn't prepared my Sunday School lesson either.  So yeah, it was disappointing.
Most Exciting Game
Lots of options here.  Basically every game, with the exception of Michigan, was decided in the 4th quarter.  But I'll have to give this one to the Boise game.  It was the home opener, Tanner pulled off the big win in Nebraska, the place was sold out, the ROC was rockin', the ending was spectacular…yeah, BSU game it is.
Meaningless Grades
Midterm grades for each of the team units.
OL – Ryker Mathews's penalties apparently cost his team the game against UCLA (at least according to him, though it's not even close to true), and Lapuaho punched a guy in the nuts!  And he eats horse!  Horse chops!  C++
RB – Lots of injuries and stuff…I don't want to jinx these guys any further, so they get a pass/fail grade – PASS
QB – There are many occasions in life that call for a Nacho Libre gif.  This is one.
WR – There has been some good:

And then there was the Michigan game:
We'll have to see how the rest of the season plays out.  INCOMPLETE
DL – With Tuiloma, Awesome+.  Without Tuiloma, Good+.  Kaufusi has been looking really good this season though.  This video from last game is your grade.
ILB – Cyborgs!  Langi gives this unit a good grade.  Though he's missed some playing time, so…B++
OLB – I like Warner; he reminds me of a young KVN.  Plus he got his younger brother to commit, and he's doing some Twitter recruiting as well- not to mention the sacks from Takitaki and Tautu!  A
DB – Injuries, suspensions, and Howell, oh my!  This is the story for these guys.  There are some talented players who make plays, but they need to be on and stay on the field.  They get a Nick Howell "Work in Freakin' Progress!"
Special Teams – Samson the kicker has been good, except for the two that he missed.  Kick coverage has been pretty crummy, the blocked punt was unacceptable, Micah Hannemann never calls fair catch and is going to give me an ulcer, honestly, I would say C.  But Johnny Rubgy's fake punt and New Zealand accent, combined with Samson's beard bring the overall grade up.  B is for Beard.
Cincinnati Preview
The Cincinnati Bearcats have a prolific, high-scoring offense, with a mediocre defense.  For they season, they currently rank #5 for both total offense and passing offense in the FBS.  Apparently, based on this tweet below, a lot of those yards come on big plays.
Chunky scoop: Cincinnati averages 21.8 plays/game of 10+ yds, which ranks 3rd in FBS; Cincy averages 6.8 plays/game of 20+ yds, ranking 8th.

— Greg Wrubell (@gregwrubell) October 15, 2015
It sounds like they live and die by the long ball.  They are ranked in the Top 15 in Third Down Conversions, but they don't attempt very many third downs.  It seems like it's either long plays, points, or interceptions (they rank 122 of 125 in INTs).  Plus their defense is about middle of the road in most categories.
Here's what I think you can expect: because the Bearcats seem to live and die by the long yardage play, the Cougars are going to do what they can to prevent that. And with the missing DBs back, I think they are able to accomplish that for the most part. With Tuiloma and Langi back as well, there will be decent pressure on the QB. Expect at least two INTs and 2 sacks. Cincy will still rack up yards and score some points, but it won't be enough.
There will be no need for 4th quarter heroics this time. With Tanner's hamstring thing, you're going to see lots of running plays and play action from BYU. There shouldn't be any zone read type plays run, unless Hoge is in, which I don't expect him to be.
Vegas says BYU only by a 6 ½, I say BYU by 17, 45-28!
Other Games to Watch
It's interesting how enjoyable watching college football can be when you don't have a rooting interest in the game, and you aren't on an emotional roller coaster the whole game. So, here are some other games to watch, accompanied by Nacho Libre gifs. Why? Because it's a tragically underrated movie, and because any day you can use a Nacho gif is a good day.
(Nacho gifs via Tumblr.com)
#13 Ole Miss at Memphis (Noon EDT, ABC/ESPN2): The potential SEC West champ meets one of two disrespected and undefeated G5 schools. And it's in Memphis. I say upset alert.
#7 Michigan State at #12 Michigan (3:30 EDT, ESPN): Will the shutout streak continue? I doubt it. But the Spartans are probably not a Top 10 team. Harbaugh Tantrum alert.
USC at #14 Notre Dame (7:30 EDT, NBC): Can the Trojans rally behind their interim coach? Can they shake off the media attention and past disappointing losses and live up to their potential? Can Notre Dame NOT be overrated?
Arizona State at #4 Utah (10pm EDT, ESPN): For those that live in Utah and have obnoxious Ute fans at work and in your families, and you're just waiting for them to lose: this may be the week. But it's a 10pm EDT kickoff, so there's no way I'm staying up for this one!