Let's Review: BYU Beats Wagner! Trick-or-Treat!
Updated: October 27, 2015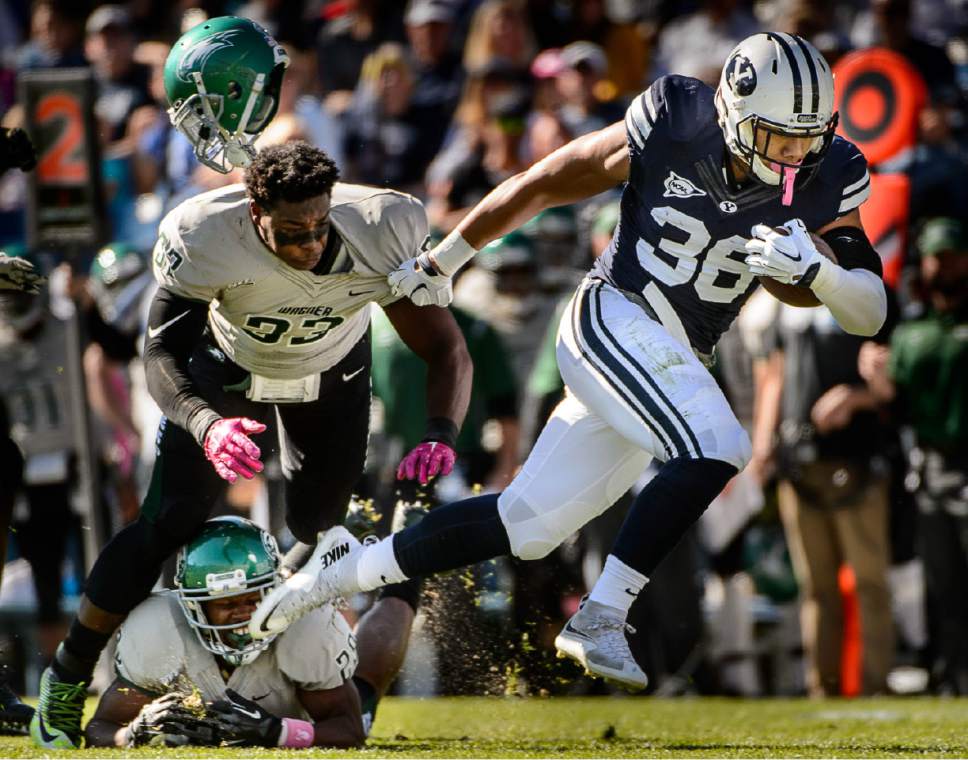 I don't like Halloween. I sometimes feel like Ebenezer Scrooge. "Bah!  Humbug!" You spend money on costumes and candy and parties just so your kids can get other candy and go to other parties.  It's not even a real holiday!  You don't get work off, there's no religious or patriotic or familial connection to it, it's just a fake "holiday" perpetuated by big candy companies and horror film makers.  When you go out begging for candy it's often raining or cold; a couple of the years we were in Arizona, it was even hot- especially with a crummy costume on!
And then there are the awkward conversations with sometimes inebriated neighbors who you will most likely never speak to again. And they all make the same "Oh don't you look adorable" comment to your young kids or the inevitable "Are these all yours!?  You've sure got your hands full!  I can barely handle the two kids that I have!" I want to say to them "Well, you must just be a lousy parent!," but I don't because it's not very nice and would make the encounter even more awkward.
And what is it with kids and suckers? Or those awful sugar stick things they lick and dip in the sugary flavored mystery powder?  Fun Dip, I think?  More like Not-So-Fun Dip!  I hate those things!  They are nasty and make a huge mess, but the kids love them.  Fun Dips and suckers.  They never want the Snickers or Baby Ruth or Reese's that mom and dad can steal out of their candy bags.  Maybe that's for the best.  As if I need to eat any more candy bars.  Maybe those awful sugar-stick dip nonsense things are a #tendermercy in disguise.
So as much as I don't like Halloween, I still participate. I participate because I remember what it's like to be a kid and I love my kids and I love seeing my kids be able to have fun and be happy.  So as miserable as it is for me, I know it's probably the same amount of fun for them.  And at least it's on a weekend this year and not a school/work night.
Hey, there was a football game, remember!?
I have no idea if anyone else uses the term, but I often call guaranteed-win games "Trick-or-treat" games. Basically, because all the team needs to do is get dressed up, ring the door bell, and get candy in the form of a win.  Trick-or-treat!
There's really not much to discuss with this game. It went about how it should have.  Wagner College got paid, BYU got the W, the younger players got real in-game playing time, and injured players got some much-needed healing time.  It looked like the weather was great in Provo.  I know people often bemoan these FCS games, but this one in particular was inevitable in order to make the Missouri series work out.  Personally, I'd rather have Wagner-Mizzou on the schedule than Idaho State-UNLV.
Anyway, I'm not gonna do the usual favorite play, what I liked, didn't like, etc. because, well, it's like when you were a teenager and you'd play basketball with your 8-year-old brother and you'd lower the hoop for him: it was really so that you could dunk it, and every point you scored was a double-pump, windmill, tomahawk jam! Sure it was fun, but from an outsiders perspective it really wasn't that impressive.  So, enjoy the highlight video below, and get rested during the bye week, will ya!?
Oh, and Happy Halloween everyone! May your children's candy bags be full of delicious chocolate candy bars and not Fun Dips and suckers!
(video via Jake Edmunds/@Cougazul)