BYU vs SJSU Preview: Do you know the way…?
Updated: November 5, 2015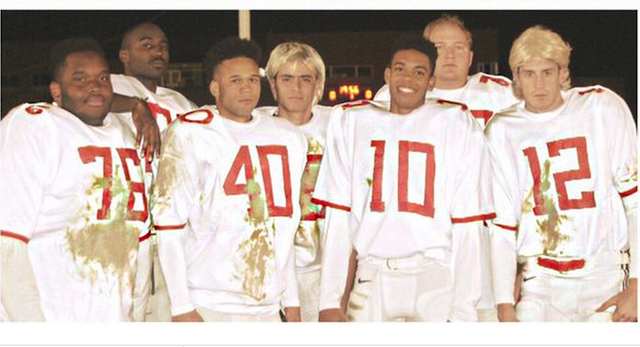 If you missed Boney Fuller's "Bye Week Trick-or-Treat" tweets, you need to check them out.  HERE's the link.  Do it.  Now.
Well, the first CFP rankings are out, and BYU is not in them (not a huge surprise, I guess).  That Michigan game is going to haunt BYU and its fans for a while, I'm sure.  With the AP poll, you can at least know if your team is getting any votes, and how far outside the top 25 they are sitting, but the CFP committee gives us no such luxury.  You are either in it or you aren't.  So we can just hope that those at the bottom of the list (Houston, Toledo-check, UCLA, Temple, Northwestern, Mississippi State) lose.  Oh yeah, and BYU needs to win, of course.
Back at it: SJSU Preview!
Speaking of BYU winning, there is a game tomorrow, and oh, by the way, it's on late. Like really late if you live in the Eastern Time Zone like I do.  11:30pm!   Ugh.  And what's worse, CBS Sports Network!?  Really?  I'd take BYUtv all day over that network.  It's the MTN reincarnate!
Now, I know the TV contracts let the networks make most of the calls as far as which games are on which channel at what time, but man this sure feels like a MWC spite move. It's like they still hate BYU but they know they have to schedule them, because they are probably the highest attended games for most of these schools during the season.  So, they aren't going to make it fun!
And if that's not bad enough, if you are going to be on the road, like me, no hotel in the world carries CBSSN and there is zero way of watching it online. And no replay. So, DVR or Greg Wrubell radio stream or nothing. Lame. It really is like the MTN days of yore.
Alright, done complaining. SJSU is sitting in the middle of the road in the MWC, with conference wins over juggernauts like Fresno State, New Mexico, and UNLV.  On paper, it seems like BYU ought to win this one without any problem, but if the last few years have taught us anything, it's that there really isn't such a thing as a gimme game.  I still have haunting memories of the last time BYU played in San Jose, Jamaal Williams whiffing on a block, and Riley Nelson getting sacked and fumbling the ball, sealing the victory for the Spartans in 2012.  Watch below if you care to relive those dark days.
SJSU has one of the worst Run Defenses in the country but they also have one of the best Pass Defenses, at least by the numbers. That being said, here is who SJSU has faced in terms of passing offenses:
SJSU has faced the 90th (in 1-AA), 93rd, 103rd, 113th, 115th, 118th, 123rd and 125th passing offenses. BYU is 23rd.

— CougarStats (@CougarStats) November 2, 2015
It's probably easy to look great when you don't play great passing offenses. Take that, combined with the fact that the Spartans are near-worst in the country at getting sacks, and bottom 25 at getting TFLs, and I think you'll see Tanner getting plenty of time and having a good day.  Add in the fact that Adam Hine is most likely back against the not-so-good SJSU rush defense, and we just may see a bunch of points from BYU.
On offense, SJSU is middle of the road at both passing and rushing, and the Spartans also give up a lot of sacks and TFLs. With BYU sitting at #7 right now in sacks, I see the Cougars having another good game in this department, even with Takitaki gone.  The Spartans are, however, near automatic in the Red Zone as far as TDs are concerned, so keeping them outside the 20 will be key. "Bend, don't break" isn't going to cut it.
Even with the late start and the crummy broadcasting arrangement, I still feel good about this game. The last time the Cougars were in San Jose, at least on TV, it seemed like there were a TON of BYU fans in the crowd, and audible chants of "BYU, BYU" could be heard throughout the game.  I expect a good BYU turnout again, hopefully giving this a home game feel.  Vegas has BYU by 12.5, I'd take that, I think BYU by 22, 35-13.
What Else to Watch
There are quite a few interesting matchups this weekend.  There is no Trick-or-treating to deal with, so we all should have plenty of time to watch, right?
#16 FSU @ #1 Clemson (ABC, 3:30pm EST) – Only two ACC teams are ranked currently and these are them.  This is Clemson's toughest remaining test before the ACC Championship game. Will they "Clemson" like years past? Or is this team actually the #1 team in CFB?
Cincinnati @ #25 Houston (ESPN2, 3:30pm EST) – This one is significant to BYU getting onto the Top 25, since Houston sits right at 25. Plus both teams like to score lots of points, so it ought to be a fun one to watch.
#2 LSU @ #4 Alabama (CBS, 8pm EST) – If the CFP were today, both these teams would be in it. Remember in 2011 when LSU and Alabama played during the season, and LSU won like 9-6 in overtime with nothing but a bunch of punting and a few FGs, and then they met again in the BCS Championship game and Alabama won?  This kind of feels like that again, especially given the committee's apparent love of Alabama and the SEC in general.  If neither team scores 10 points, just be prepared for another rematch between these two teams in January.
Any other games you think look interesting?  Anything about the game on Friday you care to discuss?  Want to commiserate about how crappy the MTN was?  Please, just say so below.