Let's Review: BYU Beats SJSU (or Something)
Updated: November 10, 2015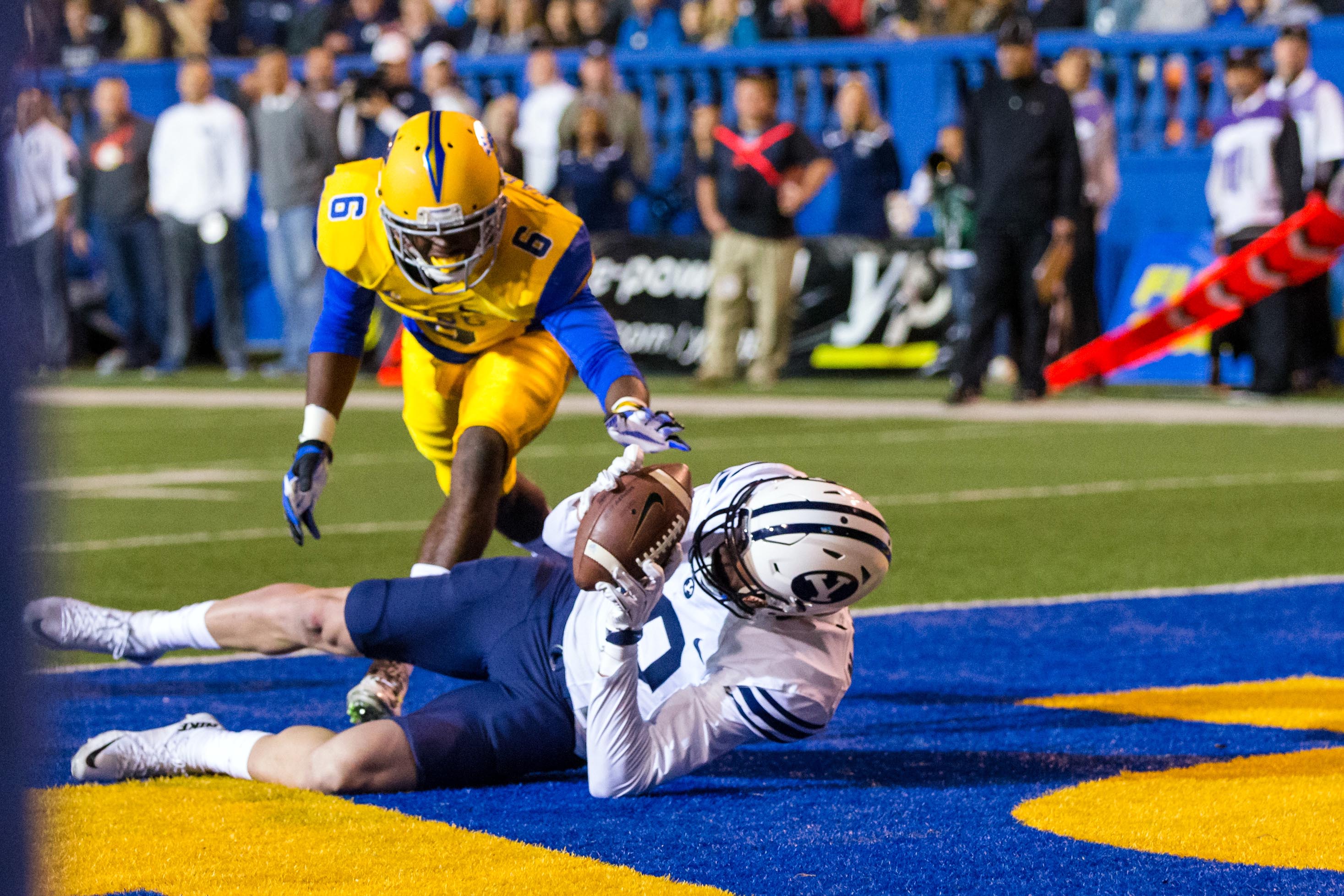 So, you may have forgotten, what with all the news and controversy and uncertainty surrounding this week's game, but BYU played a game last Friday and the Cougars won.
Now, let's be honest: SJSU is not a great football team. They aren't Wagner terrible (or even Fresno State terrible, sheesh!), but they really aren't that good either.  So it's disappointing that it was even as close as it was.  Once again, the defense did its job, only allowing SJSU one offensive touchdown and one field goal, and making the game-saving play on a two-point conversion attempt.  And that's all with a truckload of no-calls and bad calls (see tweet below) from the terrific MWC refs- I swear, they know BYU is a great draw so they schedule them, but do everything they can to make it as miserable as possible. Case in point: an 11:30pm ET kick on CBSSN! Honestly, it all makes me a bit worried about the season finale at USU.
SJSU's only offensive touchdown of the night. #notahold pic.twitter.com/D3lxzqMV3d

— Greg Welch (@ArtDirectorBYU) November 7, 2015
The offense obviously had its issues. We could point to a number of things: a terribly depleted O-line (probably the biggest issue), odd playcalling, the lack of a run game (see first point), and Tanner probably not being 100% healthy (or at least 100% himself).
But whatever! BYU won. Everyone keeps saying that all BYU needs to do to get some P5 love is "Just win, baby!" and that's what they did.  For the so-many-times-I've-lost-count time this season, BYU pulled out a win that was decided in the 4th Quarter.  In every one of BYU's FBS wins, plus the UCLA game, we've all been biting our nails headed into the 4th Quarter wondering if Tanner and the team were going to be able to pull it off.  So, if there's one thing this season isn't, it's boring.  And let me add, I believe there is something to be said for a team that is able to get the win in close games.  Once or maybe twice in a season, we could chalk it up to luck or coincidence.  But 6 times!?  I believe that says something about a team.  So, though it sounds an awful lot like coach speak when Bronco talks about how much he "likes our resiliency," I think he may actually have a good point.
I believe it a great quality in football and in life that when things get difficult or when the odds are against you or when something important is on the line or the stakes are the highest, you are able to push through the seemingly impossible and come out on top! I think this team has that.
But they still should have won by three TDs!!
Now, because CBS and the MWC and Tom Hanks and the world hate BYU and Mormons, there are no gif highlights this week. But there is a video on Youtube of highlights from the game.  You'll see a lot of plays run with not very much scoring.  But, at least it's something:
Quick Shoutout!
I want to give a quick shoutout to two players. First: Michael Wadsworth for making that play on the two-point conversion attempt.  You saved the game, man!  Well done!  Click the link below to skip to that point in the highlight video:
Second: Trevor Samson. The kicking game in football is one of those things that doesn't get talked about a ton unless it is bad.  And there really hasn't been a ton of talk about Trevor Samson the last two years.  Well, that's because he makes what he kicks.  He missed two FGs and one XP last year, and has only missed two so far this year.  He doesn't have the longest range, but he does what is asked of him.  Plus he's from my old mission stomping grounds, so there's that.  High five!
Boney Fuller Tweet of the Week
Some popular TV actors move on to bigger and better things. Some don't. Boney Fuller knows this.
We've seen the future, @Josh12Love, and it isn't bright. #BeatSJSU pic.twitter.com/apa6isBKAh

— Boney Fuller (@boneyfuller) November 5, 2015