BYU Football Travel Guide: Wisconsin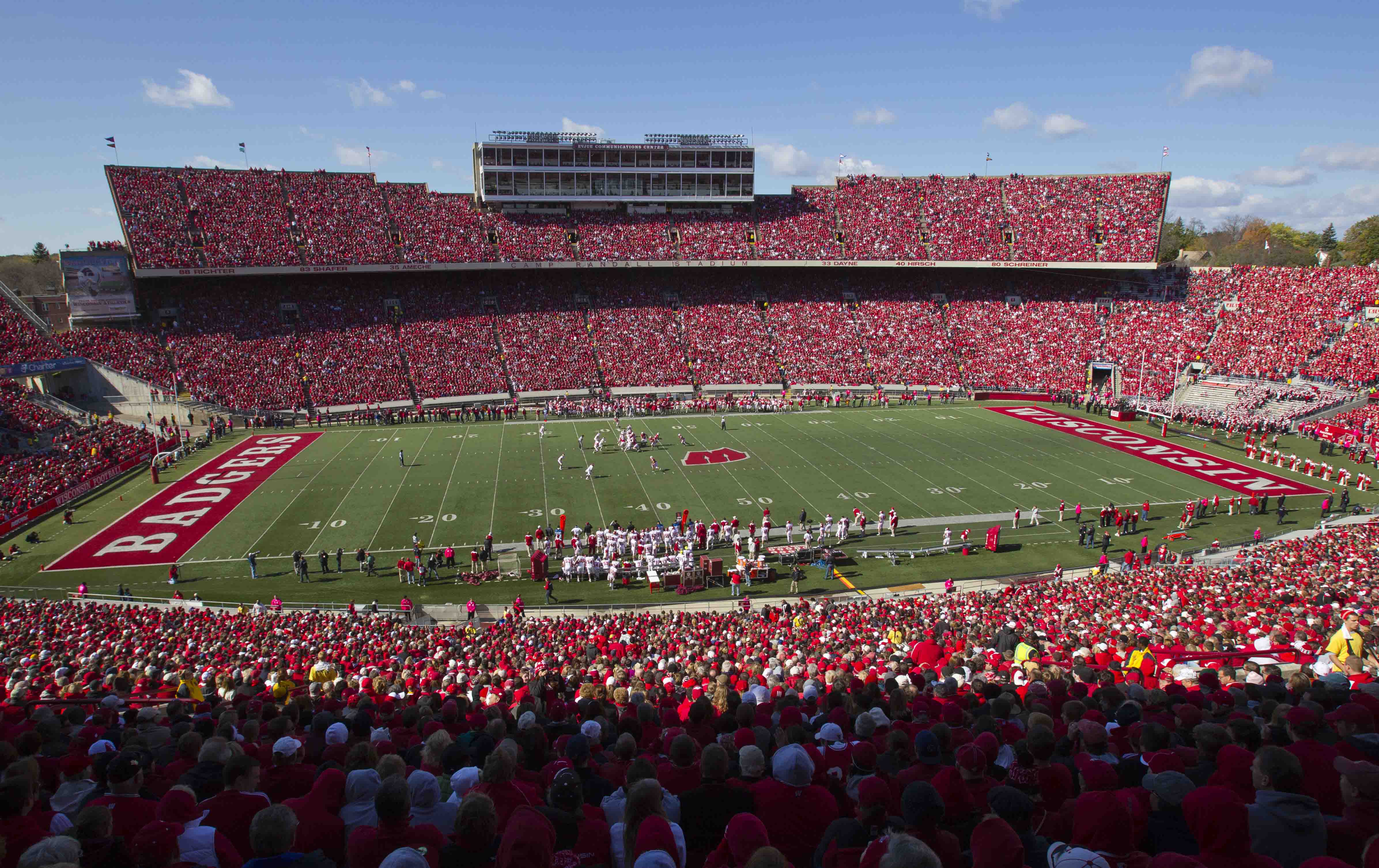 To people like Bronco Mendenhall, all games are created equally and there's no such thing as a date to look forward to on the schedule. But when people like me see BYU at Wisconsin on a schedule…insert <happy dance, celebratory screams, jumping up and down> here. C'mon Bronco, even though "football is fifth", even you can admit this one is kinda cool, right?
I know many Cougar fans are making the trip to Madison this fall and hopefully this guide will help you.
Special thanks to Mike Fiammetta, editor of Bucky's 5th Quarter and Matt Brown from Land Grant Holy Land for their help in preparing this travel guide. As I've never been to Wisconsin, I relied heavily on their local knowledge and generosity.
GETTING TO MADISON
For BYU fans looking for the easiest (probably not cheapest) route, Madison's airport (Dane Country Regional) is the way to go. It's a very easy 20-minute drive to Camp Randall, and probably even a little shorter to whatever hotel you might be staying at. For those who opt to fly into Chicago (ORD or MDW) it's a 2 ½ to 3-hour drive (with tolls), depending on traffic.
A few Cougar/Packer fans may also opt to fly into Green Bay, which is about the same distance away as Chicago, perhaps a little shorter with less traffic.
Personally I'm a fan of rental cars when I fly into alternate cities, but there's public transportation from both Chi-town and Green Bay if you want. Busing between Madison and Chicago is very easy. Van Galder (Coach USA) and Megabus are your best bets for Chicago buses for about $17. From Green Bay, you can take either Lamers or the Mad-Bus.
WHERE TO STAY
For fans wanting to stay near the stadium, your best bets are:
Hotel Red: Relatively new and directly across from Camp Randall Stadium.
DoubleTree: 5-minute drive/20-minute walk east from Camp Randall (it's also right by the Kohl Center, if you'd like to check that out while in town).
Best Western: Five minutes west of the stadium. Not the nicest, but it's economical.
If you're looking to see a bit more of Madison, then staying closer to the Capitol — which locals say is the "prettier part of town" — is your spot:
Madison Concourse Hotel: A bit pricier, but a more upscale choice.
Hyatt Place: A nicer downtown hotel.
WHERE TO EAT
Mickey's Dairy Bar: Awesome breakfast. It's right next to Hotel Red and is famous for its giant meals, and as a result, its crowds. Get there early or be willing to wait in line, and bring some cash (they don't take credit cards). It's worth it though. A Scrambler and a milkshake there might very well be the highlight of your trip, minus a BYU victory!
Old Fashioned: Great restaurant/bar on the square around the Capital. It's great for drinks (Old Fashioneds, obviously), cheese curds and hamburgers. Their Old Fashioned Burger has a fried egg on it and it's great, but the whole menu is very lengthy and really good.
Ian's Pizza: Late night pizza by the slice with some eclectic topping choices (mac and cheese pizza?)
Dotty Dumpling'g Dowry: Near that DoubleTree and the Kohl Center. It's got a great dimly lit feel with dark wooden walls and the TVs there are almost always playing old-timey, black and white movies. Their cheese curds are also good.
The Great Dane: Casual dining spot recommended by multiple locals.
State Street Brats: A bit touristy, but a fun gameday spot if you want something quick.
Jordan's Big Ten Pub: Near the stadium with easy access and good food.
WHAT TO DO / SEE
From what I've been told, Madison is a beautiful town. It's similar to Minnesota in that there's many surrounding lakes and lots of outdoor activities around. There are lots of indie bookstores, funky art galleries (the Madison Museum of Art is downtown and free), and their state capital building is like, the size of the US capital.
For those looking to see the town, there are typically good shows at the Overture Center on State Street, and there's also a comedy club right near there that's supposed to be pretty good. State Street itself is an attraction of its own, just for the unique feel and the fantastic view of the Capitol up top. Head there and walk around the square, and you'll definitely find something that'll catch your eye.
TAILGATING SCENE
In true Wisconsin fashion, tailgating mostly happens in bars. That's of course due the high quantity and quality of them, but also the fact that there's really no main parking lot area for tailgating. Running parallel to the stadium's west side is Breese Terrace, a street that is packed full on gamedays and shut off to cars. The houses are almost entirely student-owned, so it'll be rowdy and entertaining, but probably not where you want to go for a good time. That's not to say people won't be friendly — they will, but most tailgaters pack the aforementioned bars (as well as Lucky's, a fairly standard but fun sports bar that's just a short walk away).
There is also a good chance the local and surrounding stakes/wards will be hosting some BYU-themed tailgates. Just as we were invited to tailgate with the locals in Virginia, I'll pass along any info for Madison as I receive it closer to November.
TICKETS
Tickets shouldn't be too hard to get through the schools. You'll see some scalpers around the area that will probably have a decent selection, but scalpers at time can be a bit pricey and hit and miss whether they're legit? I don't foresee fans having any issues getting tickets through their normal methods.
LOCAL THOUGHTS ABOUT WISCONSIN AND BYU
Badger fans are generally optimistic about this season. Though he obviously hasn't coached a game yet, Gary Andersen has made a terrific first impression on the fans and players. His player-first, laidback approach seems very welcome, and people are also excited about the changes his new staff is supposedly implementing. Those include some elements of his run-oriented spread offense at Utah State, a 3-4 base defense and a variety of different looks aimed at getting the best 11 people on the field. That last one is fairly common coach-speak, though it does have people expecting a great portion of the depth chart to at least get solid reps in the fall.
As for Andersen's Utah connections, I'm not sure they raise the stakes for the BYU game that much. That's not to say it's just another non-conference game, though. The odd timing of it in early November puts it at a pivotal point in the season, when Wisconsin could be battling Ohio State for the Leaders Division crown and a chance to return to the Big Ten Championship Game. Having a new, non-conference team come to Camp Randall that late in the season will catch fans' attention, though I imagine only the more serious fans will recognize Andersen's Utah connections. I'm sure we'll read a few stories about them throughout the week, but otherwise it should be business as usual.
WISCONSIN TRADITIONS
If you get to your seats by kickoff, Wisconsin's intro is pretty cool. They live stream the team getting off the bus and walking through the Camp Randall arches and into the stadium. The U2 intro video has some great vintage clips of Barry Alvarez, Ron Dayne and such that get everyone pretty fired up.
The most common response for "non-Jump Around" traditions is the 5th Quarter, the university marching band's post-game performance that takes place win or lose. The band, objectively speaking, is great and considered one of the nation's best. Not as many people as you'd think stay for it, as students have likely seen it before and are spoiled, or are just too burnt out from the game and the earlier festivities to care. If you want the true Wisconsin experience and don't mind sticking around the stadium a little longer, the 5th Quarter is definitely worth it.
I sat down with our beloved AD, Tom Holmoe, in his office a few weeks ago to discuss game day at BYU, tailgating, Twitter, current happenings and future plans for BYU. Oddly enough, without being asked, Tom mentioned Wisconsin's "5th Quarter" as one of his favorite traditions in college football. So if it's good enough for Tom, it's good enough for me.
MY THOUGHTS
Every few years a game is announced by BYU that immediately gets circled on my calendar, saved into my phone and anticipated for years. Though I get excited about almost any scheduled road game, there's definitely a new level of excitement that is reserved for the NCAA elite (FSU, Texas, Notre Dame, Michigan, etc.). A game against the Badgers at Camp Randall Stadium in November definitely makes that list!
This is one of BYU's toughest, if not THE toughest game on the 2013 slate. However, I expect a decent turnout by the fans in blue and think the Cougs have a great opportunity to open some eyes on the big stage. I'm not guaranteeing a BYU victory or anything, but if we do pull it off, this will be one of those games we talk about for many years to come. November dates, fall leaves, big stadiums, rabid fans, ranked teams… this type of game is what college football is all about.