Requiem for a Throwback: Why BYU hoops deserves a classic look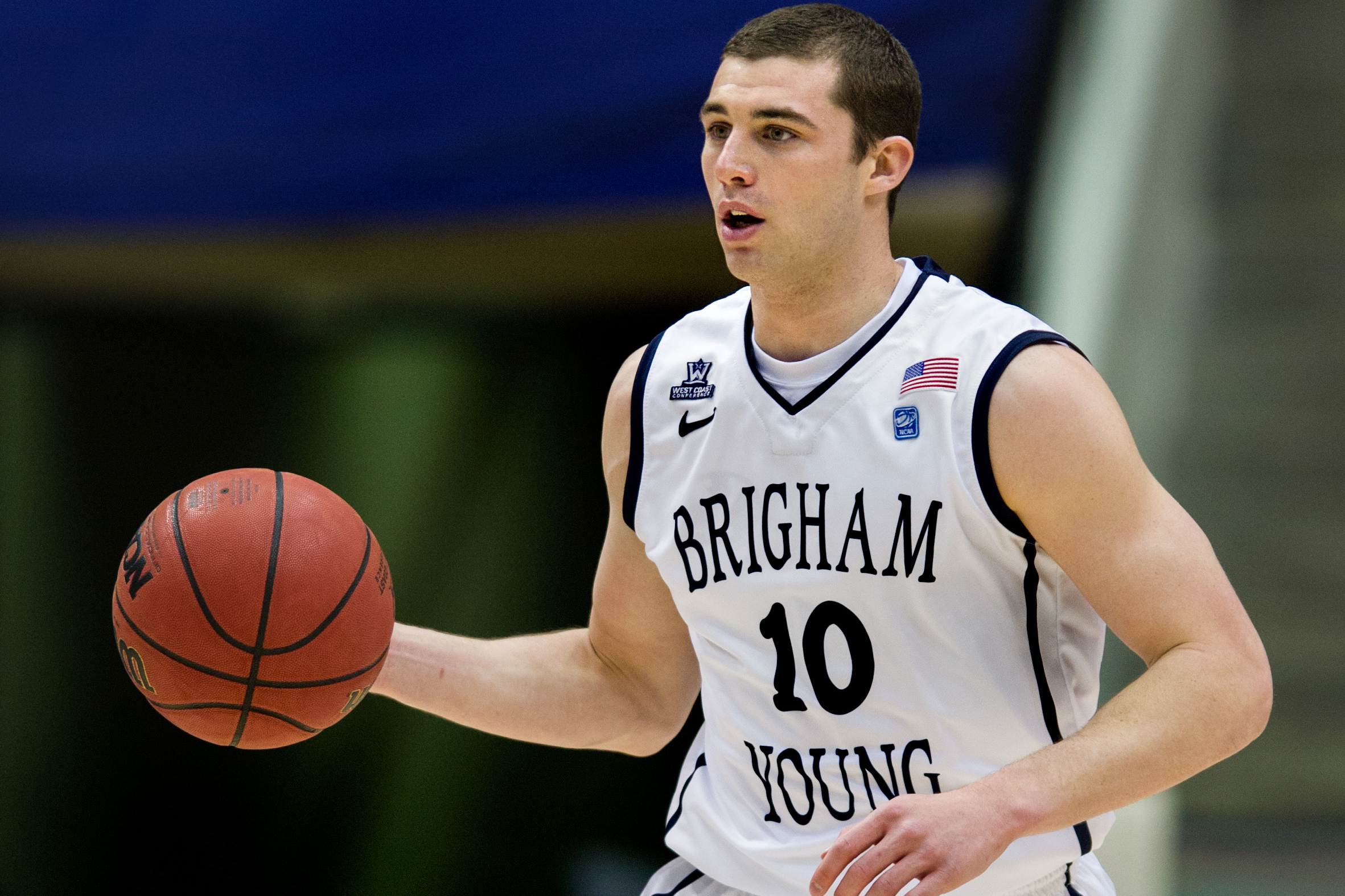 BYU basketball deserves a classic, true throwback uniform look.
If you watched BYU lace it up at the Marriott Center at least a few times last season, you likely witnessed a strange and interesting phenomenon I call the "non-throwback throwback" jersey.
Does that term sounds like counter-intuitive gobbledygook that doesn't make any sense to a reasonable human being like yourself? Take a look at the photo that sits atop this post.
Does that uniform look more familiar to you upon further examination? It's a white alternate jersey with a certain throwback aesthetic that debuted during the Cougars' matchup with Virginia Tech on December 29, 2012. The team would go on to wear the set six more times throughout the remainder of the season — including a "Dellavedagger"-induced last-second home loss to St. Mary's and a total implosion against San Diego in the West Coast Conference tournament.
Apart from its purely coincidental history of association with heartbreaking losses, there's one big problem with the jersey — it's not actually a throwback at all. To the best of my knowledge (including a thorough review of every media guide since 1950), no BYU men's basketball team has ever worn a uniform that even remotely resembles it.
Now, that's not to say that all alternate uniforms have to be historically accurate throwbacks. They don't. But if Nike wants to do a modern alternate jersey, I'd prefer it at least be cool and/or unique in some way. Last year's version doesn't quite qualify on either front.
For starters, creating a white alternate was both a superfluous and uninspired decision, particularly with so many other color schemes available. (The Cougars already had regular white jerseys, if you recall, so royal blue, gray or black could have made for a suitable modern alternate.) Furthermore, the uniform's plain design and vaguely 1990s typeface felt stale and out-of-date — and not in a hip, retro way.
It seemed like Nike was trying to create a throwback vibe without actually using a real throwback design, and instead ended up creating something boring and forgettable — neither current nor classic. They felt more like a set of generic, paint-by-numbers jerseys anyone can order from Eastbay for their church ball team than a cutting-edge design produced by the world's most innovative sports apparel company for a premier Division I program.
Nike can do better. BYU can do better. The ingredients are there — they just need to use them.
In the interest of full disclosure, I should admit here that I am a fan of jersey experimentation in general. I've loved the different looks the football team has mixed in over the last few years. I think it keeps things fresh and gives the fans something new to get excited about. That doesn't mean I want BYU to become Oregon, wearing a new color combination for every single game, but there's nothing wrong with breaking out a tastefully designed alternate jersey every so often just for kicks.
While modern alternates are just fine (I enjoyed the black football uniforms as much as the next guy), I find that I gravitate even more to throwbacks. There's something about the relatively faithful updating of a classic look that evokes a sense of pride and connects the current team and fans with the great traditions of the past.
This is why BYU's royal blue football jerseys are so popular with fans — they hearken back to the threads donned by dominant Cougar teams for decades, while simultaneously taking on a contemporary feel through a few small design tweaks. More than anything, they just look really cool.
Nike can do the same thing for basketball. Believe it or not, BYU did have some periods of sustained basketball success prior to Jimmermania. (This may come as a shock to some recent converts.) Why not honor those accomplishments in the same way the football program pays homage to their past victories? Why not look good while doing it? Why not do a throwback jersey—you know, for real this time?
There's no shortage of options, but the clear favorite — at least in my book — would be an updated version of the sweet duds worn by the Cougar cagers in the late 1970s and early 1980s. Those were the Danny Ainge days, and they arguably represent the program's highest peak, Jimmer included. It would be hard to find a better era to emulate and honor.
It doesn't hurt that the jerseys look great, too. The intricate custom typeface on the front is iconic (thanks largely to Ainge's clutch coast-to-coast layup in the 1981 tournament), and BYU fans have already shown a great interest in occasionally bringing back the royal blue color scheme. There's a great deal of goodwill, nostalgia and fond feelings for those uniforms. (I personally own an Ainge throwback that I break out for special occasions.) Sure, the shorts would have to be lengthened quite a bit to fit modern trends, but that's an easy fix. There's no reason this shouldn't happen.
It's time. It's time for the Marriott Center to finally see a proper set of throwbacks. I don't care if they're modeled after the Ainge era jerseys or another classic design from a different period in program history. I just want to see it done and I want to see it done right — and I don't think I'm alone in that sentiment.
Now, where can I get Phil Knight's phone number?