Opponent Notebook: Georgia Tech Q&A with Ken Sugiura of the Atlanta Journal-Constitution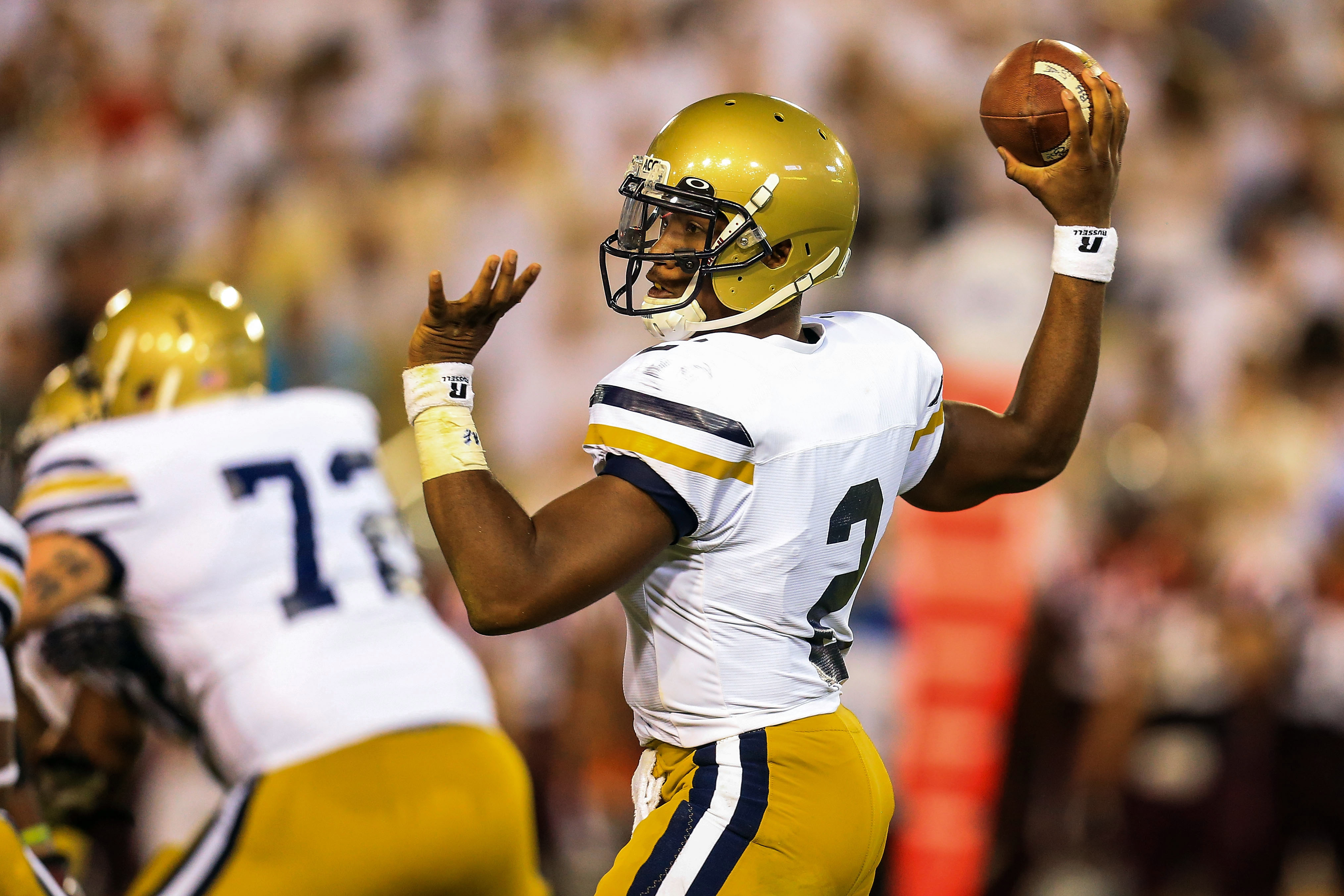 A preview of Georgia Tech with some help from Ken Sugiura of The Atlanta Journal-Constitution.
BYU was able to take care of business against Utah State and looks to build on that momentum this week against Georgia Tech. We were able to pick the brain of Ken Sugiura, Georgia Tech beat writer for the Atlanta Journal-Constitution, and get his insight on this week's game.
LOYAL COUGARS: Georgia Tech QB Vad Lee reminds us a lot of former BYU turnover machine Riley Nelson. Should we expect to see more of redshirt freshman Justin Thomas if Lee continues to struggle?
Ken Sugiura AJC: I think Justin Thomas will play regardless of how Lee does. Paul Johnson had said prior to last Saturday's game that Thomas would play because of his work in practice. He is one of the fastest players on the team and someone coaches have wanted to get on the field. That said, if Lee continues to turn the ball over, you might see more of Thomas.
LC: Through the first four games it looked as if the defense was once of Tech's strengths, giving up just under 13 points per game. Is there any concern after the defense gave up 38 points to Miami?
Ken: I'd say so. Tech's numbers defensively were very good through four games, but the Jackets had played Elon (FCS), Duke (No. 43 in total offense and playing with a newbie at quarterback), North Carolina (No. 80) and Virginia Tech (No. 109). I don't think BYU is as dangerous as Miami, but my guess is the Cougars are better than the other three offenses.
So coaches are expecting another tough test, albeit a different kind of one, and have concerns about the defense's tackling and ability to dial in. Poor tackling and maybe less than sound football did a lot to hurt Tech against Miami's offense, not that it needed help.
LC: Bronco Mendenhall's defense has performed well against the option. From what Tech saw from BYU last year, what do they need to do to have success on offense?
Ken: They just need to do the things that make them successful. Be solid and consistent enough in the run game to punch out first downs, not turn the ball over and create some big plays. This offense is capable of long runs and big pass plays out of play action, and those sorts of plays are necessary particularly against a defense as stout as BYU's because chances are that the Jackets won't be able to have many 13-play, 75-yard drives because BYU is too good for that.
BYU will know it's in trouble if B-back (fullback) David Sims is cranking out yards up the middle. The interior run game is what makes this offense go. The more Sims can gain four, five yards a pop, the more the defense has to honor that, which frees up the A-backs (slotbacks) for runs on the perimeter. It will also make BYU more susceptible to play-action passes going over their heads.
This offense is at its best when it's limiting the number of possessions in the game, holding it 35-plus minutes and being efficient with scoring opportunities. Turnovers and three-and-outs are killers, as they are with any offense, but probably more so with this one because Tech is typically trying to shorten the game.
LC: BYU's offense has done a complete 180 since the last time these two teams face each other. How does GT plan on stopping Taysom Hill and company?
Ken: Tackling well and forcing long third downs. Tech has some real concerns, noted above, about getting spread out and run up and down the field. The more that the Jackets can get BYU into third and long, which means stopping the run, obviously, on first and second down, the better their chances. One advantage that Tech may have that other BYU opponents haven't had is that the offense worked on a shotgun package, which has read-option elements, all spring and preseason, so players are used to seeing it and knowing where to put their eyes and so forth. We'll find out whether that's beneficial.
LC: Earlier in the year we saw Texas use Bane-like altitude masks to prepare for conditions in Provo. Is Tech doing anything to prepare for the altitude and BYU's frenetic offensive pace?
Ken: Tech is doing the absolute opposite and trying to ignore it as much as possible. Johnson is pretty old school in that way and I think doesn't want players thinking about it or fearing it or using it as an excuse. They realize it'll be a factor, obviously, but don't want to make more of it than that. Longtime BYU fans may remember that Johnson used to be the offensive coordinator at Hawaii back in the WAC days and brought teams to BYU, Utah, Wyoming and the like, and also brought his Navy teams to Colorado Springs to play Air Force, so this philosophy is not new and has had some success.
As I've alluded, time of possession is going to be a huge factor.
LC: If things don't go well in Provo for the Yellow Jackets, could this be the beginning of the end for Coach Paul Johnson?
Ken: I doubt it, unless it's like 45-3 and the Jackets fall into in a tailspin they can't recover from. Tech has a new athletic director and I doubt he's eager to make a big change like that for a lot of reasons. There is growing frustration among fans for Tech's failure to beat teams like Georgia, Virginia Tech and Miami, but he also has won an ACC title and came within one score last year of winning a second with a pretty average team.
LC: How do you see the game playing out?
Ken: Despite losses in the last two games, I think this will be a competitive game. Tech played better offensively against Miami and I'm tempted to give the defense something of a pass, given how explosive the Hurricanes are. Despite the fact that it's non-conference and out of the region, this is a game a lot of players have been looking forward to after how the game went down last year. My suspicion is that it'll go into the fourth quarter, where it'll be decided by a big play or a mistake.
That said, I'm never good at this question.
Thanks again to Ken Sugiura and The Atlanta Journal-Constitution for helping with this article.