What song should BYU basketball lip-sync next?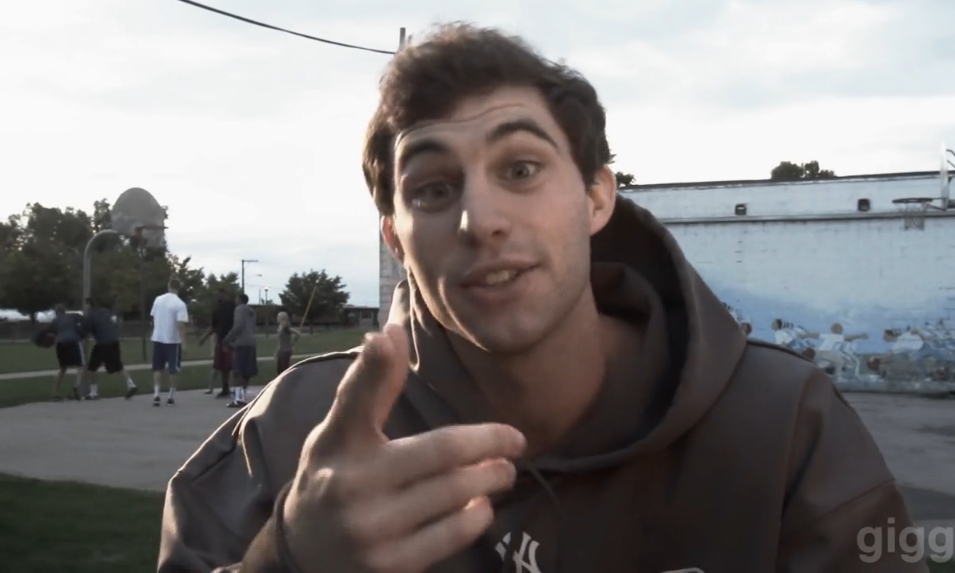 Jake Welch goes all in on BYU hoops vidtaculars with some stellar suggestions to put in the pipeline.
It's a glorious time to be a BYU basketball fan. Yes, much of this excitement stems from the program's immense amount of talent and potential, but the program has also started to grace us with some of the best things to hit the Internet in 2013. I am talking, of course, about those amazing lip-sync videos.
Call this campaign corny or call it weird, but you have to recognize that it is fun. Never would I have imagined Tyler Haws "belting it out" to Chicago or Matt Carlino throwing down some rhymes — but it has happened, and that makes us all blessed.
So what song should BYU take on next? These are my suggestions.
Whitesnake, "Here I Go Again"
Starring: Kyle Collinsworth & Chris Collinsworth
In a very sad turn of events, young Kyle Collinsworth has come home from his mission only to find that his older brother Chris is no longer playing basketball at BYU due to numerous injuries, shattering Kyle's dream of the two achieving basketball glory together. Now Kyle is once again on his own, walking down the only basketball road he has ever known. If the director can capture all of this emotion he could be nominated for some kind of award. Make it happen.
Katy Perry, "Roar" 
Starring: Eric Mika
Eric made it clear in his media day interview that he loves pop music and isn't afraid to play music from the likes of Lady GaGa and Ke$ha in the locker room. It's this kind of confidence that will lead him to a successful video debut and an ambitious freshman campaign on the court. There is no doubt this talented freshman has the eye of the tiger and we will most definitely hear him roar.
The Killers, "Human" 
Starring: Anson Winder
To pay homage to his Vegas roots, Anson should go with a track from BYU's second favorite arena rock band, The Killers. (Number one honors go to Imagine Dragons, for obvious reasons). In performing this lip-sync, Anson could answer the question we have had about him since he arrived at BYU: Is he sixth man or is he starter? With a committed performance here, I would put him in my starting five every day of the week and twice on Sunday.
Bruce Springsteen, "Born to Run"
Starring: Nate Austin & the Lone Peak Band (Tyler Haws, Eric Mika, Josh Sharp)
This one is quite simple. This would be an ode to the Lone Peak pipeline and their fearless leader Quincy Lewis, who has prepared his players for the up-tempo system run by Dave Rose. We get all the former Knights in their letter jackets roaming the halls of their old stomping grounds. If anything, it would make the people of Highland, Utah go nuts. (Just ignore the lyrics as they have nothing to do with basketball and everything to do with getting the heck out of New Jersey.)
Simple Minds, "Don't You (Forget About Me)"
Starring: Chase Fischer (feat. Graham Pingree)
There is no doubt that this is the perfect song for Chase, seeing how he will be sitting out this season following his transfer to BYU. He also has the personality to pull off something really stellar. The only question is, how will this video be executed? The obvious answer is to go with a Breakfast Club theme. Graham Pingree, who probably won't see the floor a whole lot, is taller but just as goofy-looking as Anthony Michael Hall, and Fischer could either don a blue hoodie a la Emelio Estevez or put a wig on and play John Bender. I'm fine with either one as long as we see the two of them galavanting about the Harold B. Lee Library. If BYU wants to have Internet gold on their hands, they will have Terry Nashif dress up like Dick Vernon and yell, "Why is that door closed? WHY IS THAT DOOR CLOSED?"
MiMS, "This Is Why I'm Hot"
Starring: Frank Bartley IV (feat. Chase Fischer and Luke Worthington)
I am only requesting this song because it has the greatest logic in the history of hip-hop: "I'm hot cuz I'm fly, you ain't cuz you not." I mean, pure lyrical genius, right? I would like to see Frank Bartley IV walk around the Wilk explaining to BYU's student body that he is hot because he, indeed, is fly and, more importantly, he can fly.
Lorde, "Royals" 
Starring: Andrew Johnston and Graham Pingree
We'll never see the floor at all this year
We cut our teeth at the D1 level at our practice
And we're not proud of our finesse,
At the end of the bench, no suit-&-tie envy
But every game it's like cross-court, bounce pass, straight from Matt Carlino
Sweet lob, throw down, Mika breaks the backboard,
We don't care, we're making buzzer beaters in our dreams.
But everybody's like zone-D, two-three, always on the fast break.
Dave Rose, Mark Pope, ever with the fresh takes.
We don't care, we never gonna reach the air up there.
And we'll never be starters (starters).
It don't run in our blood,
That kind of time just ain't for us.
We crave a different kind of buzz.
Let us be your back-ups (back-ups),
You can call us J&P
And baby we'll sit, we'll sit, we'll sit, we'll sit.
Let us warm this seat for you.
US3, "Cantaloop (Flip Fantasia)"
Starring: Luke Worthington (feat. Tyler Haws on the trumpet)
Luke did such a bang-up job in the original video (as witnessed by this amazing fist pump) that he deserves his own time in the spotlight. Something tells me he would knock it out of the park on this jazzy hip-hop number from US3. If you don't believe me,  just read the following lyrics to this masterpiece and tell me that Luke wasn't born to lip-sync over them. Also, Tyler Haws would play the amazing trumpet part sampled from Herbie Hancock's classic, "Cantaloupe Island."
Groovy groovy
jazzy funky pounce bounce dance as we
Dip in the melodic
sea, the rhythm keeps flowin, it drips to MC
Sweet sugar pop
sugar pop rocks it pops ya don't stop
Till the sweet
beat drops
I show and prove
as a stick in move
Hear the poems
recited on top of the groove
Crosby, Stills, Nash & Young, "Our House"
Starring: the entire team
For the final video of the year, the whole team would gather together at the Marriott Center and sing about their "very, very, very fine house." It would all start with Dave Rose sitting on the bench, followed by him walking to the floor as he is joined by the players. I would get a little emotional if this came to fruition, because there are very few things that I love more than Dave Rose and the Marriott Center.
Now that you've seen my list, what song do you think the BYU basketball team should cover next?