Nimmer's rebound goal clinches BYU's fifth straight shutout
Updated: November 1, 2013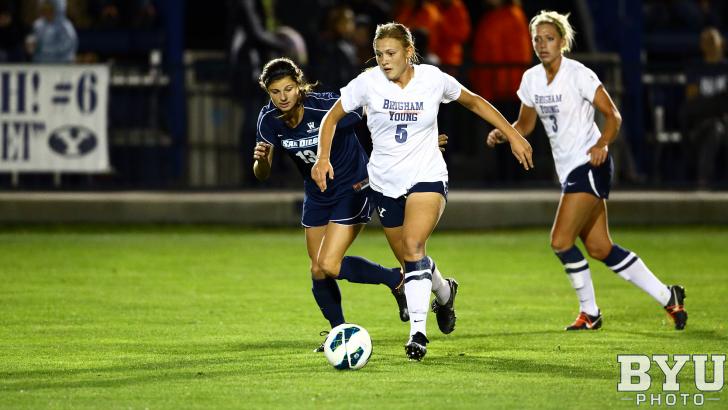 The BYU women's soccer team had put up 21 shots on San Diego in a dominating 75 minutes against San Diego, but a combination of poor finishing and several clutch saves by Toreros goalkeeper Michelle Craft kept the visitors level at 0-0.
But in 15 seconds, the Cougars added two shots — and a goal — to clinch a crucial three points at home.
Marissa Nimmer's rebound volley following Ashley Hatch's clanger off the crossbar gave 20th-ranked BYU a 1-0 win in front of 2,327 fans on Friday night at South Field.
"We've worked so hard this season, and to be able to put that away was crazy — and a lot of fun," said Nimmer, who wore the No. 24 jersey while carrying her blood-soaked No. 5 off the field. "I saw Ashley take an amazing shot, and I was going to follow it in case something crazy happened. It hit off the post, and I put it away.
"Honestly, I didn't even think about it. It just came to me, and I just put it in."
Hatch ripped a rocket that caromed off the crossbar, and fell right to Nimmer. Acting solely on reflexes, the 5-foot-6 sophomore midfielder chested the ball downward, then cooly slotted home the winning goal from inside the six-yard box.
"Our offense is really connecting now; we struggled at the start of the season," Nimmer said. "But I think that our defense is playing really well, and we start from the back connecting passes. We're doing really well now."
The win extends a five-match shutout streak for goalkeeper Erica Owens and the BYU defense, with five of the past six matches being won by a clean sheet. The Cougars (12-4-1, 6-1-0 WCC) have not allowed a goal since a 2-1 loss at Santa Clara on October 12 — the only goal allowed in West Coast Conference play.
"This was a very important three points at this part of the season. San Diego is a dangerous team, with some creative, attacking players," BYU coach Jennifer Rockwood said. "But I thought our defense did a fantastic job keeping another shutout. I thought it was a good battle, and we challenged our forwards to shoot the ball a little more in the second half. And we got a lot of shots off that."
San Diego (10-8, 3-4 WCC) was potentially playing for any chance at a postseason bid in the match, but struggled to a lone shot on goal in the first half. Kelley McCloskey's header in the 32nd minute was tipped wide by Owens, while the Toreros gave up nine shots to the home side — including four shots on frame.
Nowhere was the possession battle more clear for BYU than in the midfield, where the Cougars routinely bypassed their WCC travel partners in connecting strings of passes.
Cloee Colohan led the way with six shots, including three on frame, while Rachel Manning added three shots and Sarah Chambers one that nearly sealed the deal in the final two minutes. When not piling on Craft, though, the midfield set up several nice chances up top for Nimmer (three shots), Hatch (five) and Colette Jepson Smith (six).
"When we can keep the ball, it makes such a difference," Colohan said. "It makes the game so much easier, especially with Rachel winning all those head balls. We play off of her; it's amazing."
The back line didn't allow more than one shot by any San Diego player, which finished with five girls striking the ball in the direction of the net. Central defenders Annie Amos and Paige Hunt kept stepping up to cut off passing lanes, while also playing a high line that caught the Toreros offsides six times.
"Our number one focus as a team is our team defense," Rockwood said. "From the very beginning, that's been our focus. We rely a lot on our forwards to start with the high pressure; it's not just our backs and our keeper, but all 11 players on the field committed to team defense. That's proven to be very effective for us."
BYU needed the win following a 1-0 upset at then-No. 6 Portland on Oct. 26, a victory that saw the Cougars leap to No. 20 in the NSCAA Coaches' Poll. Besides the potential let-down of a thrilling win, the run-and-gun style of San Diego presented several challenges for the possession-based Cougars.
"There's so much on the line right now at this time of year," Rockwood said. "Our biggest concern was that San Diego is a very good team, a very dangerous team. We knew we would have to be at our best in order to pull off a win tonight."
The Cougars end the regular season next week with two straight home matches. WCC newcomer Pacific visits South Field on Thursday at 7 p.m., followed by a visit from St. Mary's on Saturday to cap the season.
"We know that when we play well, good things can happen," Rockwood said. "Our goal is try to improve and learn from each game. But ultimately, we know that we need to get wins and pick up this points if we want to still have a chance at a conference championship and to get into the NCAA tournament."