Fernandes lifts BYU soccer by Pepperdine in WCC home opener
Updated: October 17, 2013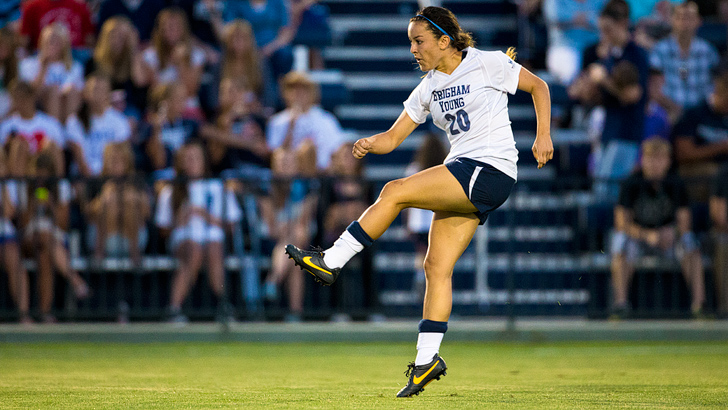 Niki Fernandes helped BYU start home WCC play right, propelling the Cougars to a win over Pepperdine on Thursday.
BYU women's soccer coach Jennifer Rockwood knew something good was coming. The Cougars were pressing forward the entire second half, dominating possession and take several swings at Pepperdine's defense.
Still, nothing came; a wide shot here, a goalkeeper's save there. Nothing to show.
With one final stroke of fortune, Niki Fernandes stepped onto the pitch, knowing she probably wouldn't have the full half to make an impact.
She didn't need it.
Fernandes' strike with five minutes remaining gave No. 25 BYU (8-4-1, 2-1-0 West Coast Conference) a 1-0 win over the Waves in their home conference opener.
"I just know that you only need so much space to get a shot," Fernandes said. "I had that much space, let it go, and it went in."
Freshman standout Ashley Hatch set up the decisive play, dribbling through the middle of the Pepperdine defense before dishing a ball into open space in the box. After a bit of chaos, Fernandes latched onto the end of it and released an effort that found its way under Waves goalkeeper Hannah Seabert and just inside the far post.
"I'm not exactly sure what happened; it was all kind of a blur," Fernandes said of her match-winner. "All I know is I got the ball, came across the 18, and … tried to get past the orange shirts and get the shot off."
The Cougars outshot the Waves, 22-6, including a 10-1 advantage in the second half. BYU was deadly on set pieces, including Marissa Nimmer's five corner kicks that nearly hit pay dirt.
But it took a little trickery from Hatch, and an opportunistic eye for goal from Fernandes to knock one home.
"I thought we played a real complete game tonight," Rockwood said. "It's something we've been really working towards. Defensively, I thought we were very solid against a dangerous, counter-attacking team. Our midfield did a fantastic job."
"I'm happy for Niki on the goal, but I thought it was a real team effort tonight, and one of our best performances of the year."
Erica Owens made three saves to earn the shutout for BYU, but the senior netminder credited the defense for the night's success.
"They definitely made it easy for me. I could have been watching a movie all night back there," Owens joked.
Hatch led the BYU offense with five shots, including two on goal. Fernandes added four shots, and Cloee Colohan, Colette Jepson Smith and Kyleigh Royall each supplied three shots as the BYU midfield kept Pepperdine (6-5-2, 1-2-0 WCC) off balance all night.
Lynn Williams, who leads the WCC with 10 goals and 13 points, was held to three shots (one on frame) for Pepperdine. Ally Holtz added two shots for the Waves, and Seabert finished the night with nine saves.
"That was one of the best games we've played all season," said Owens, referring especially to her defense and midfield.
BYU's defense didn't allow a corner kick all night, while Nimmer and Co. took 10 set pieces from the opposite corner flags. The Waves didn't register a shot in the second half until Williams slipped a ball just outside the near post — nearly 38 minutes after halftime.
"I just felt that it was going to come for us," Rockwood said. "You're nervous any time you have a lot of possession, especially against a team as dangerous as Pepperdine on the counter attack. The girls kept battling, kept trying to combine, and I thought they played smart until it finally came."
The Cougars' best chances to add to the lead came off those set pieces, including a stretch midway through the second half that saw Nimmer take three corner kicks in quick succession.
"Nimmer is dangerous on those set pieces; she can swing in with her left foot, and we got some great people who can win balls on the inside," Rockwood said. "Pushing and winning corners means that we're staying in our opponents' end, and that's what we're trying to do."
BYU picked up the win after a come-from-ahead, 2-1 loss at No. 13 Santa Clara on Oct. 12. The Cougars looked determined in dominating possession and strangling the Waves to snap the losing streak before it began.
"It means a lot. Santa Clara was a great team, but we're hungry," Fernandes said. "It's been a while since we've played on our home field, and the fans are awesome. It was a big one for us, and very exciting."
The Cougars return to South Field on Saturday against Loyola Marymount. Kickoff is at 7 p.m. and the contest can be seen on BYUtv and BYUtvsports.com.