Cougars overcome slow start, cruise past Alaska Anchorage
Updated: November 2, 2013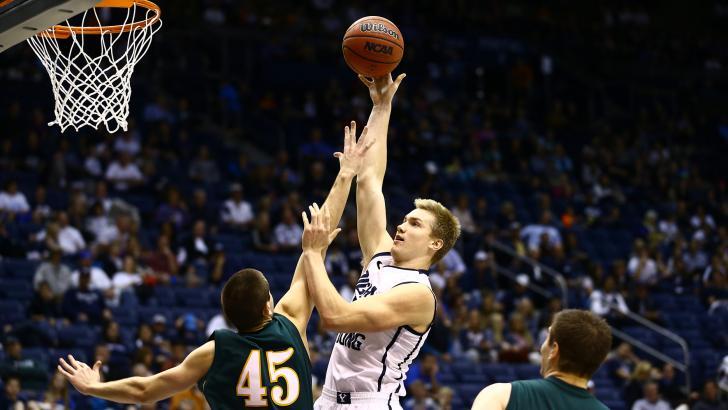 Strong performances by Matt Carlino and Eric Mika helped the Cougars dominate their final exhibition game.
The first few minutes weren't pretty, but BYU eventually found their rhythm and outclassed an overmatched Alaska Anchorage team in an exhibition game on Saturday, 99-68.
The Cougars looked out of sync in the game's opening moments and trailed the Seawolves throughout the first six minutes. But the chasm in talent eventually prevailed, as Dave Rose's squad soon settled down and opened up a lead that would grow to 14 points by halftime. The improvement was largely sparked by increased focus on the defensive end and an aggressive inside-outside attack led by Eric Mika and Matt Carlino, who tallied 10 and 12 points in the half, respectively.
Once BYU got rolling, the second half was just more of the same. Kyle Collinsworth got into the act, scoring 12 of his 14 points in the final frame. Tyler Haws, who was uncharacteristically quiet in the first half, added 8 points of his own, while Mika and Anson Winder each chipped in 7. The Seawolves caught (relative) fire in garbage time, finally connecting on a few of their many long-distance attempts to post a respectable 68 points for the game, but the contest was already out of hand and the Cougars cruised to an easy 31-point victory.
All in all, it was exactly what one should expect from an exhibition game against a Division II opponent. Nothing particularly notable in the process of it all — but that doesn't mean there weren't things to be learned and internalized ahead of next week's season opener against Weber State.
Stray Observations
The new and improved Matt Carlino continues to be awesome. On a night when neither he nor any of his teammates could buy a bucket from long range (Matt was 0-for-5 on the night, while the team as a whole suffered through an abysmal 2-for-15 performance from three), Carlino didn't let the cold snap affect his game. He attacked the paint early and often, repeatedly getting to the rim and often finishing tough shots through contact. That mentality wasn't there last year — a bad shooting night from outside often meant Matt was all but doomed to a less-than-effective performance — but those days appear to be behind us now. Carlino was aggressive in every facet of the game (including on the defensive glass), and his 17 points and 11 rebounds are a testament to that shift in mindset.
Holy Eric Mika, Batman! I think we finally got to see a little flash of why so many recruiting services had the former Lone Peak star ranked as one of the top power forwards in the nation. The freshman was an absolute load in the post, and he dominated the boards — racking up 14 rebounds (including 8 on the offensive end!) to go with 17 points in a double-double performance. He also added two big blocks and some very solid defensive presence to boot (except for a brief stretch in the second half where he picked up three fouls in less than two minutes, mostly out of frustration). Granted, he was playing against smaller, less talented competition — but if Mika can continue to play confidently and aggressively while staying out of foul trouble, he could have a huge impact for the Cougars this season.
I'm not quite sure what's going on with Tyler Haws lately. He hasn't really looked like himself in the last two games, and I can't pinpoint why. His game has seemed oddly disjointed, particularly on offense, where he has had to force his hand a lot more to create scoring opportunities and has scored less efficiently as a result. We'll chalk it up to an aberration for the time being — when the games start to count, you have to believe Tyler will assert himself like we've seen so many times in the past. Besides, 13 points and 7 boards on 50 percent shooting isn't exactly an awful performance in the first place, so there's no reason to be legitimately worried or anything. But just know that these last two games have been a little weird.
While Kyle Collinsworth had another somewhat uneven performance on Saturday, we saw some more consistent flashes of what he'll be capable of once he rounds into full form. The recently returned missionary struggled mightily in the first half, going 1-for-5 with two turnovers and a couple unsightly airballs. He was much better in the second half, completely taking over the game in one stretch when both Haws and Carlino went to the bench. Kyle repeatedly used his athleticism to get to the hoop for easy scores, scoring 12 of his 14 points in the final frame. This seems to be where Collinsworth's strengths lie right now — he's primarily a slasher and rebounder with good court vision and no range outside 10-12 feet. That's a perfectly fine role for him to play this season, and he should be able to do so more consistently moving forward.
BYU out-rebounded the Seawolves 69-29 — a whopping 40-board advantage. You won't lose many games with that kind of edge on the glass.
Everyone struggled from deep for the Cougars, a trend which Dave Rose certainly hopes won't continue into next week when the games begin for real. After two frustrating years of poor long-range shooting, fans have high hopes that this year will be the one where the team finally finds its groove from outside — but nights like tonight won't do much to instill confidence.
Skyler Halford struggled like everyone else from the three-point line (although he did actually make one), but that didn't stop him from scoring 9 points in his 17 minutes. Halford, known primarily as a sharpshooting specialist, made his living at the free throw line, repeatedly drawing fouls on nifty drives into the lane. While BYU will certainly need Skyler to shoot better moving forward (after all, that's a big reason why Rose brought him to Provo), it's nice to see that he has the versatility to score in a number of ways, even when the shots aren't falling.
Anson Winder led the team in plus-minus, turning in an astounding plus-25 performance during his 24 minutes on the floor. He finished the night with 9 points on 4-for-6 shooting, along with 4 rebounds and 2 assists. Winder looks incredibly comfortable on the court right now — a far cry from his off-kilter performance from a season ago. Rose replaced Anson with Frank Bartley in the starting lineup against Alaska Anchorage, but his strong play (coupled with Bartley's struggles — 1-for-9 on the night) should earn him a spot when the Cougars tip off against Weber State a week from now.
As has become customary following the conclusion of each game, BYU has released the team's next lip-synced hype video, which features Luke Worthington crooning Blackstreet's "Don't Leave Me" with some help from Frank Bartley, Josh Sharp and a mustachioed Eric Mika. Oh, and they have background dancers. It's as amazing (and awkward) as it sounds. You're welcome, America.