Three-Man Weave: Dreams, doubts and predictions for hoops season
Updated: November 7, 2013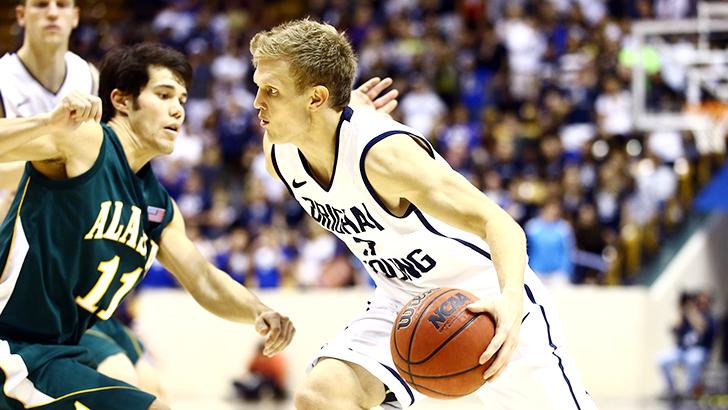 With basketball season knocking at the door, our hoops staff looks at what lies ahead for the Cougars.
The BYU men's basketball team will open its 2013-2014 season with a home game against Weber State on Friday — and while fan expectations remain high, many questions persist about this year's squad. For example:
How will they replace the production of the departed Brandon Davies?
Is it even reasonable to expect Tyler Haws to improve on his amazing performance from last season?
Which of the many newcomers will be able to step up and contribute on a consistent basis?
How good is this team, really?
Lots of questions — all of which will begin to be answered on Friday.
As such, we decided this would be as good a time as any to introduce a new feature here at Loyal Cougars — the Three-Man Weave, in which three commentators will offer their opinions and analysis on three roundball-related issues for your reading pleasure. For today's installment, I am joined by Ben Wagner and Evan Hall — both regular contributors to our hoops coverage — to talk about what lies ahead for the Cougars.
Now, without further ado…
1. What are you most excited to see this season from this Cougar team?
Evan Hall (@the20thmaine): The answer to this should always be Tyler Haws, as long as Tyler Haws is on the roster — not just because he's the best player on the team (he is), but because he's so great in such a unique way. How many other wings average 22 points a game working mostly from mid-range and the high post? What other BYU player have we seen with a flawless jump shot that maintains consistent form from everywhere on the court? I mean, do you remember that sliding fadeaway he nailed in the key to take the lead against St. Mary's last year? Because, like, what? College kids can do that? Haws is a pleasure to watch in a way that only Tyler Haws can be.
Ben Wagner (@ben_wagner): I'm excited for the potential of this particular roster to be a really exciting, fast-paced offense. As presently constituted, the best offense for this team — to paraphrase the great 21st century tactician Robert Anae — is to go fast and to go hard. With the addition of players like Kyle Collinsworth, Frank Bartley and Skyler Halford, Dave Rose will likely play a lot of guard-heavy small ball lineups in which four players who can both handle the ball and shoot the three will be on the court for the Cougars at one time. These lineups should lead them to fast break at every possible opportunity, which should create transition 3-point opportunities or secondary break chances for Eric Mika, who will match or exceed every matchup this season in terms of raw athleticism. Combine that with the altitude at the Marriott Center, and BYU has the potential to be a dangerous fast break team. Showtime Cougars anyone?
Steve Pierce (@PostJimmer): I'm excited to see the small ball revolution finally reach Provo. The movement has been brewing in the NBA and elsewhere in the collegiate ranks for a few years now, but despite the up-tempo nature of his offense, Dave Rose has rarely utilized small lineups that feature four perimeter players revolving around a single traditional big. Based on personnel and lineups used in the two exhibition games thus far, it appears that will likely change this season. With a deep crop of guards and limited post depth, I think Rose has the roster to succeed at going small — which should mean more speed on both ends of the floor, more focus on dribble penetration, and more fun for the fans. Consider me on board.
2. Conversely, what are you most worried about?
Hall: Can this team win road games against good teams? If Carlino isn't on and Haws is being double-teamed, who is going to score in the halfcourt? How well will this team shoot threes? Is Mika as good as he looked in high school and in the exhibition games? Can this team get over the loss of Brock Zylstra? Will I ever stop trolling Brock Zylstra? Is Matt Carlino's hair ugly or awesome? Or both? Did I avoid the question by phrasing like ten different worries in questions? No, but seriously, can this team win any road games against St. Mary's, Gonzaga or San Diego?
Wagner: The problem with relying on fast breaks as your primary source of offense is that fast breaks require defensive stops. On the interior, Eric Mika is unproven, and though Nate Austin remains BYU's best post defender, his proclivity for foul trouble is troubling. Matt Carlino and Anson Winder are the most proven defensive perimeter players on the roster, but the small ball lineups will force Kyle Collinsworth to guard a lot of power forwards this season, creating some size mismatches on the defensive end. Rose is determined to play more man-to-man defense this year, after playing an increasing amount of zone over the past two seasons. The Cougars will be fine if they can transition back to playing efficient man-to-man and creating the stops necessary to fuel their fast break. If they are unable to effectively defend, they may also struggle to score points, which could lead to a long season.
Pierce: This problem seems to persist every year, but it's even more important this season as Rose has announced his renewed commitment to playing man-to-man defense: Can BYU stop dribble penetration, especially in light of the NCAA's renewed emphasis on hand-check fouls? If the Cougars are really going to ditch their omnipresent 2-3 zone scheme of the last few years, they'll need to really tighten down the clamps on the perimeter to have any chance at all of being successful. This was a huge part of the team's failure last year (which I detailed extensively here), and only time will tell if this year's squad will have the requisite lateral quickness and mental discipline to make the necessary improvements. BYU will always find a way to score a ton of points — but if they can't keep opponents out of the paint, they will continue to drop games to quality opponents more often than not.
3. Bold prediction time: How do you expect this season to play out? Where do you see BYU ending up by the end of the year?
Hall: I think BYU makes it back to the NCAA tournament, in part because I'm a shameless optimist who will gladly shirk reason at any chance to feel good about something, and in part because I think the gap between Gonzaga and the rest of the WCC is much smaller than people are saying. I think BYU will still end up losing the regular season conference title to the Zags, because there is no team better designed for churning out conference wins than Mark Few's, but I think BYU has a good shot both at an at-large and at winning the conference tournament.
Wagner: Last season's NCAA tournament miss ultimately turned into a positive for BYU after the team made a run in the NIT, going much deeper and gaining more experience than they would have in the big dance — but the Cougars need to make it back to the tournament this season. With Matthew Dellavedova mercifully gone, St. Mary's is weaker than they have been since BYU joined the WCC, and while Gonzaga is still the favorite in the conference, they've become weaker since Danny Ainge did BYU a favor and took Kelly Olynyk in the NBA draft. BYU will be the principal challenger to Gonzaga's crown this season, and while I still expect the Zags to win the conference, it wouldn't surprise me if BYU was able to steal one this year. Regardless of who comes out on top, the WCC should be strong enough for the Cougars to make it to the tournament as long as they can finish in the top two.
Pierce: I like what I've seen from this team so far. To be sure, there isn't a huge sample size to draw from yet, but I feel good about the change in tone and attitude that we've already seen among the players, as well as the increased athleticism and the versatility that should give Rose when developing lineups and schemes. I think they'll be able to bypass a diminished St. Mary's squad to claim the No. 2 spot in the WCC behind Gonzaga, grabbing an at-large bid to the NCAA tournament in the process. Once they're in the Big Dance, anything can happen if the momentum is right — let's be honest, the whole thing is mostly a crapshoot anyway — but I'd expect the Cougars to lose in the first round to a worthy, higher-seeded opponent after putting up a valiant fight. It's the BYU way.