Tyler Haws' late-game heroics help BYU outlast Texas, 86-82
Updated: November 25, 2013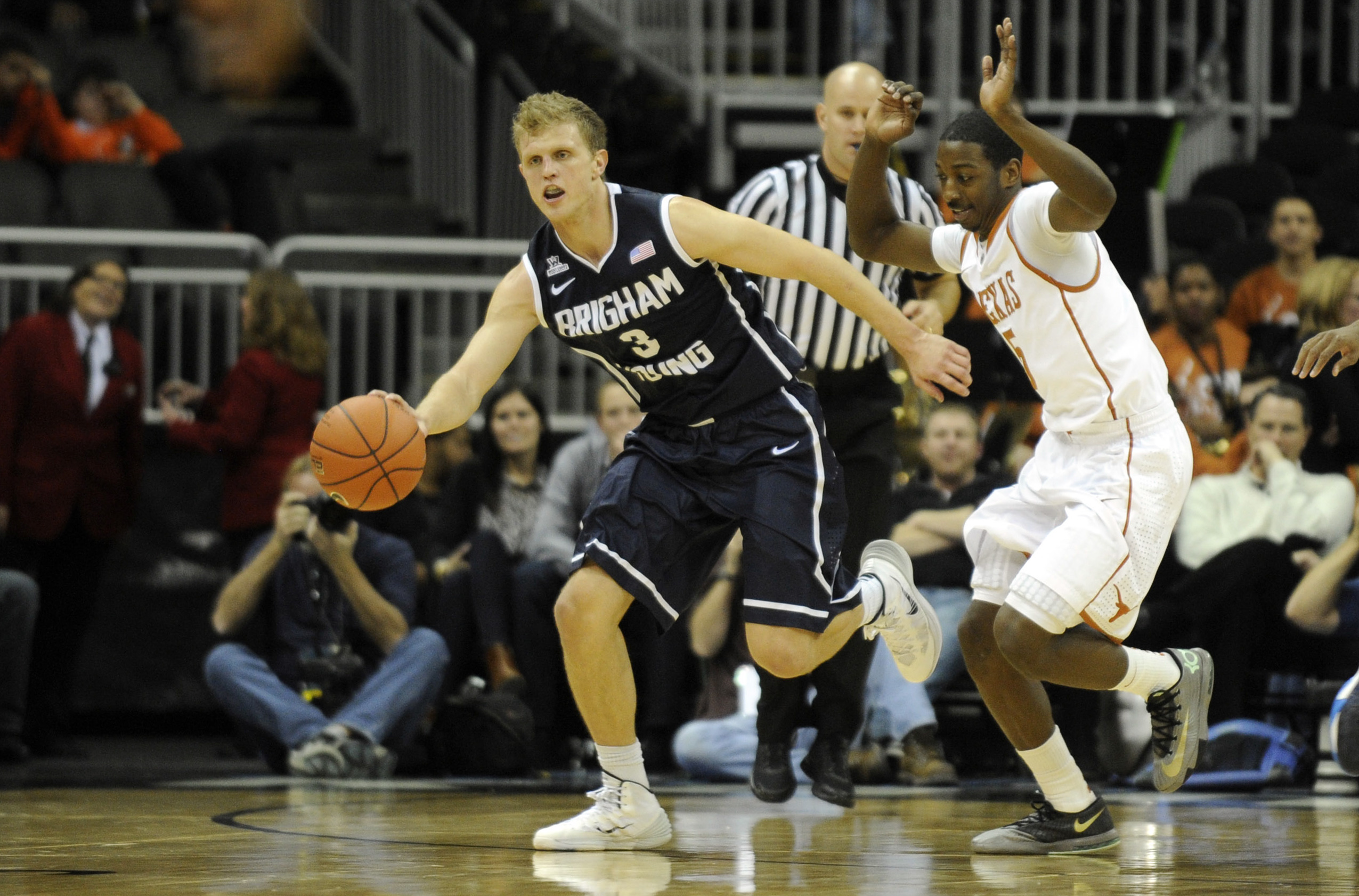 The Cougars used a hot start from Matt Carlino and a fantastic finish from Tyler Haws to beat the Longhorns.
Matt Carlino prepares the way and leads you through the wilderness — then Tyler Haws saves your basketball soul.
I don't know if that's scripture or anything, but that certainly seemed like gospel truth for BYU fans on Monday evening. In a game that see-sawed back and forth with more than 20 lead changes, Carlino started hot and Haws finished strong to power the Cougars to an 86-82 victory over a physical Texas team in the semifinals of the CBE Hall of Fame Classic.
Before we get into the nitty-gritty of analyzing the play-by-play, let's pause for a moment and appreciate what this win means on a larger scale. Texas is a very talented team that will likely win a lot of games in the Big 12 this year. By beating the Longhorns, BYU now has one more signature win on their tournament resume than they managed to corral all last season — a deficiency that played a huge role in their failure to secure an invitation to the Big Dance for the first time in six years.
This time, the Cougars have sacked one away early — which is even more meaningful considering the game that preceded it. After watching their team fold late in a disappointing loss to Iowa State last week, you couldn't blame BYU fans for being a bit skeptical of their chances in another close, physical contest against a formidable opponent.
You can count me among the hand-wringers — with five minutes left and Texas holding the lead and seemingly all of the momentum, I quietly murmured to myself that I didn't see how BYU was going to find a way to win. Every time we tried to make a run, the Longhorns parried it with ferociousness and physicality — and I could no longer see the light at the end of the tunnel.
Forgive me, Tyler, for I have sinned.
After struggling through a horrendous (and that's putting it mildly) first half, Tyler Haws started doing Tyler Haws things again after the break — particularly down the stretch, when he scored 19 of the Cougars' final 21 points in a stunning display of offensive miracle-working. Effectively stymied in the opening stanza by Texas' tenacious defense, Haws found his rhythm when it mattered, scoring on a variety of cuts, screens and hand-offs, as well as a bevy of free throws.
Suddenly, the Longhorns didn't have the answers anymore and BYU's superstar looked unstoppable — a point underscored when he hit a shot clock-beating, 2o-foot one-legged fadeaway runner with two hands in his face with less than a minute left to put the final nail in Texas' coffin. You could almost hear the angels singing.
But for all of Haws' late-game heroics, none of them would have mattered if it weren't for the early exploits of Matt Carlino. The mercurial point guard started hot by raining fire and brimstone from the skies of the Sprint Center, going 4-for-4 from deep in the game's opening minutes — a barrage made even more breath-taking by rising freshman Frank Bartley connecting on his first three triples as well.
If Carlino and Bartley don't carry the Cougars to a first-half lead while Haws wanders in the wilderness, BYU undoubtedly comes away with another discouraging missed opportunity rather than an exhilarating statement victory.
But that's kind of how it goes in college basketball: You get a few bounces, you get the benefit of a couple whistles, and you make a shot clock-beating, 2o-foot one-legged fadeaway runner with two defenders in your face — and then you win.
Stray Observations
It was a tale of two halves for Haws: he had only 2 points at halftime, but tallied 23 after the break. There are no words for the joy that fills my heart when Tyler is cooking. You can just tell that the rim looks like the Atlantic Ocean and he's tossing pebbles into it — and it is blissful.
I wasn't kidding when I said BYU doesn't win this game without Matt Carlino. He saved their bacon in a first half where neither Haws nor Kyle Collinsworth could get going. Matty Basketball's final line: 20 points on 7-for-16 shooting (including 5-for-7 from deep), 6 rebounds, 6 assists and 2 steals. If you don't consider that a complete game, I don't know what is.
It's time to get excited about Frank Bartley. The freshman kind of flew in under the radar this summer when he committed to the program, but he has been excellent thus far — and he really had his coming out party against the Longhorns. Frank looked poised and confident beyond his years, deftly deciding when to launch from deep and when to slash to the basket. Sure, I wish he wouldn't miss the front end of one-and-ones so often, but that's a small criticism compared to the massive boost he's giving BYU off the bench.
Now that we've dispensed with some of the pleasantries, let's talk about the big flaw exposed by the Longhorns: 17 offensive rebounds. Seventeen. BYU got absolutely murdered on the boards. Granted, Texas is a big, strong, physical team, the likes of which the Cougars won't often see the rest of this season — but this is still a concern. We knew this team was thin in the frontcourt, but it may be worse than we thought. Nate Austin and, to a somewhat lesser extent, Mika were bullied in the paint all night long. Collinsworth and Carlino did a decent job of crashing the glass from their guard positions, but 17 offensive boards is just way too many. This is one of the biggest weaknesses of Dave Rose's 2-3 zone, and it's something that will need to be fixed moving forward.
BYU went 10-for-12 from three as a team. I'm going to go ahead and say that makes up for the 1-for-21 debacle against Colorado Mesa. Hot perimeter shooting played a big role in the Cougars pulling this one out.
Eric Mika is going to have to carry a huge load in the paint this year, because he's not going to get a ton of help. He's fully capable of doing it — his talent is undeniable — but he has to stay out of foul trouble. While he struggled early against Texas' bigger, stronger post players, Mika mostly held his own as the game went along, but his minutes were limited by fouls — forcing Austin and an overmatched Luke Worthington into service. The results weren't pretty. Mika finished with a solid 16 points and 7 boards in his 26 minutes, but BYU will need even more from him in the future against teams with size.
Tyler Haws: 37 minutes. Kyle Collinsworth: 35 minutes. Matt Carlino: 34 minutes. That's a heck of a load — the question is, how long can it be sustained? I have a feeling we'll find out soon enough.
The Cougars' free throw percentage improved tonight, as they went 20-for-28 from the stripe, but they still missed the front end of several potentially key one-and-ones in the second half. Those misses didn't come back to haunt them this time, but that's no guarantee they won't in the future. Freebies remain an area to watch moving forward.
Is Josh Sharp alive? Has anyone seen him?
BYU turned the ball over 16 times, by far their most careless performance of the season to date. Collinsworth and Carlino were the main culprits — with 6 and 4 giveaways, respectively — while Bartley and Haws each added two of their own. Texas didn't really pressure much in the halfcourt, so these seemed to be just good old-fashioned poor decisions. This isn't a major concern yet — like I said, they've been pretty good taking care of the ball up until this point — but it's certainly something they'll need to cut out if they want to have a chance in the championship game on Tuesday.
Eric Mika + Ivan Drago haircut + protective sports glasses + finger guns = PURE MAGIC.
Barring an unlikely upset of Wichita State by DePaul, the Cougars will face the No. 12-ranked Shockers on Tuesday evening at 9:30 p.m. ET in the tournament's championship game. The game will be televised on ESPN2. This is a monumental test for BYU — as most will remember, Wichita State made a run to the Final Four last year and returns a very, very good team — but also a huge opportunity on a national stage. The odds will be stacked against Dave Rose's squad (as will the Shocker-leaning crowd in Kansas City), but that doesn't mean they can't find a way to win. Giving up 17 offensive rebounds again won't cut it, and they may need another miracle shot or two from Haws, but it's doable. This should be fun.