BYU torches North Texas in balanced effort, 97-67
Updated: December 3, 2013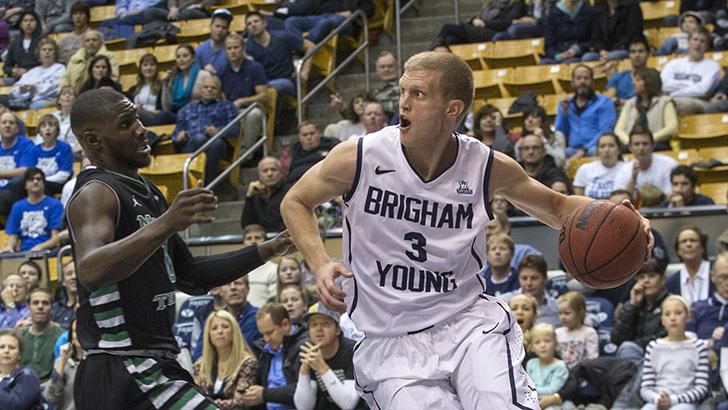 The North Texas Mean Green came out firing, but couldn't keep pace in the second half as BYU dominated.
BYU shook off some early rust on Tuesday night to come away with a 97-67 victory over North Texas in what was probably BYU's most complete effort of this young season. Five players scored in double digits (Haws, Mika, Collinsworth, Austin, Halford) and three pulled down ten or more boards (Austin, Mika, Carlino).
In the first half, North Texas looked determined to match BYU's pace, running the floor and capitalizing on multiple Cougar miscues. When BYU first went to a zone defense, the Mean Green found open looks for easy baskets — the easiest of which came on an inbound play where three BYU defenders watched Jordan Williams walk to the basket for a layup.
But the Cougars finished the first half on a 17-8 run that was sparked by a beautiful transition three from Tyler Haw, followed by a sweet baby hook from Luke Worthington (which would have been perfect if he made his free throw to complete the three-point play). Matt Carlino was his aggressive self early and filled up the stat sheet, finishing with 10 boards and 11 assists, and Tyler Haws led the team with 15 first-half points to give BYU a seven-point lead at the break.
The momentum from that run carried into the second half as the Cougars got seven quick points from Nate Austin and Eric Mika. The two big men were dominant down low, combining for a solid 27 points and 24 rebounds. In a promising turn of events, Mika was able to avoid foul trouble, notching just one foul for the second game in a row.
The biggest difference in the second half was BYU's ability to clamp down on defense and force more turnovers that led to transition baskets. With their small zone lineup, the Cougars applied ample pressure which frustrated the North Texas guard line.
The Cougars moved to 7-2 on the season with the victory and will next face the undefeated and 21st-ranked Minutemen of Massachusetts on Saturday in Springfield, Mass.
Stray Observations
This BYU team plays above the rim more than any other team in recent memory. They have three guys in Collinsworth, Mika and Bartley who can dunk the ball with ease and a few others who can climb the ladder if needs be. This was on display tonight as Bartley threw down a massive left-handed transition dunk and Collinsworth had multiple slams that he made look too easy. In all, the Cougars tallied eight dunks on the night (Collinsworth 4, Mika 3, Bartley 1).
Now THAT is the Skyler Halford we were hoping to see this season! After teasing us with his solid performance in the Boom Shakalaka 3-point shootout, Skyler was a quiet 1-for-4 from three in the past four games. It was good to see him go 3-for-5 from deep to go along with his awkward (yet effective) attacking style. Let's hope this trend continues. BYU will need his bench contribution all season long.
Kyle Collinsworth might not have one iota of offense game outside of the key, but he is a force to be reckoned with once he gets close to the basket. There were multiple times this evening when Kyle muscled his way into the lane and got an easy two points right underneath the basket. It might not always look pretty, but Kyle can scrap with the best of them in the paint.
Tyler Haws had another extremely quiet 23 points on 9 of 12 shooting. This was a particularly good sight after he struggled through a rough couple of outings shooting-wise against Utah State and Wichita State.
Aside from IV's amazing left-handed throw down, Frank had a relatively quiet night, going 1-for-8 from the field. He forced too many shots, taking the ball into the teeth of a suspecting defense, instead of being patient and waiting for the right time to attack. He still found other ways to contribute (3 boards, 2 steals, 1 assist and 1 block), but it just wasn't his night scoring the ball.