BYU falters defensively, falls to UMass in shootout, 105-96
Updated: December 7, 2013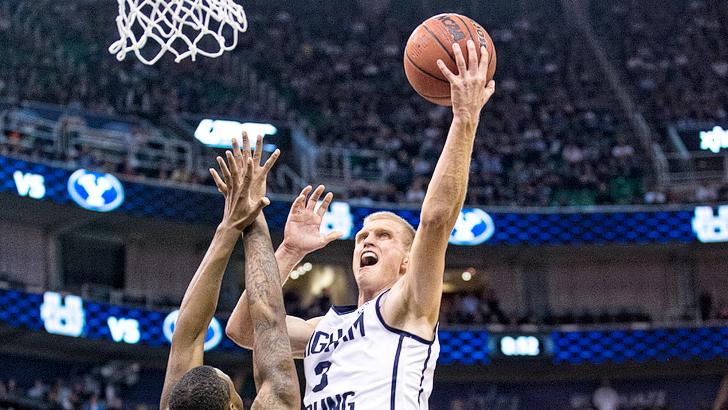 The Cougars' porous defense came back to haunt them once again in a 105-96 loss to UMass.
I'm still trying to process what I just watched.
Let's just say this: If you would have told me prior to BYU's game against No. 21 Massachusetts that the Cougars would score 96 points and shoot 49 percent from the floor, 31 percent from beyond the arc and 79 percent at the free throw line, while also winning the turnover and rebounding battles by a healthy margin, I would have comfortably predicted that they would be returning to Provo with a big-time win in their pocket.
So what happened?
Well, UMass scored 105 points, shot 56 percent from the floor, 39 percent from beyond the arc and 84 percent from the free throw line, essentially scoring at will on their way to a foul-filled, nine-point victory in Springfield, Mass., on Saturday.
To be fair, the Minutemen were incredibly impressive. Led by a herculean 32 point, 15 assist effort from Chaz Williams, who may or may not be the second coming of Nate Robinson, UMass might have looked even better than the previous two (more highly ranked) Top 25 teams faced by BYU. They have talent and athleticism at every position with depth to burn, and they'll undoubtedly make some noise come March. Losing to this team is nothing to be embarrassed about, in and of itself.
But still. You can't help but feel like BYU certainly could have — and probably should have — won this game. As good as UMass undoubtedly is — and as many tough, contested shots as they hit — I just can't shake the feeling that, when you score 96 points in 40 minutes, you should pretty much always win the game.
I wish I knew the answer. I'm sure Dave Rose wishes he had thought of the answer sometime during that game. There were multiple instances in the second half when the Cougars cut the Minuteman lead to fewer than five points — only to immediately forfeit the momentum by giving up a quick 6-0 run. What could have been if BYU were only able to string together a few consecutive stops when it counted?
I love Dave Rose. I think he's one of the best coaches in the country and the best guy BYU could ever dream of having lead their program. I wish Tom Holmoe could just write him a blank check that he could only fill in and cash on the condition that he promised never to leave Provo. So when I say what I'm about to say, I want it to be clear that it comes from a place of the utmost love and respect. Understood?
Now, with all that being said, this wasn't Rose's best game from a tactical perspective. I felt like he was too tentative to switch up his defenses, sticking exclusively with a very conservative version of the team's omnipresent 2-3 zone for the entire first half and deep into the second — despite the fact that it had already become abundantly clear that the Minutemen were destroying it like an industrial-strength shredder.
Unsurprisingly, when the Cougars finally did introduce some variety and a little aggression to their defensive scheme partway through the second, it briefly threw UMass for a loop, resulting in a slew of turnovers and bad shots. What if the 1-3-1 halfcourt trap had been introduced a little earlier? What if they had extended the 2-3 zone to trap the wings and corners before the game was already out of hand? What if, what if, what if?
Look, I don't want to "woulda, coulda, shoulda" this to death. Losing to a really good UMass team in early December is not the end of the world. There's a lot of basketball left to play. But the defensive issues continue to prove troublesome — and they're showing no sign of dissipating any time soon.
BYU is a good team. They're a tournament team, most likely. The talent is there. The offensive production is there. But the other end of the floor needs serious work — and improvement needs to happen sooner than later. Until then, don't be surprised if you see a few more 96-point efforts go to waste in the name of defensive ineptitude.
Stray Observations
One more area of disagreement with Rose's coaching performance in this one: his personnel decisions. It's always tough when you get multiple players (especially key players) in early foul trouble. It throws off your rotation and necessitates a whole lot of juggling that doesn't always work out. I get that, and I'm OK with it. But I'd love to hear an explanation for why Kyle Collinsworth (who, let's be clear, was overmatched and underwhelming from wire-to-wire against UMass) warranted 36 minutes of playing time, while Matt Carlino received only 28 minutes — despite dropping 23 points on 50 percent shooting, with six assists and only one turnover. I don't know that it would have made any difference in the final outcome — and considering neither of those guys is a defensive game-changer, probably not — but every time I watched Collinsworth fumble and stumble his way around while Carlino sat idly on the bench, I shed a little tear.
UMass beat the crap out of Tyler Haws off the ball (including a particularly nasty body slam in the first half), but that didn't stop the Cougar star from dropping in 25 points on 9-for-16 shooting. It was a truly impressive performance, especially considering the Minutemen challenged him with the length and athleticism of 6-foot-9 Raphiael Putney. But Haws found a way, using a variety of crafty fakes and deft footwork to get his shot off — and he looked very much like his old self after a tough couple weeks. That's a sliver lining to the loss if there ever was one.
Eric Mika is going to be a heck of a player. He's so big and so athletic, and you can see him getting more comfortable making strong moves in the post with each passing game. As long as he can stay on the floor and out of foul trouble, he's going to be a legitimate force for years to come. I mean, he already is (he notched 18 points and 8 boards in 28 minutes on Saturday) and he's only played 10 college games. Be excited. Be very excited.
Well, at least he's feeling confident. Frank Bartley IV got a big opportunity, as Rose threw 24 minutes his way — and he attacked relentlessly the entire time, for good and for ill. He wound up with 14 points, but struggled through a 4-for-10 shooting performance to get there. The length of UMass' bigs around the basket undoubtedly played a big part in his dip in efficiency, but the freshman also forced a couple shots that he probably should've passed up. I don't have a problem with aggression that occasionally crosses the line into foolhardiness — see also: Carlino, Matthew — so I welcome Frank's new found assertiveness with open arms. He'll need to feel confident to create offense and take shots in big moments moving forward, so he might as well start now.
We're now 10 games into the season and BYU is 7-3, with their three losses all coming against legitimate Top 25 teams. I know some fans will be discouraged by that, but I'm pretty happy with what I've seen so far. Sure, I would've liked to win one of those marquee games, but the victories over Stanford, Texas and Utah State will be big wins on the resume come tournament time. There's a lot to look forward to in the next 20 games.