Improved defense helps BYU run past Prairie View A&M, 100-52
Updated: December 11, 2013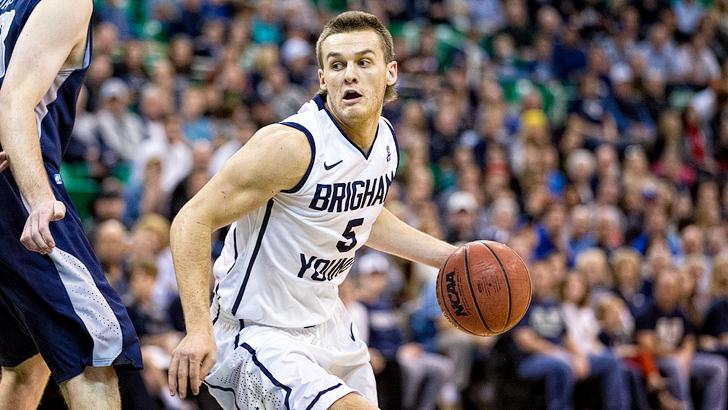 The Cougars stepped up their defensive game to blow out the overmatched Panthers of Prairie View A&M.
BYU looked like a team trying to answer the questions that have been raised about their defense, beating Prairie View A&M 100-52 on Wednesday.
Scoring hasn't been a problem for the Cougars this season and they didn't struggle putting up points against the Panthers. But after getting picked apart by UMass and some of the other higher-ranked teams they have played, fans have wondered what could be done to fix BYU's defense.
Ken Pomeroy had Prairie View A&M ranked 322nd overall coming in, which makes it tough to draw too many conclusions from this game. But Pomeroy also forecasted that the Panthers would score 74 points — so only giving up 52 exceeded defensive expectations.
"We set a goal before the game to hold our opponent under 55 and we got it, so we feel good about that," Kyle Collinsworth said after the game. Collinsworth lead the team in minutes played with 34, as his ability to play many positions kept him on the floor as BYU rotated through 12 different players. BYU held Prairie View A&M to 29.2 percent shooting, while hitting a season-best 61.4 percent themselves.
Defensively, the Cougars were helped by Matt Carlino and Nate Austin, who had 4 steals apiece — a new career high for Austin. The big man also added 8 points, 11 rebounds and 3 assists.
"Our team is so much better when Nate is on the floor," coach Dave Rose said. "It's not just a feeling, it's documented by stats."
Offensively, BYU got points from 11 different players and were led by Haws and Collinsworth, who finished with 19 points each. All of Haws' points came in the first half after he started extremely fast, hitting his first five shots and scoring 13 of the Cougars' first 15 points. Erik Mika also added 15 of his own for the contest.
BYU's defense forced 20 turnovers, which led to 24 points — and assisted on 27 of their 35 made buckets.
"I thought we had a better defensive mindset this game," Haws said. "Every game we come into, we want to share the ball and push the pace of the game. We were able to do that and get easy buckets for our team."
Freshman Frank Bartley IV continued to impress with a nifty behind-the-back pass leading to a Collinsworth dunk. Anson Winder added a perfect 3-for-3 shooting performance from 3-point range. As a team, it was BYU's second-best 3-point shooting night of the season, behind the Texas game.
Carlino was taken back into the locker room in the first half after getting hit in the knee, but returned and played well in the second half. Haws also hit his head late in the first half, which may have contributed — along with the lop-sided score — to his only playing 6 minutes in the second half. Collinsworth said after the game that Haws was fine.
Walk-on Andrew Johnston banked in a three late in the game to get BYU to 100 points, marking the first basket of his collegiate career.
With another blowout win firmly in their pocket, BYU now moves onto play in-state rival Utah in Salt Lake City on Saturday.