New hand check rules are a blessing and a curse for BYU
Updated: December 16, 2013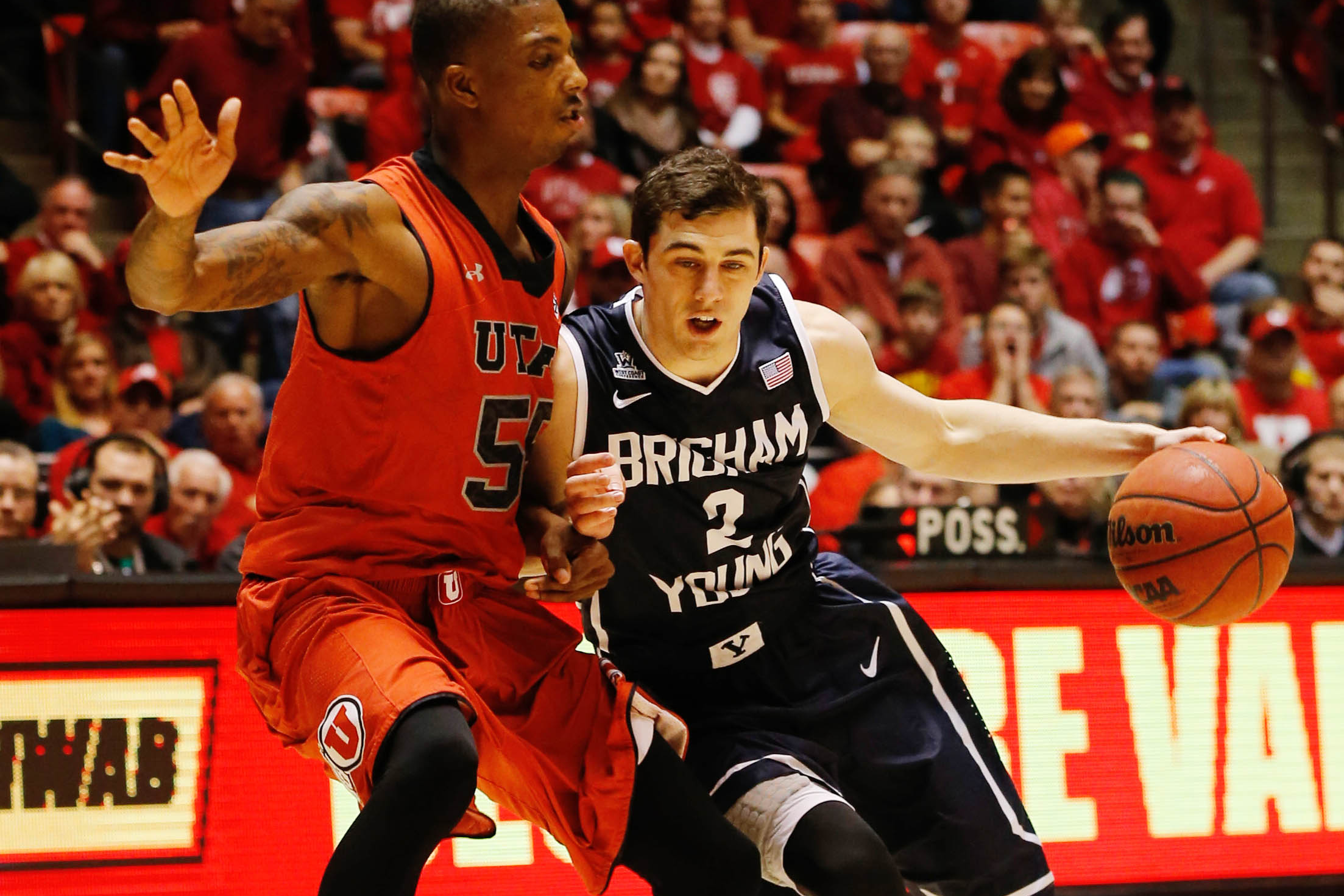 Refs' focus on hand-check rules has been a boon to Cougars' offense — but are they too reliant on the whistle?
As I wrote last month, I believe that the new, stricter hand check rules being implemented in college basketball are extremely beneficial to BYU basketball. Refs not allowing defenders to manhandle and abuse ball handlers and cutters has indeed created more free-flowing basketball games and that has played into the strengths of Dave Rose's offense marvelously. BYU has used the tighter calls very much to their advantage this season and the wins over Stanford and Texas are prime examples of the Cougars exploiting the change.
But BYU may now be too dependent on tightly called games.
Utah's convincing win over BYU on Saturday is evidence. The refs at the Huntsman Center were reffing like it was 2012 and the Cougars were caught completely flat footed. Instead of the free-flowing game BYU was becoming accustomed to this season, Utah defenders were extremely aggressive, physical, and disruptive all night.
Credit the Utes for trying that approach, because it was highly effective. The refs were swallowing their whistles for both teams, and BYU had no solution. The slashing to the hoop that was drawing fouls for BYU all year didn't draw whistles in many cases in Salt Lake — so instead of getting free throws, BYU got misses or turnovers.
Sure, BYU got 31 free throw attempts, but had the game been tightly called, like the game in Palo Alto, BYU might have earned 100. The refs were determined to "let them play" for the most part.
Problem was, BYU players didn't adjust to the refs and change their approach when things weren't working. Instead, players doubled down on their attempts to get to the rack. You know what they say about trying the same thing over and over and expecting different results…
With the slashes to the rack being clamped down, the Cougars seemingly had no plan B on Saturday. BYU shot an anemic 26 percent from three against Utah, and that percentage would have been a lot worse were it not for a small flurry of late threes from Skyler Halford and Anson Winder.
When BYU did get to the free throw line, they couldn't hit anyway. The Cougars shot a pathetic 54 percent from the charity stripe on the evening, leaving at least 14 points on the table. Add to that the fact that BYU's defensive deficiencies don't seem likely to be going away any time soon, and it is easy to see why BYU got trounced when Utah gummed up their running-and-slashing game.
Dave Rose has long used the motto "find a way to win." BYU will have some work ahead of itself to find a way to win in games against big, physical teams where the refs are "letting them play." If they can't clamp down defensively, maybe the Cougars can figure out a way to start draining more threes and free throws. Who knows what Rose and his staff will cook up? Hopefully getting exposed by Utah will allow BYU to shore up its weaknesses as the team approaches the WCC schedule.