Old habits die hard as BYU loses to Oregon in OT, 100-96
Updated: December 22, 2013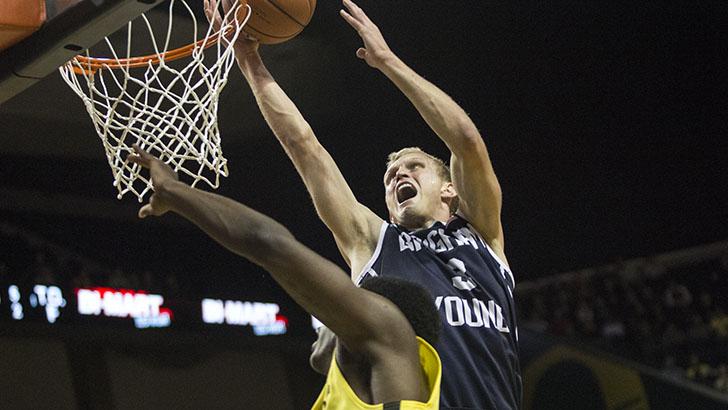 Missed free throws and an inability to get key stops came back to haunt the Cougars again in Eugene.
"Everybody will think about the last couple of plays, but we had a lot of chances." — Dave Rose
That one quote really sums up everything you need to know about BYU's 100-96 overtime road loss to No. 13 Oregon on Saturday.
In a game that BYU led from the 19:28 mark of the first half until the bitter end of an overtime period that should have never happened, there were a number of opportunities for the Cougars to put the game away. In fact, there was an opportunity on basically every single play.
All they needed was one good bounce, one more stop, one less turnover, one more made free throw — and we'd all be singing an entirely different tune right now.
But they didn't get any of those things. Instead, bad habits came back to bite BYU once again. They gave up 84 points in regulation (which, in college, is a pile of points), then another 16 in just five minutes of overtime. They turned the ball over 18 times. They missed a whopping 14 free throws. In a game where the difference between sweet victory and bitter defeat was so razor-thin, each of those missed opportunities stings a little bit more in hindsight.
The Cougars charged hard out of the gate, pushing the pace and shooting 57 percent from the field in the opening stanza — and that was after they cooled off significantly just before halftime. Oregon certainly didn't look ready to play, and BYU probably should have led by more than six points at halftime, but it was a solid overall effort for the visitors — particularly when viewed as a response to the drubbing they received in Salt Lake City the previous weekend.
Things stabilized further in the second half, as BYU refused to relinquish its lead after the break. They didn't let Oregon grab momentum and swing the game in their favor, as has happened to Cougar teams in the past. They just continued to execute and hustle, constantly maintaining a 6-8 point lead until late in the game.
And that's when the wheels started to get shaky.
With both teams well into the bonus and the refs calling fouls like they were going out of style, the game slowed down, Oregon amped up the pressure and BYU struggled to score. Some timely individual plays by Matt Carlino, Kyle Collinsworth and Tyler Haws kept the Cougars in front, but you could feel the lead slowly slipping away. As the game wound down, the Ducks face-guarded Haws (who finished with 32 points on the night), taking him completely out of the play and leaving Carlino and Collinsworth to try to create something out of thin air once their repeated efforts to get the ball to their primary scoring option had failed. This was not a recipe for consistent success.
It didn't help that BYU couldn't get a stop on the defensive end. Oregon relentlessly attacked the basket, eventually fouling out Nate Austin and leaving Eric Mika as the lone big on the floor — with four fouls of his own to boot. The Ducks finally pulled even at 84-84 on a Mike Moser jumper with less than a minute to play. BYU responded by getting Haws a tough look on the other end, which he missed with 30 seconds remaining. With the shot clock off, Oregon ran the clock down, penetrated and found an open Elgin Cook right under the basket. Mika attempted to block the potentially game-winning layup attempt, but fouled Cook in the process, sending him to the free throw and fouling himself out of the game — with 1.8 seconds left.
Game over, right? Cook is a 70 percent free throw shooter. It felt like a pretty safe bet he'd make at least one of the two freebies, leaving BYU with too little time to respond and effectively sealing the win for Oregon. That was all she wrote.
Until it wasn't.
Obviously, based on the title of this post, Cook somehow managed to miss both free throws. (As my mother-in-law says every time she lucks into a good parking spot or runs a red light without a cop seeing, "That's what you get for paying your tithing.") Haws grabbed the rebound, sending the game to overtime. Cougar fans everywhere breathed sighs of relief. Five more minutes.
But the respite would be brief. With their crowd now alive and BYU's two bigs fouled out of the game, Oregon spent the entire overtime repeatedly ramming the ball down the Cougars' throats — and when that failed, getting offensive rebound after offensive rebound for easy putbacks that fed their momentum and demoralized the visitors. BYU couldn't get a stop when they needed it, and with Haws locked down on an island offensively and Carlino and Collinsworth struggling to convert, they couldn't respond in kind either.
Eventually the Ducks' unmistakeable talent, the atmosphere and the pressure was just too much, and the Cougars cracked. They didn't seal the deal, despite multiple opportunities to do so. It wasn't on just one player — despite dogged attempts by some fans to foist all of their postgame despair and hopelessness onto the shoulders of Carlino and Collinsworth — it was on every player who missed a free throw, who gave up a soft bucket, who turned the ball over. It was on everyone. After all, any player who saw the floor could have made that one extra play that put BYU over the top. It just didn't happen.
There's a lot of good to take from this game, despite how it may feel in the immediate aftermath. There was no guarantee BYU was going to respond positively after getting their rears handed to them by Utah. It was entirely possible for them to have come out flat, sullen and uninspired, and to dutifully allow the more talented Ducks to wipe the floor with them before starting their Christmas break. That didn't happen. This team responded. They fought. They played incredibly hard for 45 minutes. They battled right until the very end. And they very nearly won — against an elite team on the road in a hostile environment.
I know some fans will say that there's no use for "moral victories," and I suppose they're right in a way. It hurts to lose this game, just like it hurt to lose to Wichita State, Iowa State and UMass. Each game was against a team of excellent caliber, and each of them was right there for the taking — yet BYU failed to take. I understand the frustration. I'm frustrated myself. You cheer for a sports team because you want to see them win, especially on the biggest stages. But that doesn't mean it's time to call in the firing squad when they fall short.
Because there are moral victories in college basketball to some extent. Remember, the tournament field is selected by a subjective, human committee. They take into account a lot of factors beyond just wins and losses. Yes, you do have to get wins over tough opponents — and BYU has already done that a few times with victories over Texas, Stanford and (to a lesser extent) Utah State, and more opportunities await in conference play.
But those "signature wins" are not the end of the road when it comes to selection criteria. The committee traditionally likes teams that play tough schedules, even if they lose a couple. They tend to give credit to teams that go on the road and take top teams to the limit. BYU has done that. Coming into Saturday's game, ESPN listed BYU as having faced the toughest schedule in the entire country. Sure, they've lost five games, but they've also taken four great opponents right down to the wire and nearly won. Those things do play a role, even if it doesn't feel like it now.
If the committee is faced with a choice between a BYU team who played an incredibly tough schedule and lost to a few great teams or a borderline team that played nobody, you don't think they're going to remember nights like tonight and give the team who challenged itself the benefit of the doubt? They do. They have in the past. They will. If you can take Oregon to OT in Eugene, you feel like a better team than Random Bubble Team X who beat up on the Little Sisters of the Poor. And feelings matter in the NCAA tournament selection process. No one gets into the tournament on feeling alone, but it can certainly help push a bubble team over the top.
None of this is to say BYU can just rest on its laurels because they beat Texas and Stanford and played a bunch of really good teams tough. They can't. They need to go kick butt in conference play, pick up a handful of wins against Gonzaga, St. Mary's and Pacific, and keep getting better — keep proving they belong. And even if they can't quite get all the way there — even if they find themselves sitting on the cusp of qualification, perched precariously on the bubble — don't be surprised if the selection committee takes a look at their schedule and remembers that the kids from Provo took on all comers and proved to be a pretty solid bunch. And don't be surprised if a few frustrating "moral victories," like Saturday night in Eugene, end up making all the difference.