Q&A: LMU's strategy to upset BYU in conference opener
Updated: December 27, 2013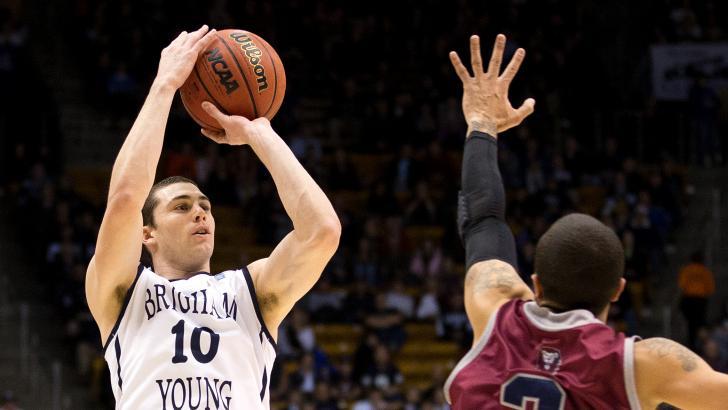 West Coast Convo's Cam Newton dishes on how Anthony Ireland and the Lions will try to surprise the Cougars.
With BYU's conference opener against Loyola Marymount drawing near, we reached out to our friend Cam Newton (no, not that Cam Newton) who covers the Lions for Fansided's West Coast Convo blog. Cam was nice enough to answer a few questions about LMU and give us some insight into their strategy for Saturday's tilt in Los Angeles.
LMU is a talented team that's struggled with consistency over the past few years. Is this year finally the year they put it all together — and if so, why? 
Cam Newton, West Coast Convo: If there has ever been a year within the past few seasons for LMU to make a good run in conference play, this is the one. A lot of the key pieces for a nice run are beginning to come into place. First off, the backcourt is going to be the heart and soul of this Lions team. Senior guard Anthony Ireland and freshman guard Evan Payne have shown immense worth throughout the course of the season, logging lots of minutes and scoring with relative ease. LMU also has better forwards then they've had in previous years, with the addition of Binghamton transfer Ben Dickinson and freshman Gabe Levin. They both provide a solid post presence that the Lions have been missing since the departure of Ashley Hamilton. They're not only limited to that though, as they are also able to hit jump shots very well, proving to be some of the best shooters on the squad. I could honestly see them winning at least 10 games in conference play, making this one of the more memorable years in recent seasons.
Tyler Haws is among the country's best scorers. Based on past games, how do you think coach Max Good and the Lions will attempt to contain him?
Newton: Haws is the only player in the West Coast Conference that scores more points per game than Anthony Ireland. That being said, it'll be hard, in my opinion, for LMU's guards to defend him because of his size advantage over Ireland and Payne. While they are very quick and good at pickpocketing offensive players, it'll prove to be difficult for them to defend him well in a man-to-man style of play. Personally, I believe the Lions will use a pressure-oriented defense to try and slow down the Cougars and dismantle any system of offense that they are trying to run. That's worked well for them throughout the season, as they've utilized the pressure defense to their advantage in almost every single game this year.
 LMU is a pretty heavy underdog in this one. What do you think are the main keys to LMU pulling the upset? Offensively? Defensively?
Newton: I can't state enough how well LMU will have to shoot the ball in order to win this game. BYU is a very dominant offensive team that is very quick and relies on the Cougars taking and making lots of shots. LMU is quick in a way, but their field goal percentage isn't high enough to score as well as BYU. I'm not sure if Levin will be playing or not, meaning that the Lions will have to get the ball in the hands of Ireland and Payne, as well as their quality-shooting forward Ben Dickinson.
Defensively, the Lions will have to find some way to shut down Tyler Haws and Matt Carlino. There is just absolutely no way that the Lions can win if they let those two players score 23 points and 16 points, respectively. Whether it means trying to pressure them as much as possible and try and turn the ball over, or drape them in defenders every possession, the Lions will have to find some way to stop those two. Otherwise, there is absolutely no chance that LMU will win this ballgame.
Anthony Ireland is one of the most talented and underrated players in the country. What's the best way for the Cougars to neutralize him — and as an extension, the Lions?
Newton: No team this year has really found a way to shut down Anthony Ireland. That's not to say, however, that it cannot be done. In his lowest-scoring outings this year, there is one large consistency: his foul numbers. Since Ireland is a player that loves to try and turn over opponents, he is more prone to pick up fouls than most other players on the Lions' roster. If BYU is able to try and tempt him, and the referees are willing to call those touchy fouls, BYU could make Ireland sit for large chunks of minutes throughout the game, removing the Lions' best player from a position of power. Ireland is also very prone to take many shots throughout the ball game. Even if he is not making shots, he'll likely keep shooting until he find his rhythm. If BYU is able to defend him well, meaning they put a larger player like Tyler Haws on him, they can force more bad looks at the basket, causing him to miss often. Those misses could lead to BYU points, which could extend that lead even further.
 BYU plays a lot of 2-3 zone on defense, particularly against quick guards like Ireland. Does that bode well for LMU's personnel and schemes —  or will it cause problems for the Lions?
Newton: I don't know of many teams in the NCAA that play very well against the zone. It causes troubles for even the best of teams, such as the Kentucky Wildcats. I think the zone could work well against the Lions, because even though they have players that like to take outside shots, LMU's guards also try to drive the lane for easy layups against teams whose defense is spread out because they're playing a man-to-man scheme.  It could cause headaches for the Lions, because their offense will be limited to either taking a bad outside shot or a heavily contested layup.
Thanks to Cam for his willingness to answer our questions. Check out his excellent coverage of the Lions (and the rest of the WCC) over at West Coast Convo.