Collinsworth's steady play sets up Haws' supernatural smackdown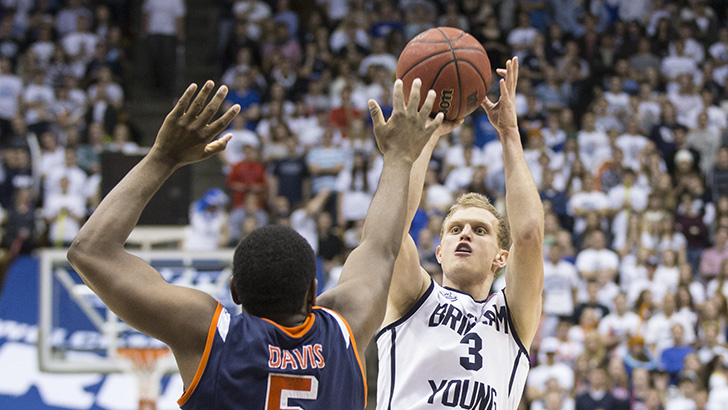 Evan Hall breaks down Tyler Haws' second half supernova performance in BYU's win over Pepperdine.
The Facts
BYU beat Pepperdine 84-72 to notch its second straight win, avenging an earlier season loss against the Waves in the process. Tyler Haws led all scorers with 35 points on 11-for-23 shooting, including 11 consecutive at one point in the second half, while Kyle Collinsworth narrowly missed recording BYU's first triple double in 25 years with 15 points, 10 rebounds and 9 assists. Eric Mika sat out for BYU with a hip injury, while Pepperdine was without the services of two starters, Brandon Lane and Malcolm Brooks. BYU moves to 10-7 on the season and 2-2 in WCC play.
The Analysis
This was not an impressive win, per se. BYU led for most of the game, but Pepperdine would not go away, even without their leading scorer in Brandon Lane and Malcolm Brooks, the guy who lit up BYU for 24 points in the game 10 days ago. There were stretches, certainly, where BYU looked like the definitively better team, only to let Pepperdine creep back in with porous defense.
Still, it was a win, and an enjoyable one to watch, primarily because Tyler Haws went Tyler Haws on everything. Late in the second half, after Pepperdine had cut the lead to 64-60, Haws went straight supernova. He hit three straight threes, a deep jumper and a handful of free throws. Suddenly the lead was at 13 and the game was over. His first two threes were transition beauties from the corner, and the performance as a whole was classic Haws. All opportunism and wily, old-man mid-range game.
Haws may have been the clincher, but it was Kyle Collinsworth who got us there. It was another box score line from the Andrei Kirilenko school of ball: 15 points on 5-for-11 shooting, 10 boards, 9 assists, 3 steals and some suspect free throw shooting to boot. Collinsworth continues to be BYU's best all-around player. Haws, dominant as he is, is a specialist at heart. He's a surgeon, there to make the right cuts and hit the right shots at the right times, but Collinsworth is the family physician, setting everything up and filling all the holes and putting BYU's opponents into position for a cold-hearted evisceration from Tyler Haws.
Stray Observations
The Skyler Halford Effect. The spacing, guys. Good crap the spacing. In those four losses, BYU's half-court offense looked and felt like a game of 7-on-7 in a cramped church gym. Halford isn't the greatest defender, and he hasn't really shown the ability to distribute, but to have two shooters on the floor, like BYU did with Halford and Haws, does wonders for BYU's half-court looks. Open threes, which, you know, didn't actually exist during the losing streak, suddenly felt like natural consequences of offensive flow. Halford shot well, 7-for-14 from the field including two threes, but his influence extends past his own shooting contributions. Haws, Collinsworth and Winder all got good shots because of the spacing Halford's shooting brings.
That said, I actually wish Halford would shoot more. Deep, unguarded threes are the market inefficiency against college defenses, especially zones. In the Jimmer era, what the average viewer saw from Jimmer — a gunner with an unprecedented green light from his coach — was actually exploiting where defenses were weakest: on the deep perimeter. I don't mean I want him jacking up threes from Jimmer range, only that he's shown he's capable of shooting well, and if he's unguarded, those threes will only help spacing more, not to mention that he might make some. Punish the defense for packing it in.
Some lingering concerns. You could make a persuasive case that this team lacks mental toughness. Mental toughness may not seem like a real thing, but I need some phrase to describe the way BYU absorbs punches at home and keeps bringing it compared to the way they can get flattened in road arenas and just stay there on the ground, twitching, for the rest of the game. I'm not saying this team has a case of home/away bipolarity. Wins like this one, against a depleted Pepperdine team at home, or like the previous one against San Diego, definitely soothe the pain from earlier losses, but in order for this team to have a shot at the regular season title (something that's still a possibility, despite those two conference losses), BYU has to win away games against good teams. I'm still not sure if they can, given the free throw woes.
What's the deal with Anson Winder? He looks increasingly disengaged. When he drives, he kicks it out too early and generally seems hesitant to do the things that made him an effective bench player last year. The thing about Winder is that, for awhile, he was the only BYU player hitting threes that the offense desperately needed, but that was virtually the only thing he brought to the table. So when he went 0-for-3 from three tonight, I couldn't help but wonder why he's even out there. I hope he turns it around, because he has defensive tools, and because BYU needs shooters, but maybe Rose needs to cut his minutes for a few games and give him a chance to reset.
A rant about Matt Carlino. As much as I love what Halford does for BYU's offense, and as much as I love Collinsworth for what he does for my faith in good basketball, this team's ceiling goes only as high as Matt Carlino plays. So take away his green light, and sure, he takes fewer stupid shots, but he also stops being Matt Carlino. He's way less aggressive. He pushes the ball less frequently. He passes on wide open threes. He just loses his #CarlinoSwag. It's the worst.
Look, I get it. Nobody likes watching a gunner shoot his team out of games with off-balance long twos, but Carlino is an extremely talented player who runs on confidence like fuel. You live with the crappy shot selection sometimes, because you can't live without all the other great stuff he does that no one else can. I repeat: No one else on this team can do what Carlino can. He is not a system player, and I'm sure for Dave Rose that's incredibly frustrating, but he's also a freakin' baller, and sometimes, he's the best one on the roster.
Haws will be Haws, and Collinsworth will be Collinsworth, and that will earn this team a decent record, but BYU cannot compete for the conference championship both in the regular season and in the conference tourney without Matt Carlino. When half-court offenses are bogging down in a road game against St. Mary's, BYU needs Matt Carlino. Not the muted, reluctant Matt Carlino of late, but the mercurial, occasionally foolish and frequently brilliant one from the beginning of the season.