Player Power Rankings: Kyle Collinsworth, King of Stats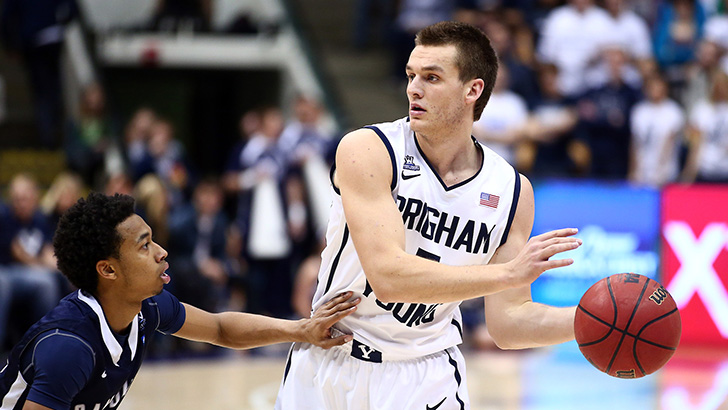 Our staff ranks the BYU hoopsters based on their performance in WCC play so far.
Welcome to the Player Power Rankings — a new weekly feature where we'll rank each member of the BYU basketball team based on how they're playing right now. 
To be clear: This is not a list of the best or most talented players in a vacuum. Our rankings are based on their most recent performances, in hopes of properly illuminating the state of the team at this very moment. (For this first installment, we considered the first three West Coast Conference games, played over the previous two weeks, with slightly more weight being given to the more recent contests. In future weeks, we will consider only games played during the previous week.)
Here's how it works: Each member of the Loyal Cougars staff is given the opportunity to rank each player on the roster, in order of performance, from 1 through 10. Each ranking is worth a descending number of points. For example, a first-place vote is worth 10 points, a second-place vote is worth 9, a third-place is worth 8, and so on. With 12 staff members voting, that means each player could potentially earn as many as 120 points (if he received all of the first-place votes) and as few as 12 points (if he received all of the tenth-place votes). We tally up the points for each player, rank them in order, and then I add some commentary and recent statistics to fill it all out. Not exactly rocket science.
This should be fun. Now, without further ado…
1. Kyle Collinsworth (109 points)
This Week: 13.7 PPG (59.2% FG / 100% 3P / 61.5% FT), 9.3 RPG, 6.0 APG, 2.3 SPG, 3.3 TO
Kyle Collinsworth can just straight-up stuff a stat sheet, folks. Dave Rose probably leans harder on the recently returned missionary than any other player — he's playing nearly 35 minutes per game — and so far Kyle has responded to the call. The beginning of WCC play has been no different, despite the fact that Collinsworth has been suddenly asked to fill the starting point guard spot. The transition hasn't been flawless (he continues to struggle against on-ball pressure and the team has a 1-3 record since the switch), but his individual statistical performance has remained stellar. Fun fact: Only two other players since 1997 have averaged the kind of numbers Collinsworth is putting up in points, rebounds and assists so far — Ohio State's Evan Turner (the No. 2 pick in the NBA Draft) in 2010, and UCLA's Kyle Anderson this year. That's good company to keep.
2. Tyler Haws (106)
This Week: 16.0 PPG (35.5% FG / 33.3% 3P / 87.5% FT), 5.0 RPG, 1.3 APG, 0.3 SPG, 2.7 TO
Don't freak out. This doesn't mean Kyle Collinsworth is an objectively better player than Tyler Haws. (It also doesn't mean he's not, but that's neither here nor there.) Haws is still a really, really good basketball player — he's just been somewhat less good than usual over the past couple weeks. As WCC teams have focused their defenses on Haws and dared the rest of the team to beat them, he has occasionally been guilty of forcing up uncharacteristically poor shots and, as a result, his efficiency has taken a beating. Thirty-five percent from the field just isn't a normal Tyler Haws number. That being said, he's still Tyler Haws — and even with all that extra attention, he still led the team in scoring. He deserves your respect and admiration.
3. Skyler Halford (97)
This Week: 14.6 PPG (60.7% FG / 41.6% 3P / 83.3% FT), 1.7 RPG, 1.3 APG, 1.0 SPG, 0.3 TO
If you would have asked our panel a few weeks ago where Skyler Halford fit in the team heirarchy, I'd bet you a sizable sum of money he wouldn't have come in near this high — and that's the story here. Halford's recent ascendance seems to have breathed new life into a previously stagnant BYU team, earning him a promotion to the starting lineup and a heftier chunk of minutes. I mean, look at those shooting splits. Are you kidding me? If he can keep shooting a 60-41-83 over the rest of the season, somebody in Provo needs to start working on a bust to put in front of the Marriott Center. Now, is that realistic? Probably not. As good a shooter as Skyler is (and he's a very good one), he's going to come back down to earth at some point. The question for BYU fans is, when is that going to happen and how far will his performance fall? Time will answer those questions, but for now, it's really good to be Skyler Halford.
4. Eric Mika (91)
This Week: 13.3 PPG (63.6% FG / —% 3P / 66.7% FT), 5.7 RPG, 1.0 APG, 1.3 BPG, 1.0 TO
If Eric Mika could stay out of foul trouble and off the trainer's table, he would really be a force to be reckoned with — because he's already pretty awesome. Despite playing just 23 minutes per game, Mika continues to put up big numbers of points and rebounds, while scoring efficiently from the floor. If he could stay on the floor for the full 40 minutes of game time (which no one really does, but this is a theoretical exercise meant to illustrate a point), Mika would be averaging 22 points and 10 boards per contest. Those are the kind of numbers that only a handful of players ever put post — and he's just a freshman. If he can stay healthy (a big if, especially considering how banged up he looked after Saturday's win over San Diego), Cougar fans can expect big things from Mika the rest of the season and beyond.
5. Matt Carlino (66)
This Week: 7.6 PPG (26.9% FG / 14.2% 3P / 80.0% FT), 1.7 RPG, 2.3 APG, 0.7 SPG, 1.7 TO
Matt Carlino's current shooting woes have been well-documented elsewhere, and I said just about all I have to say about them here. It may take some time for him to pull himself out of this funk, but it will (probably) happen eventually. What's important is what kind of play the team gets from him in the meantime. The San Diego game was an encouraging sign. Carlino entered the game with 12:49 remaining in the first half and the Cougars leading 15-13. He played the rest of the half and BYU took a 41-23 lead to the locker room. In between, Carlino — restored to his natural position of point guard — orchestrated a beautiful 26-10 run where he had the offense purring like a 1962 Ferrari 250 GTO. He didn't shoot much, but he pushed the ball in transition and moved it fluidly in the half-court, setting Haws and Halford up directly for several clean looks and making the right pass at the right time to set the table for easy buckets one or two passes later. He was unselfish, he was creative, and he was in control of everything. Until Carlino starts making shots again, that's exactly who the Cougars need him to be.
6. Nate Austin (60)
This Week: 2.7 PPG (57.1% FG / —% 3P / —% FT), 5.7 RPG, 1.3 APG, 0.3 BPG, 0.3 TO
Nate Austin is who we thought he was: a big body who doesn't possess a ton of refined skill, but who will literally die on the floor for his team, if necessary. And that's OK. Austin doesn't score much, but he also doesn't really try. That's not what he's here for. Nate's here to do the dirty work — grabbing rebounds, diving for loose balls, taking charges — and he does it with an awkwardly proportioned gusto that borders on beauty. Yes, he fouls way too much (5.5 per 40 minutes played), and that will likely continue to be a persistent problem. If he can fix that, he should. But if you understand basketball, you love what Nate Austin brings to the table. It rarely looks good, but it's important nonetheless.
7. Frank Bartley IV (47)
This Week: 3.6 PPG (29.4% FG / 0.0% 3P / 16.7% FT), 3.7 RPG, 1.7 APG, 0.3 SPG, 0.3 TO
After a series of early season breakout performances, Frank Bartley has fallen on hard times of late. The talented freshman just can't seem to finish — not from distance, not at the rim, not anywhere. This may be because he's taken progressively more difficult shots, often lofting them over the outstretched arms of opposing big men. Not exactly high percentage looks. All that missing seems to cause Frank to just push harder and harder, forcing more and more contested shots, each producing even more exasperation than the last. It's a debilitating cycle — and it's nothing particularly new. Many first-year players struggle with similar problems. It's called "hitting the freshman wall" for a reason. Whether or not Bartley manages to scale that wall will have a significant effect on BYU's success moving forward.
8. Josh Sharp (33)
This Week: 1.7 PPG (50.0% FG / 0.0% 3P / 75.0% FT), 3.0 RPG, 1.0 APG, 0.3 BPG, 0.0 TO
What is there to say about Josh Sharp? The man just does two things: 1) Hustle like a crazy person, and 2) rebound the basketball with his freakishly long arms and high vertical leap. And I love him for that, even though he does absolutely nothing else. He's not dissimilar from Nate Austin in that way, except Sharp is actually a slightly better rebounder. He's currently pulling down a team-high 16.2 percent of all available boards when he's on the floor. That's a significant number, and that gives him value despite his limited skill set. Austin is a little beefier and more polished offensively (which is saying something about Sharp), which gives him a natural edge — but I'm all for Sharp and his one-dimensionality continuing to get minutes when the other bigs inevitably get in foul trouble.
9. Anson Winder (32)
This Week: 5.6 PPG (50.0% FG / 42.9% 3P / 33.3% FT), 0.3 RPG, 0.7 APG, 0.7 SPG, 0.7 TO
Anson Winder is an interesting case, in that he just doesn't look very good. He doesn't pass the eye test. When you see him out there, you don't feel confident that he's going to make winning plays. To be fair, he has connected on a good percentage of his 3-point attempts in recent games (mostly in garbage time), but he doesn't bring much else to the table at this point. His offensive skill set is so limited that his defensive ability — which can be reasonably good when properly applied — isn't enough to justify giving him minutes over other, more offensively productive players, particularly when the team is already playing 4-on-5 with Austin or Sharp on the floor. It's a tough quandary for Winder, and one that I'm not sure how he can solve.
10. Luke Worthington (19)
This Week: 0.0 PPG (0.0% FG / —% 3P / —% FT), 0.3 RPG, 0.3 APG, 0.0 BPG, 0.0 TO
And we've reached the basement. Say hello to Luke Worthington, this year's resident freshman big man project. In short, Worthington has not been good. He's an offensive zero (a center shooting only 37.5 percent from the floor), he struggles to rebound (grabbing only 4.6 percent of available boards), he frequently gets lost on defensive rotations, and he's fouling at a insane rate of 9.3 per 40 minutes played. Taken together, it's been nearly all bad news for Luke lately. The good news? First, he's only a freshman, so a lot of these struggles are completely understandable. Most players struggle to adapt to a D-I level of play, and we need to give him the time and space to do so. And second, because of the paucity of depth at the post positions, Rose has no choice but to continue to give Worthington some minutes — so he's going to get plenty of opportunities to improve and experience game situations. It's going to be painful now, but it should pay off down the line.

What would your personal power rankings look like? Let us know in the comments below!