Five reasons why coaching at BYU is the 'toughest job in America'
Updated: February 1, 2014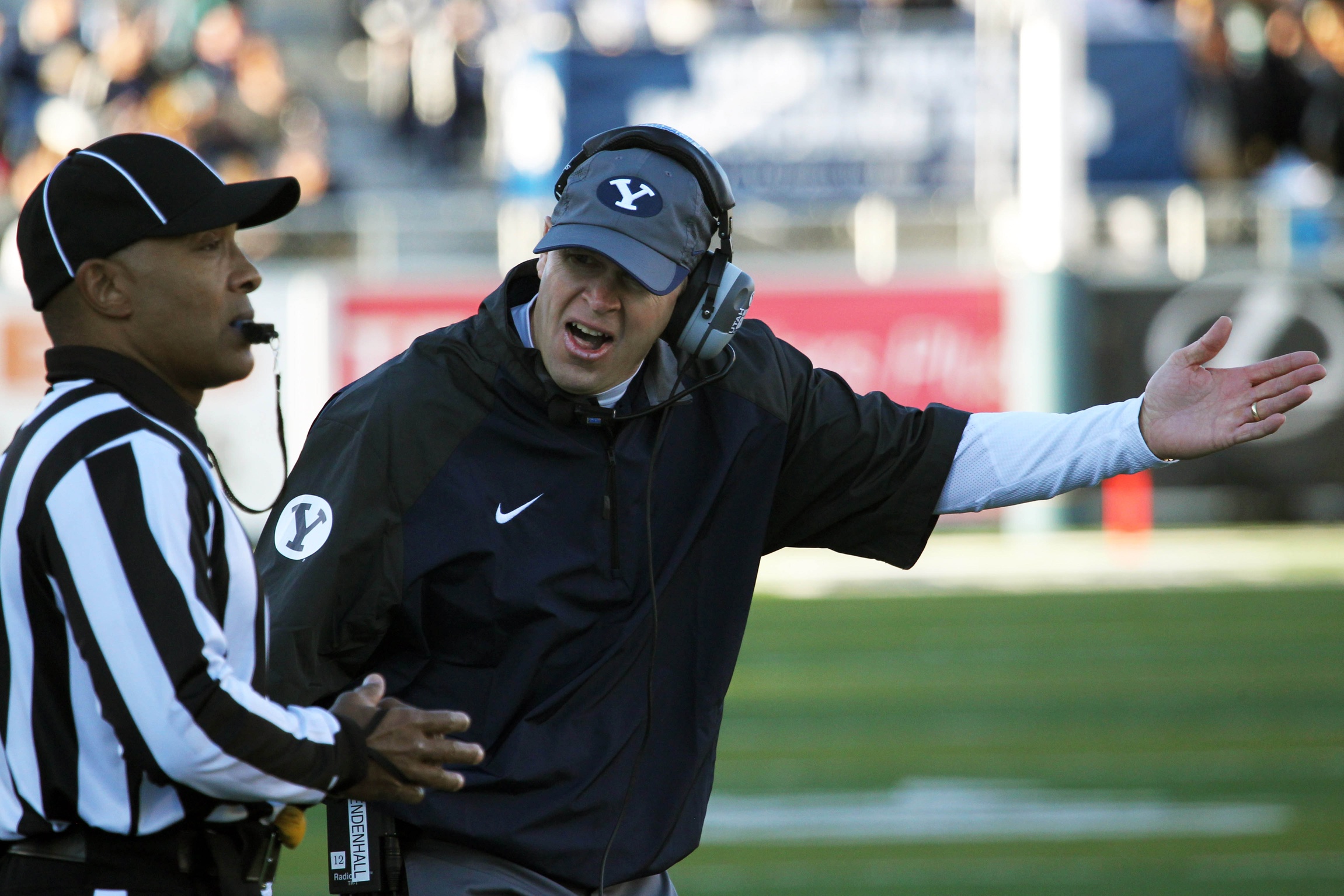 A well-respected "BCS" coach called BYU the toughest job in America. Jake Welch gives us five reasons why that's true.
On a conference call early Thursday morning, Bronco Mendenhall spoke to a group of reporters about a variety of topics, namely position changes and roster updates. After the call, Salt Lake Tribune beat Writer Jay Drew sent out the following tweet, which probably surprised a lot of BYU fans.
"Bronco told a story about sitting next to Duke coach David Cutliffe at a meeting, and how Cutliffe told him BYU is toughest job in America."
After nine seasons under the helm of Bronco, BYU fans generally respect Mendenhall for his ability to bring the Cougars back to prominence after multiple losing seasons, but a sense of dissatisfaction lingers. Many point to Bronco's inability to win big games or bring in five-star recruits as evidence that the football program has plateaued and that the team won't reach "elite" status until BYU moves on with another coach.
Many of the criticisms of Mendenhall are fair, but after hearing another college football coach (who has to work with a very high academic standard, and who is also the reigning coach of the year of a "BCS" conference) call Bronco's job the toughest in America, we might be able to spend some time appreciating what he has done and continues to do for the football program, rather than constantly pick at his shortcomings.
So what is it that makes Bronco's job the toughest in America? Here are five reasons why coaching at BYU is not an easy task.
1) Managing Scholarships / Roster Changes
In some follow up tweets from Jay Drew, it sounded like David Cutcliffe's reasoning behind his comments was due to the work that Bronco has in managing scholarships and the roster in general. The average college football coach has the challenge of analyzing his current group of players and looking to address certain needs. This gets tricky, because you have to think about what positions with which you need immediate help and which ones you might need two or three years down the line when a current starter graduates.
There are certain schools that can simply select the cream of the crop and just restock the cupboard with elite level talent, making this a non-issue. (For these coaches like Nick Saban, their challenge is asking five-star recruits to sit on the bench for a year or two). Throw in those that leave for the draft (Les Miles had 18 players leave early in the last two seasons) and you have a tall order.
Now look at what Bronco has to manage. He has to factor in a large chunk of his players being gone for two years with the vast majority of LDS BYU football players serving missions. Think of all the variables a two-year mission throws into this equation. Will this player serve right out of high school or will he play for one year and then leave? What will that position look like two /three / four years from now when currently players have graduated and other missionaries have returned home? If the player goes on a mission, will they be able to contribute immediately, or do they need to factor in some time to get back into playing shape? Will any of that involve a redshirt?
There are specific benefits to having players that take two years off,  but there is no denying that this very unique situation adds to the complexity of coaching at BYU.
2) Racial Stigma of BYU
In 2011, a couple of months after the suspension of Brandon Davies, Deadspin published a report titled "The Truth About Race, Religion, And The Honor Code At BYU". The article was written by Luke O'Brien and former BYU professor Darron Smith, who seems to have ill will towards BYU after he was dismissed from his part-time faculty position. (He also wrote an article about why Jabari Parker, or any black athlete, should not attend BYU.) The article tells the stories of multiple former African-American athletes and their experiences at BYU. It painted BYU as a institution that is willing to turn a blind eye to white athletes who violate the honor code but will come down with hell fire and damnation on minority athletes. As is typical with Deadspin, the article takes many journalistic liberties. It only focused on athletes who had poor experiences at BYU and got a lot of information from second-hand sources.
Regardless of how factual the article is, the stigma that BYU is not a place that treats African-American athletes well still exists. The fact that BYU's student population is overwhelmingly white and the Church's history of denying African-American men the priesthood until 1978 doesn't help, not to mention The Black 14 protest back in 1969 which linked the issue into the world of sports.
How strong this sentiment is today can be debated, but there is not denying that it exists. This last week, wide receivers coach Guy Holliday took to Twitter to voice his frustrations about how other schools were using "scare tactics and racial overtones" to dissuade recruits from attending BYU. We don't know to what extent or how bad the mudslinging was, but one can imagine that it's something similar to what is found in that Deadspin article. Having to recruit athletes while are programs are using this kind rhetoric against you is a definite uphill battle.
Pages: 1 2