Conference Tourney Rooting Guide: A little help from BYU's friends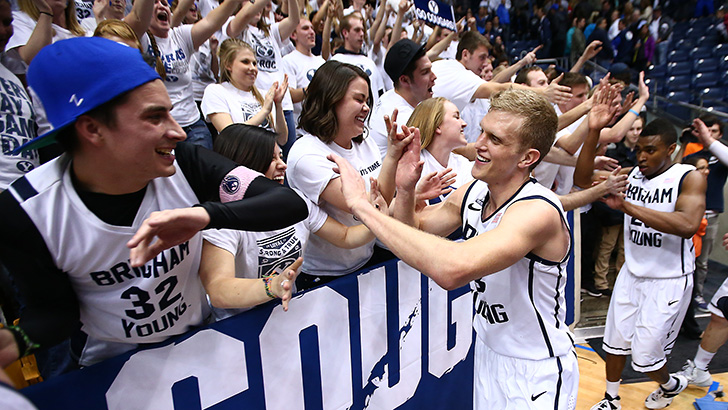 Expert prognosticator Preston Johnson breaks down who Cougar fans need to root for this week — and reveals that BYU may be better positioned than you'd expect.
Although BYU lost a hard-fought game to Gonzaga in the WCC championship on Tuesday, that doesn't mean Cougar fans don't have anything to root for this week while we all await our team's postseason destiny come Selection Sunday.
While I am personally more optimistic than most regarding BYU's NCAA tournament at-large chances (86 of the 97 expert bracket projections surveyed by Bracket Matrix have the Cougars in the field as of today), I do understand why some fans are skeptical. Nothing ever seems to go BYU's way, and after we all saw Kyle Collinsworth go down with what appeared to be a serious knee injury against the Zags, his potential absence could certainly become a factor when the committee sits down to set the brackets for the Big Dance.
So beyond the obvious tactic of rooting for the NCAA "locks" to hold serve and advance deep into their respective conference tournaments, what do we need to happen this week to ensure that the Cougars are dancing?
Let's break it down using ESPN analyst Joe Lunardi's current bracket projections for each bubble team. While I get tired of hearing about Lunardi's bracketology every day this time of year, I admit the guy really does know his stuff. He went 68 for 68 last year predicting which teams would be playing in the tournament. Not bad.
Lunardi currently has BYU in the tournament as a 12-seed in the South region, facing Oklahoma. The Cougars aren't considered "on the bubble" at this point, which is a great sign. What may change their status, however, are the results of the upcoming conference tournaments throughout the week.
Last Four In
We have two Atlantic 10 schools and two schools from the SEC on this list. I think this bodes well for BYU for a few reasons, especially when we look at the respective conference tournament brackets.
Saint Joseph's and Dayton: Fortunately for us, Saint Joseph's and Dayton are set to meet in the second round of the Atlantic 10 conference tournament as the 4 and 5 seeds in what could ultimately be a "play-in" game of sorts, with the winner advancing and getting a bid to play in the NCAA tournament. Since both of these schools are considered among the "Last Four In" and one of them has to lose a game here, it's not very likely that both of these teams stay on the list. That means at least one team currently behind BYU likely can't move any higher.
Digging a little bit deeper though, I do think it is in our best interest for Dayton to win this matchup against Saint Joseph's. If one of these two teams were to still get into the Big Dance despite an early conference tournament loss, it would be the Flyers. Dayton's RPI is ranked in the top 40 and their strength of schedule (SOS) is 48th in the nation. They have quality wins outside of conference against Gonzaga and Cal, and only lost by one to Baylor early in the season as well. Saint Joseph's resume outside of their conference doesn't compare favorably — they have losses to Creighton, LSU and Villanova, and no quality wins. The Hawks beat the Flyers both times they faced each other in the regular season, and they say it's hard to beat the same team three times in one season, so let's hope the saying holds true. Go Flyers.
Arkansas and Tennessee: The only reason Arkansas has made a push to earn a tournament bid late in the season is because they beat Kentucky twice, including a recent road win in overtime. They also lost to Alabama by 25 in their next road game to end the season.
Like Dayton and Saint Joseph's, Arkansas and Tennessee will face each other in the second round of the SEC tournament. This is good for BYU because it gives a team like Tennessee, which I feel is clearly the better team (16th ranked SOS in the nation vs. Arkansas' 89th ranked SOS), a chance to lock in an at-large bid with a win. Arkansas is only in 48 of the 97 expert brackets on Bracket Matrix, the lowest number for any team projected to be in the tournament by Lunardi. Tennessee, however, is included in 81. A Volunteers win will surely knock Arkansas out of the bubble talk, but a Razorbacks win could potentially result in two slots to the tournament coming from these schools — one of which could have potentially had BYU's name written on it.
Who To Root For: Dayton to beat Saint Joseph's and Tennessee to beat Arkansas (then for both to lose shortly thereafter)
First Four Out
California: Cal is a team that, as of a month ago, was a surefire lock to be in the NCAA tournament. However, finishing the season 1-3 (with the win being by one point at home to Colorado in overtime to end the season) has changed things. What gives the Bears a fighting chance is their 31st ranked SOS, thanks to extremely tough Pac-12 conference competition and handing No. 1 Arizona their first loss of the season back on February 1.
Assuming Colorado takes care of business against USC in the first round of the Pac-12 conference tournament, the Buffaloes will have a shot at Cal again, only this time on a neutral court. Lunardi currently has Colorado projected to be a 10-seed and a lock to be in the tournament (97 of 97 expert brackets on Bracket Matrix also project them to make the tournament), so Cougar fans definitely want to see the Buffaloes take care of the Bears this time around and eliminate any hope Cal has of getting a slot in the Big Dance.
Minnesota: Despite having the fifth toughest schedule in the nation and quality wins over Florida State, Ohio State, Wisconsin and Iowa, the Gophers also have some head-scratching losses to Northwestern and Purdue. Minnesota ended the season with an 81-63 win over Penn State at home and will face the Nittany Lions again in the first round of the Big 10 conference tournament. A loss here would definitely have Minnesota on the outside looking in, while a win and a respectable performance in the second round against Wisconsin might earn them a slot in the tournament. BYU fans want Penn State to pull the upset — and they have certainly proven to be a team that can. Two wins against Ohio State this season and a win on the road against a good Indiana squad definitely shows this team can hang with anybody on any given day.
St. John's and Providence: St. John's is a team that I believe will end up finding a way into the Big Dance. After starting conference play in the Big East with five straight losses, the Red Storm finished the season 10-3 with their only losses coming at Creighton, at Villanova and to Xavier. Those losses are hardly anything to be ashamed of.
Fortunately for BYU, we once again find two teams on the bubble facing each other early in their conference tournament. St. John's takes on Providence on Thursday as the hotter (and better) team, but more importantly, they historically play really well at Madison Square Garden, where the tournament is being held. I actually think St. John's is going to make a run at winning this tournament after beating Providence. Villanova is a winnable second round game (the Johnnies only lost by three to the Wildcats on the road earlier in the season) and Creighton in the championship game (already beat them once) at MSG is going to be a doozy.
Regardless of the outcome though, St. John's and Providence can't both gain ground on BYU. One of these teams is losing and ending any hope they have at an NCAA tournament bid.
Who To Root For: Colorado to beat Cal, Penn State to beat Minnesota, St. John's to beat Providence (though either outcome probably works in BYU's favor)
I hope Cougar fans are beginning to realize how perfectly these conference tournaments are setting up for BYU's NCAA tournament at-large chances. Of the eight teams on the bubble, according to Lunardi's bracket projections, six are playing each other early in their respective conference tournaments in the 4/5 seed matchup. That's ridiculously convenient. While I think there are teams we need be rooting for this week — Dayton, Tennessee, Colorado, Penn St., and St. John's — it ultimately shouldn't matter.
Even more comforting is looking at Lunardi's "Last Four Byes" list that includes Pittsburgh, Stanford, Nebraska and Xavier. These are the schools that would be first to drop into the "Last Four In" tier before BYU. So for extra credit while you're watching the conference tournaments this week, root for an upset from Wake Forest over Pittsburgh, Washington State over Stanford, Ohio State over Nebraska (technically not an upset, but the Cornhuskers are actually the higher seed), or Marquette over Xavier. One of these upsets would truly be the cherry on top for BYU's chances at punching a ticket to the Big Dance.