Going Dancing: BYU defies pundits, will meet Oregon in tourney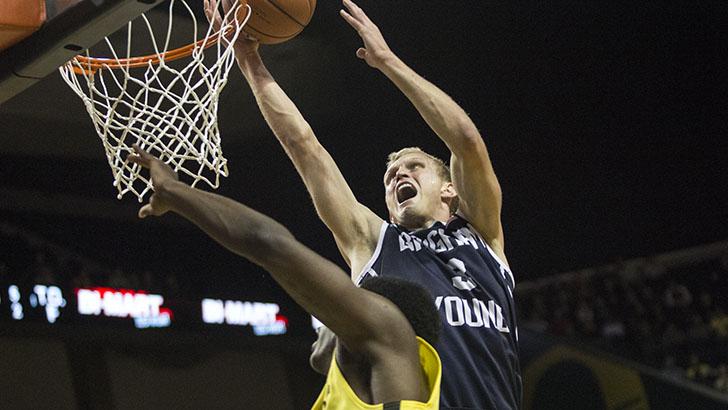 The Cougars proved the bracketologists wrong by locking up a No. 10 seed in the NCAA tournament.
It was a long and tense week on the bubble for the BYU men's basketball team and its fans — and it ended in some sweet vindication on Selection Sunday.
The Cougars not only got into the NCAA tournament, but they shocked many observers by getting in without having to endure an extra play-in game at the First Four in Dayton, Ohio. BYU will be a No. 10 seed in the West Region, and will receive a bye into a second round matchup with the seventh-seeded Oregon Ducks in Milwaukee, Wisc. If they win that game, they will likely move on to face the region's No. 2 seed, Wisconsin, in the Badgers' own backyard.
But first things first: Oregon. Again.
Those who can remember back a few months will recall that the Cougars have already seen the Ducks once this year — a hard-fought 100-96 overtime loss in Eugene on December 21, a game which BYU essentially had won until they coughed up a lead in the closing minutes of regulation. It's only fitting that the boys in blue will get a shot to avenge that heartbreaking defeat, squaring off with one of their most evenly matched opponents from a ridiculously tough nonconference schedule — only this time, under the bright lights of the NCAA tournament.
Many college hoops pundits — most notably, ESPN's Jay Williams and Digger Phelps and CBS's Doug Gottlieb — had repeatedly opined that BYU didn't deserve to be in the tournament at all, let alone as a No. 10 seed. (For good measure, Gottlieb protested the Cougars' inclusion in the field on the CBS Selection Show even after the brackets were announced.) But if the case of this overachieving BYU team can teach us anything, it's that all the "bracketologists" and "experts" are really just trying to make educated guesses, at best — and just throwing stuff at the wall to see what sticks, at worst.
Because none of the stuff they blabbered about over the past week mattered — not Kyle Collinsworth's injury, not the four bad losses, not the vaunted "eye test." None of it. Everyone said BYU was right on the cutline, destined to be in a play-in game in Dayton if they even got in at all. Everyone, that is, except the actual selection committee — and they're the only ones who really mattered.
So there you have it, Cougar fans. You can breathe now. Your boys are dancing again after a one-year absence — albeit without one of their best players. But figuring out how to replace Collinsworth's sizable production is tomorrow's problem. It will come soon enough. For tonight, let's just celebrate — a very good season, a very good team, and a very good opportunity to get some vengeance on our feathered friends from Oregon as the entire world watches.
Welcome to March.