Cougar fans in final push to vote BYU $100k in 6th Fan contest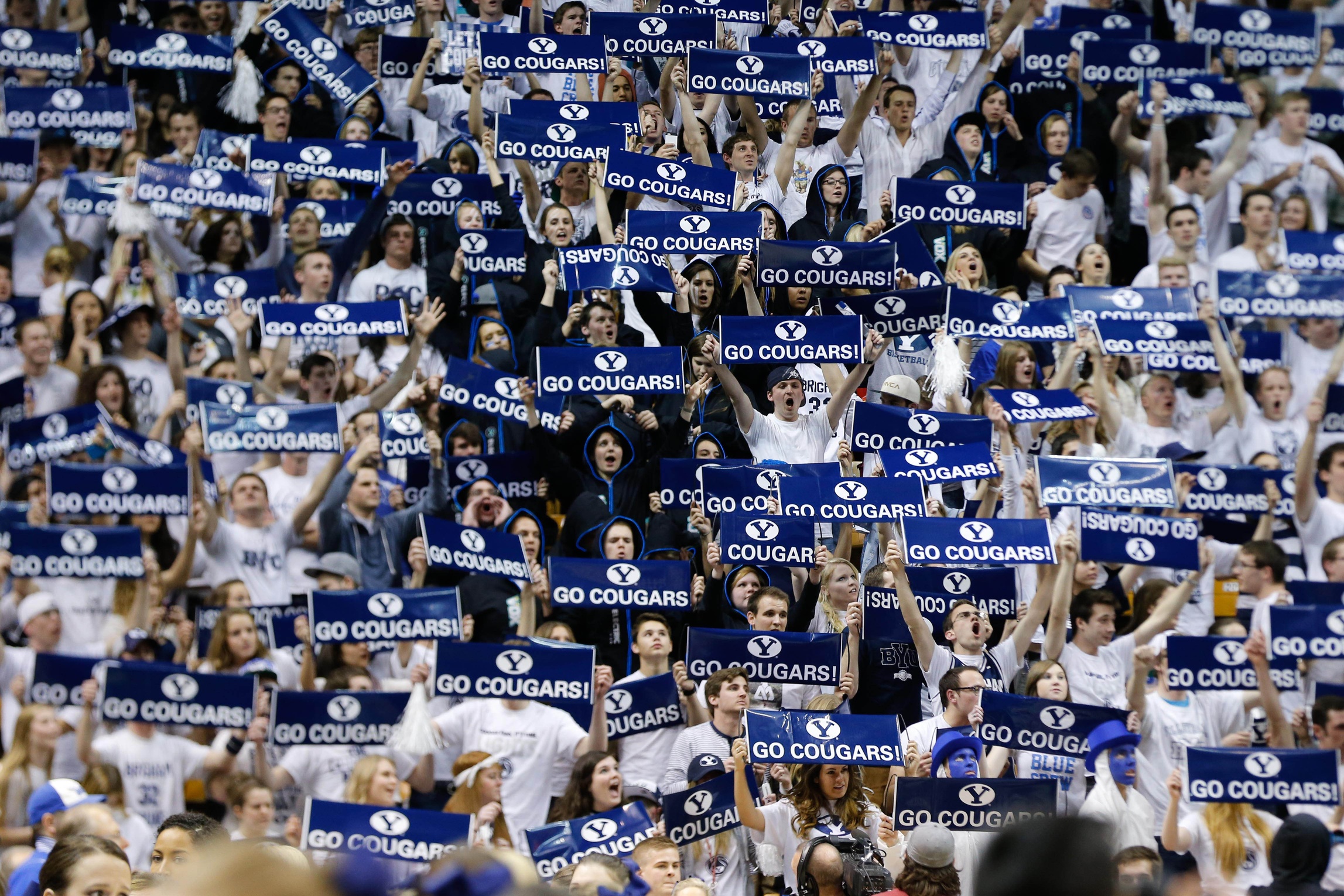 BYU fans have been participating for weeks to win the official NCAA contest.
The captchas just keep coming: xfk5nm6, xkef3wk, nk7w7kk, ca5xbpb. Over and over for as long as you want, the random jumble of letters and numbers are there to prove a real person is voting.
Why have BYU fans been typing and typing until all hours of the morning? Is it the fear of losing? The joy of winning? Maybe, but it's probably the chance for fans to take part in handing their school a $100,000 check.
Originally launched on January 7, the NCAA's 6th Fan contest was billed as "an exciting new nationwide online competition that will determine which Division I school has the most school pride and supportive fans."
The competition was originally open to any of the 351 Division-I schools. Schools had several weeks of open voting and then the contest was cut to 16 and set into a bracket to match the NCAA's March Madness tournament.
The competition had already been running for a week by the time BYU started to participate in the NCAA.com promotion. "When we started, were in in 252nd place. Then, one day, somebody said, 'Hey, we should win that, we're good at that stuff,'" Brian Fagan, ROC President told Loyal Cougars.
BYU students began voting almost exclusively through twitter. "We didn't even think they could vote more than once a day at first," Fagan said. The social media push was successful. After starting from far behind in mid-January, BYU was into the top 25 after 30 days.
When the contest was cut to what they called the Sweet 16, the teams were seeded in a single bracket. BYU was 8th and first faced 9-seed Western Carolina University. As the contest got more and more competitive it lead to a fairly unprecedented partnership between the ROC and CougarBoard.com (with whom Loyal Cougars shares ownership).
"We integrated with CougarBoard because we saw the power of them online. They love to 'Jimmer' polls," Fagan said. As an independent website, there has been little official interaction between them and the official athletic department at BYU, but the chance to win thousands with online votes presented a unique opportunity.
"It's really kind of a cool relationships that's developed. There are people in the [athletic] department that have commented about how it is their hope that it can continue to be a tool that we can use," Fagan said.
While working with CougarBoard may be new to the larger department, the ROC itself has been a member of Cougarboard since 2012. "We've sought out input about what we can do. There are some fans that have good feedback. No one likes to read negative stuff about themselves, but as long as we have a thick skin and weed out the trolls, you can find good suggestions," Fagan said.
With a $100,000 carrot in front of them, the CougarBoard community developed a new strategy, using the contest's online voting feature. The rules allowed users to vote on the 6th Fan's website more than once day. A CougarBoard user that posts under the username optimistickida developed and wrote the first script to eliminate required clicks and simplify voting experience, but still working within the contest rules by still requiring manual input of the captcha code. Several other users later modified and refined the voting script.
CougarBoard users shared the code in secret at first, though email and private posts, but eventually decided that since it wasn't against the rules that it would get the most use by being publicly available. The trick, it seemed, was to arm as many people as possible with the most effective means to vote. Fans have also developed various means of tracking and displaying voting statistics.
"It was a big moment when we published the script publicly, instead of trying to distribute it through private messages. Vote volume spiked," Andy Ivie, one of the ringleaders in the message board community, said.
In the round of 8, BYU found itself in a close and heated contest with opening round leader and top seed North Dakota State, but BYU was able to rally enough troops to get the win. A last-second push by BYU fans even knocked out Central Florida out of the next round so BYU could face Texas Pan-American in what the Final 4 instead.
"We haven't officially encouraged any BYU fans vote for other schools, but we know that some fans organized that on their own. We have a lot of schools voting against us," Fagan said. Ivie added that BYU's total voting total would likely climb above 10 million by the end of this week.
"Personally, it feels like I haven't had a break from this the last 3 or 4 weeks. We are more organized than anyone else. That's why we're winning," said Fagan.
Even more impressive is that after each of the last two rounds voting, irregularities from BYU's opponents have been reported. The captchas for the contest changed from 5 to 7 characters in the final round to make the vote harder to hack.
Looking back on the contest, Fagan felt there were several milestone accomplishments: "We went from 252 to top 16 in a matter of days. We beat a North Dakota State bot. We were winning when they got disqualified. Then we beat another bot and an alliance of the NDSU, UCF, UT-PA, Utah, Utah State, UNLV and SDSU [fans]. The ROC and Cougarbaord have gotten together and taken down all these team."
Some CougarBoard members have been keeping tabs on such other fanbases who have tried to organize on message boards to vote against BYU in the contest.
Fans will have until Sunday at 2:00 pm MT to vote. The winner is scheduled to be announced as part of the NCAA Tournament Selection Show.