BYU women fall to top-ranked Huskies in Sweet 16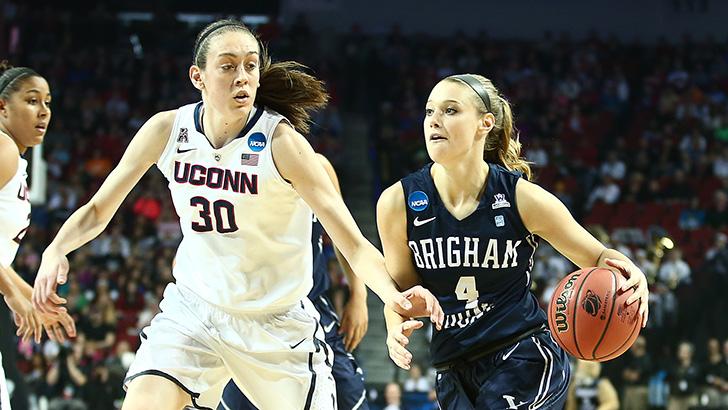 Kim Beeston has been an impact player for the BYU women's basketball team this season, urging the Cougars whenever she heated up from the field.
Kaleena Mosqueda-Lewis was the same way for top-ranked Connecticut — able to change a game's complexion on a dime.
Both players saw themselves make a case for player of the game status. BYU even got the best of Mosqueda-Lewis and the Huskies for nearly 17 minutes in  an NCAA women's tournament Sweet 16 bout in Lincoln, Neb. But after Mosqueda-Lewis went on a personal 4-0 run to go up 27-26 with 3:21 left in the first half, the door on a BYU upset began to shut.
Mosqueda-Lewis finished with 19 points, 13 rebounds and four assists as No. 1 UConn ended 12th-seed BYU's season, 70-51 in the Sweet 16 in Lincoln, Neb. The result matched the longest tournament run in BYU history, and the longest season since 2002.
Breanna Stewart had 16 points and seven rebounds for UConn, and Bria Hartley supplied 12 points and four rebounds. Moriah Jefferson finished the night with 11 points and four rebounds.
"I thought this game would be hard, because BYU is not an easy matchup for anybody," UConn coach Geno Auriemma told ESPN after the game. "But when the second half came, it made me forget the first half."
Kim Beeston led BYU with 16 points and three rebounds, and all-American volleyball player Jennifer Hamson ended her career with nine points, 11 rebounds and six blocks.
Morgan Bailey, the niece of former NBA player Thurl Bailey, supplied 14 points and seven rebounds for the Cougars, while Lexi Eaton chipped in eight points and two rebounds.
UConn took a 30-29 lead into halftime after BYU lead for a large portion of the first 20 minutes. Kiah Stokes' shot with 10 seconds to go gave the Huskies one of only a handful of leads in the opening stanza.
Beeston's 3-pointer gave BYU a 22-17 lead with 7:27 remaining — the largest deficit the Huskies' women's basketball team has faced this season. The senior who prepped at Wasatch High School in Heber City, Utah, led all scorers at the break with 13 points, including 75 percent (3-for-4) from 3-point range.
The Cougars' two leading scorers,  Hamson and  Eaton, combined for four points in the first half of the one-point game. Hamson had four points and six rebounds for BYU, while Eaton supplied only two points, one rebound and one assist before picking up her second foul six minutes into the game.
Mosqueda-Lewis heated up in the final four minutes of the half to lead the Huskies with 10 points and four rebounds. Post player Stefanie Dolson added eight of her nine points, eight of her 13 rebounds and three of her four blocks in the opening 20 minutes for UConn.
An bucket from Eaton in the second half put BYU up by one early in the second half, marking the first time UConn has trailed in the second half all season. The Huskies had trailed only 39 combined minutes all season, but trailed BYU for a full 10 minutes today.