UCLA is BYU's ninth balanced series with Power 5 school since 2010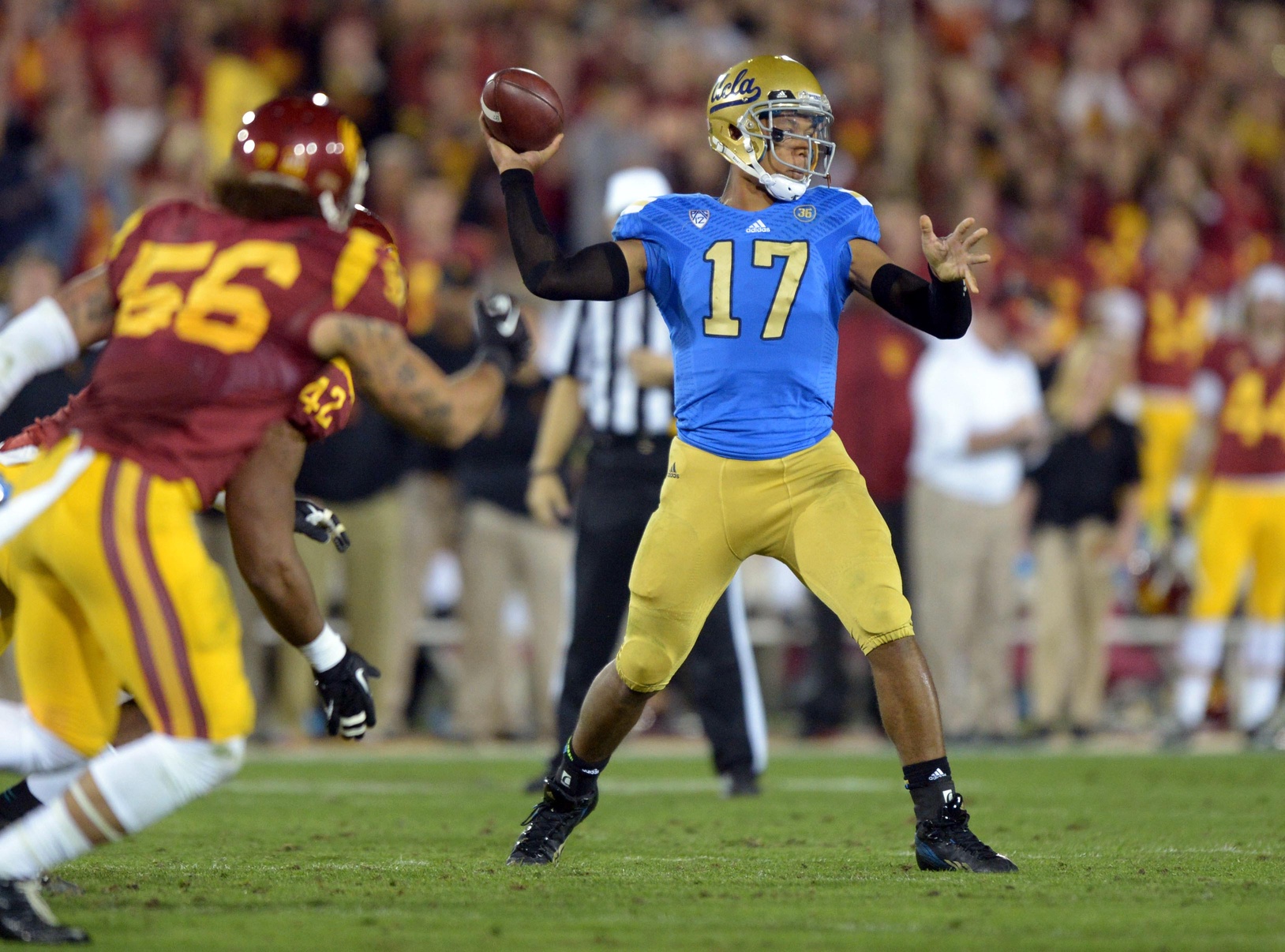 Greg Welch examines all of  BYU's announced series since going independent, including those with Power 5 schools.
With yesterday's announcement of the 2015-16 home-and-home series with UCLA, BYU has now scheduled balanced football series with nine teams from Power 5 conferences since 2010.
In addition, BYU has scheduled 15 balanced series with team from other FBS conferences, predominately from the American and Mountain West conferences.
BYU has scheduled some unbalanced games, with five series against major teams and 5 single games against Power 5 teams. To help even this out, BYU has scheduled six games against Idaho and FCS opponents.
UCLA is the ninth Pac-12 team to schedule BYU since 2010. Seven are playing home-and-home, Arizona is scheduled for a home-home-neutral, and USC is playing two-for-one with two games in November. Of Pac-12 teams, only Washington (which BYU played in 2008 and 2010 and canceled two other scheduled game), Oregon and Colorado have not scheduled BYU since 2010.
For 2015, BYU now has only five home games and seven road games. One possibility is that Southern Miss, who already pushed back its scheduled 2014 visit to Provo, would move the 2015 game in Hattiesburg back as well.
All known future games can be seen here. Below is a summary of football scheduling BYU has done since 2010.
Balanced (Power 5):
Arizona State
Home-and-home for 2020-21
Cal
Home-and-home for 2014, 2017. Road game in November.
Georgia Tech
Signed a two-for-two, but was shortened by Georgia Tech to a single home-and-home series played in 2012-13.
Oregon State
Home-and-home played in 2011-12. This was scheduled in March of 2010, just before BYU went independent.
Stanford
Two-for-two, with road games in late November for 2020-2025.
UCLA
Home-and-home for 2015-16.
Utah
Home-and-homes for 2011-12, 2013 and 2016, 2017-18
Virginia
Two separate home-and-home deals, one played in 2013-14 and one in 2019-20.
Washington State
Home-and-home, originally for 2012-13, but the return game to Pullman was moved back at Mike Leach's request. Currently scheduled for 2019.
Unbalanced Series:
Arizona
Home-home-neutral. BYU probably doesn't mind playing an extra game in Phoenix. It's a good recruiting area for BYU and it will probably be a fairly neutral fan environment.
Notre Dame
Originally scheduled as a four-for-two (or two two-for-ones, if you like) before 2020, it appears there will be some delay in returning games. Notre Dame could travel to Provo in 2018 or more likely 2021.
Southern California
Two road games for one home game (two-for-one). Road games in November
Texas
Single road game (2011) and then a separate home-and-home series (2013-14).
Wisconsin
Two-for-one.
 
Single Games:
Nebraska
Single road game (2015), but rumors persist that there may be additional games to come.
Michigan
Single road game (2015).
Ole Miss
Road game in 2011 (signed on short notice to help ESPN shuffle Boise State to a game against Georgia).
TCU
Single neutral game in Dallas in 2011 (signed on short notice for an ESPN special).
West Virginia
Neutral game at Fed Ex Field (Landover, Maryland) in 2016.
Unbalanced Home:
Idaho
Single home games purchased from Idaho (2012), and played as part of the WAC deal
FCS
Games bought from Idaho State (2011 and 2013), Weber State (2012), and Savannah State (2014)
Balanced (Group of 5):
Boise State
12-year series, home-and-home.
Central Florida
Home-and-home (2011, 2014).
Cincinnati
Home-and-home (2015-16).
Connecticut
Home-and-home (2014-2015).
East Carolina
Home-and-home (2015, 2017).
Fresno State
Home-and-home (2015, 2017). Both games in November.
Hawaii
Signed a long-term home-and-home contract (10 years) that amended a two-year deal in place when BYU went independent. BYU played two years and after Norm Chow was hired, games were canceled. A home-and-home series is scheduled for 2017-18.
Houston
Home-and-home (2013-14).
Middle Tennessee
Home-and-home (2013-14)
New Mexico State
Home-and-home as part of WAC deal for first two years of independence. (2011-12).
Nevada
Two-for-one was scheduled, games in 2013-14, then Nevada canceled a third game in Provo it appears as part of the UCLA series.
San Jose State
Two home-and-home deals. One as part of the WAC transition deal (2011-12), one for 2015, 2017.
Southern Miss
Home-and-home in 2015, 2017. The 2017 game was originally scheduled for 2013. With the UCLA news, it's possible the 2015 game could move back as well.
UNLV
Home-and-home (2014-15)
Utah State
After playing unbalanced schedules for some time, BYU and Utah State have scheduled a two for two series (2013-2016). Road games are in October and home games are in November. Playing at home in November was valuable for BYU, as well as freeing up the home slot in early October. In addition to those, the BYU-Utah State basketball series moved to a home-home-neutral format.
Unknown:
Louisiana Tech
A home and home was part of the 2011-12 WAC games, but it was canceled to make room for the 2011 TCU game at Cowboys Stadium. A couple years ago, a source from Louisiana Tech told us the Bulldogs were still interested in rescheduling, but it probably would not happen for some time, especially because of LT changing conferences.
Tulane
It seems that part of the deal in traveling to play Oklahoma in 2009 was to also play a road game at Tulane. BYU didn't seem to mind the overall package deal of the OU game and the extra ESPN2 appearance back in The Mtn era. It was reported that a return game would be played, but at this point it seems less and less likely.