BYU soccer draws with Albuquerque Sol on Senior Night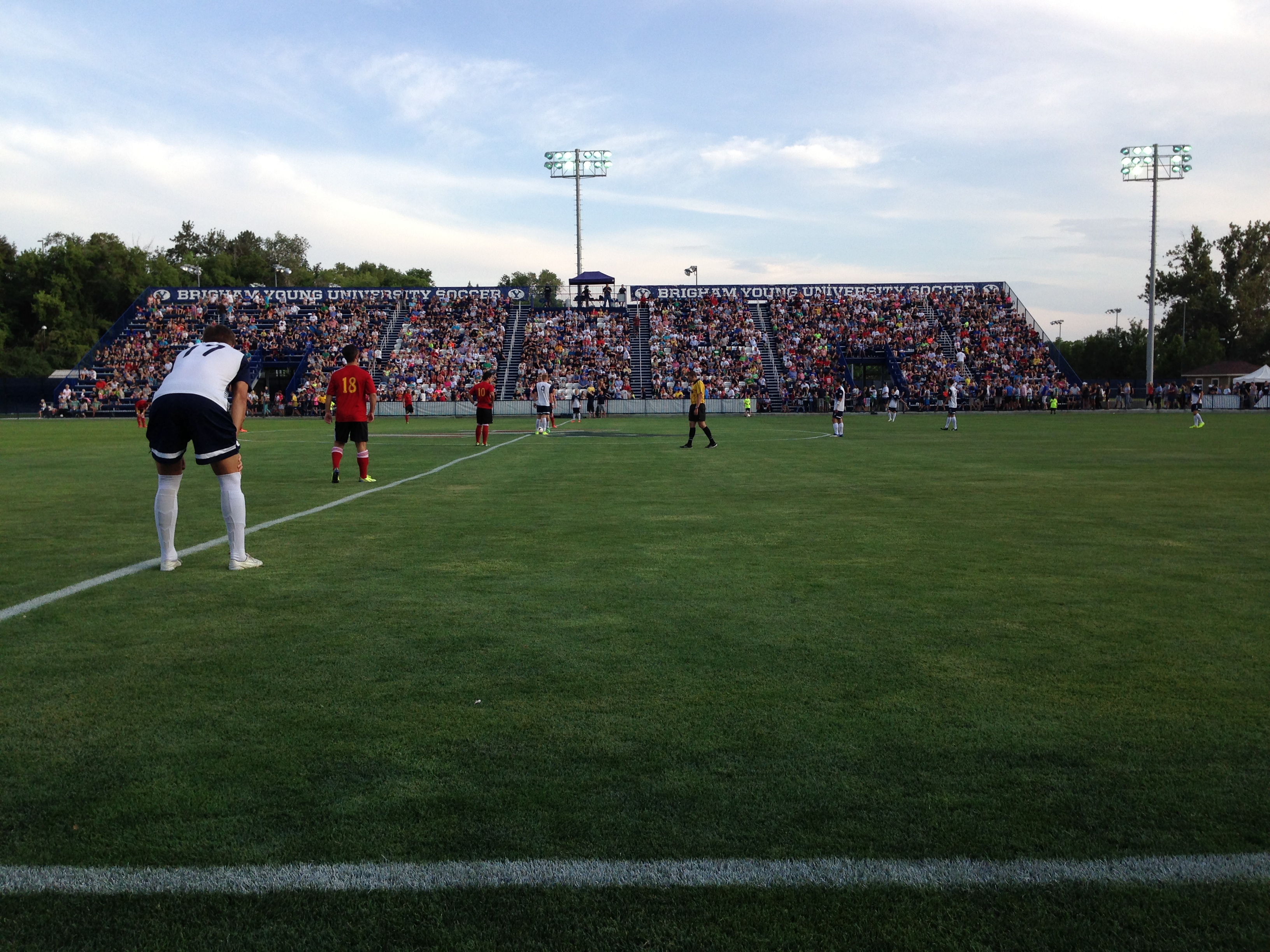 Having already clinched a berth in the PDL playoffs, the BYU men's soccer team had a 2-2 draw with the Albuquerque Sol on Tuesday night in Provo.
Garrett Gee has seen a lot of "special nights" with the BYU men's soccer team.
The junior midfielder from Alpine, Utah, saw one of his more special ones during Tuesday's Senior Night events against the PDL expansion Albuquerque Sol FC.
"It was a special night," Gee said. "Every night we come out on South Field, we want to do our best for the fans. Tonight was a special night being senior night. I definitely wanted to play my very hardest, and give my best for all the seniors who knew it would be their last time on the field."
After racing to a 2-1 lead for most of the match, the Cougars took their foot off the gas, played a few extra reserves, and held on to a home draw with a playoff berth already clinched.
Substitute Julio Velasquez ran straight at goalkeeper Brian Hale, who made four saves in his final regular-season appearance at South Field, in the third minute of stoppage time and the Sol managed a 2-2 draw in front of a season-high crowd of 3,075. The teams will meet again Saturday in Albuquerque to finish the regular season.
BYU controlled possession for much of the second half, and outshot the Sol, 13-10. But Albuquerque put seven shots on frame and snuck two in to earn the road point. On a night with many regular starters sitting out or with diminished roles, the two goals given up was mostly expected, head coach Chris Watkins said.
"We gave up a lot, and I think they deserved to score two goals. We probably deserved a third … but those things happen," Watkins said. "I'd rather learn it now in a game that has little meaning."
BYU's Jace Green opened the scoring on a bicycle kick directly in front of goal. Colby Bauer headed a corner kick into the area, and Green swung through to blast the ball into the top of the net for his third goal of the season.
"That was one of the very best. His foot was pretty close to the crossbar," Watkins said. "That was one of the best goals I've ever seen on this field in 19 years. To be able to react that quickly and get up there and do it, it takes a special athlete."
Albuquerque wouldn't take long to find the equalizer. The Sol's Joaquin Serrano would take advantage of a defensive miscommunication shortly after the restart, putting the ball into the back of the net as BYU defenders screamed for an offside call.
But a foul in the box would send Jon Junca to the spot to convert a penalty kick that put BYU ahead 2-1 in the 20th minute. Junca bended a ball just inside the right post as Albuquerque goalkeeper Lucas Champenoir went the other way for the go-ahead goal.
"Nobody is like Jon Junca," Watkins said of the defender who scored his first goal of 2014. "It's worth noting he's not one of our normal PK takers. He drew it, didn't look back over at (the coaches), but just grabbed the ball, set it down and went. Jon is one of my favorite all-time players, so he gets a little rope from me."
BYU nearly struck a third time just before the half as Winston Sorheitz ripped a long-range shot that forced a diving save by an outstretched Champenois. Teammate Scott Heaton would then follow up a minute later with a shot that caromed off the far post.
BYU will play a team from the Southwest division, likely LA Misioneros FC or the Ventura County Fusion, in a Mountain Division play-in game hosted by the Las Vegas Mobsters on July 19. The winner will advance to the Western Conference playoffs, which begin July 24.
Box Score
BYU 2, Albuquerque Sol FC 2
Goals:
15′ BYU — Jace Green (Colby Bauer)
16′ ABQ — Joaquin Serrano
20′ BYU — Jon Junca (PK)
90'+ ABQ — Julio Velasquez