Best Game Ever: 2009 – BYU batters Beavers in blustery Las Vegas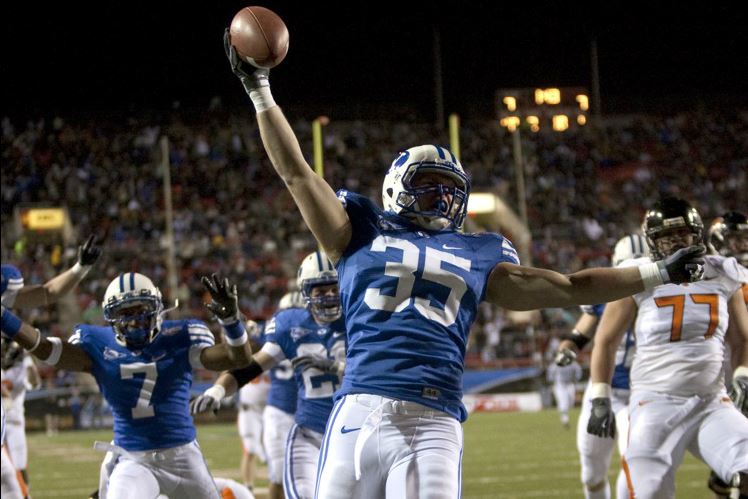 Pat Hammond remembers the windy beatdown of a ranked power-5 school to close the Hall/Unga/Pitta era — part of the Loyal Cougars "Best Game Ever" series.
Even though I am a girl, I have loved football for as long as I can remember. Perhaps my Dad would have preferred a boy for his firstborn. Regardless, he taught me to love the sport and even to understand it.
When you live outside of Utah, every game you attend in person is a particular privilege. While living in Las Vegas, I have attended many BYU games at Sam Boyd Stadium. My favorite would have to be the 2009 Las Vegas Bowl against Oregon State.
When the Cougars were slated to return to the Vegas Bowl for the sixth consecutive year, my son played the "Come on mom, it's the last game before my mission" card. After debating whether I valued sticking to a budget and warmth over the adrenaline rush of being there in person, I gave in and bought tickets on Stub Hub. Based on past bad experiences, I chose my seats carefully to ensure we would be surrounded by other blue clad fans of Brigham.
The most memorable part of this game was the bitter COLD. Conditions were intensely, bone chillingly arctic. The 43 mile-per-hour wind cut through you like a knife. When we first pulled up, I proceeded to put on my multiple layers. My son watched for a moment, shook his head, and asked if he could just take his ticket and go sit down. Once the sufficient cold-fighting precautions had been taken, I showed up at our seats.
I take my state of warmth seriously. There were numerous naive people around us that were utterly unprepared. Take the girl from Salt Lake who was sitting next to me. She was wearing a hoodie and didn't even have gloves. Not sure how someone could show up unaware of the nippy cold that comes with the desert in the winter. It may be pleasant while the sun is up, but the temperature drops like a stone once the sun sets. With my many layers, toe warmers, hand warmers, gloves, scarves, hats, and nice down coat, I was relatively warm. My son, who is part viking, wore only a sweatshirt and beanie and said he was never cold.
When I reached my seat, I was thrilled to see that we were indeed surrounded by BYU fans. However, I was disappointed to notice a family of four, orange clad Beaver fans seated right next to our seats. Apparently they were not as careful about choosing their seat location. These four were dressed in orange from head to toe, including beaver shaped mittens. We chatted with the mother of the group before the game and she was very friendly. Eventually her husband and son arrived and it became obvious that they had been drinking. Loudly, they voiced their opinion that BYU had absolutely no chance of winning the game.
As the game started, the father and son often stood to cheer on their team. When Oregon State scored first, they became even more vociferous and remained standing between plays. The BYU fans behind them asked that they sit down. Eventually insults were traded and security was called. I was glad my son was there, as these large, belligerent men were right next to me. They were told that they were not allowed to stand continuously. This did not sit well with them. Both continued to heckle the surrounding BYU fans. In addition, they kept going out to get more liquid refreshments.
Towards the end of the first quarter, Harvey Unga scored a touchdown, tying the game. One minute later, Jordan Pendelton laid a hit forcing a fumble. Matt Bauman scooped up the loose ball and rumbled 34 yards for his first career touchdown. BYU took the lead and never looked back. With less and less for the Beaver fans to celebrate, they finally left our section. I assume they moved to empty seats in the Orange section of the stadium.
The rest of the game was entertaining as the offense scored repeatedly. Watching Max Hall throw touch downs to Dennis Pitta, Manase Tonga, and Luke Ashworth was a pure joy. When Oregon State's punter tried to punt against the wind, his epic fail was pure comedy. The football soared straight up and then make a beeline for the ground. Two times in the second quarter, the Beaver punter advanced the ball only 6 yards. Riley Stepheson figured out that a low line drive would be the only successful way to punt in that wind.
After the initial Beaver touchdown, the defense kept Oregon State out of the end zone until the very end of the game. Final score, Brigham Young: 44 Oregon State: 20.
Who could have known that by the next year, BYU would leave the Mountain West Conference and become independent? The six-year streak of December trips to Vegas came to an end. I was tickled blue that I had attended the last game of the Las Vegas Bowl era. Who knows if I will ever be fortunate enough to attend another bowl game, but this one gave me memories to last a lifetime.
by Pat Hammond
 (14) BYU 44, (18) Oregon State 20
December 22, 2009
Las Vegas, NV | Attendance: 40,018
Box Score
The Loyal Cougars "Best Game Ever" Series is about shared stories — the time you left a game you attended in person and thought "that was the best game ever!" If you have a story to tell of such a game, submit it to bestgame@loyalcougars.com and share it with the fan base.
Read the timeline of published stories at the Best Game Ever page.